Hotel L'Esplanade ...
A Five-Star "Sleepover" in
Grand Case, St. Martin
When it comes to St. Martin/St. Maarten, the French side is a favorite. There's just something to that casual-cool, effortlessly-elegant French way of life. That ebb and flow is very much alive on French St. Martin.
Before moving to Anguilla in 2008, on every Anguilla vacation we made a point of making a day trip to St. Martin. The good food, the shopping, it was a must-do. Now that we live in Anguilla, this still holds true. Each week or so, we take a day and head next door for a change of pace, French food and St. Martin surf.
On a recent hop across "the channel," we extended our day trip into a full night stay at Hotel L'Esplanade in Grand Case...
Inside Hotel L'Esplanade
Stepping off the Anguilla ferry, Grand Case is only a 10 minute drive. In a rental car, we took a left out of Marigot and followed the signs to L'Esplanade.
Tucked in the mountain-side overlooking the Caribbean Sea and Anguilla in the distance, lies this precious gem of a hotel, Hotel L'Esplanade...
Hotel L'Esplanade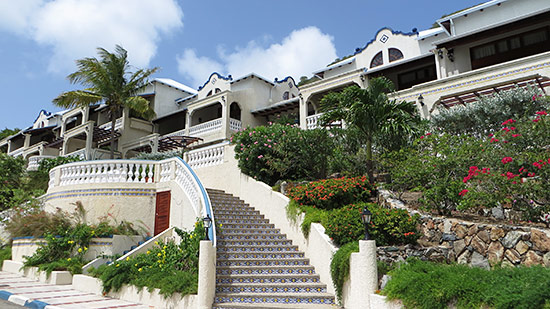 Set in St. Martin's lush hills, it's no surprise that this hotel is known for its beautiful views out to sea. Upon entering the reception area, it's the first thing that hits you. Stunning.
The View from Reception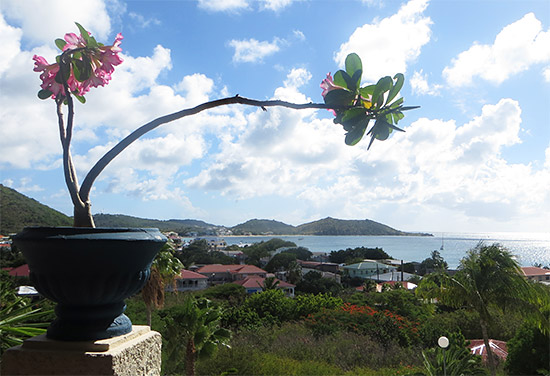 The only ones in the reception area, it was peaceful and still. We rang the bell on the desk. A voice called out from below saying, "un moment." A pretty face emerged from downstairs. Kind and hospitable, Patricia promptly checked us in.
While my Mom and Dad settled everything with reception, I took a look around. The decor is charming, conjuring up images of the south of France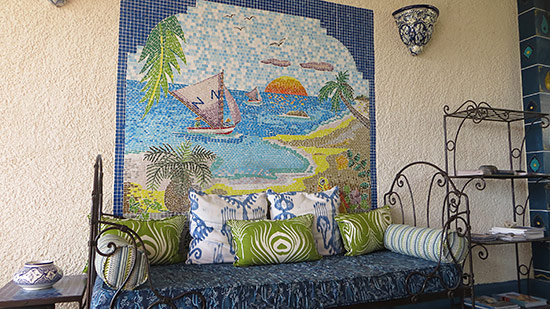 It wasn't too long before we were on our way to our room.
The Oversized Loft
Behind these doors and...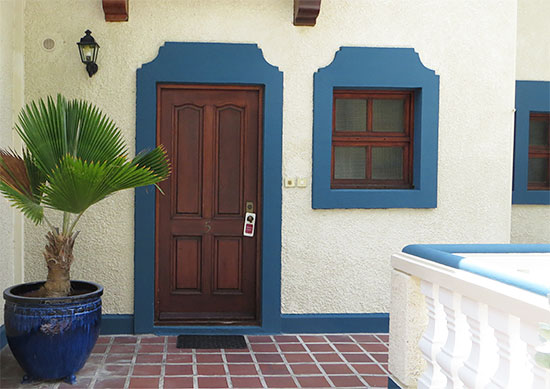 ... we were greeted with clean, cool, crisp air, a pretty view and a spacious room with modern fixtures and furnishings.
My Dad noticed the tiles right away.
Large stone flooring adds a luxurious feel to the room.
To the right of the entrance is a modern kitchen.
It has all the appliances, cooking utensils and dish ware you need for longer stays.
There is an oven, microwave, fridge, coffee maker and toaster.
There are plenty of plates and cups, a cutting board, a strainer... you name it!
Even though we were only there for a night, the kitchen was just too inviting to not stop into a French supermarket to pick up some snacks and stock the fridge. My Mom and Dad did just that, really excited about their "Dijon Mayonnaise" find! ;-)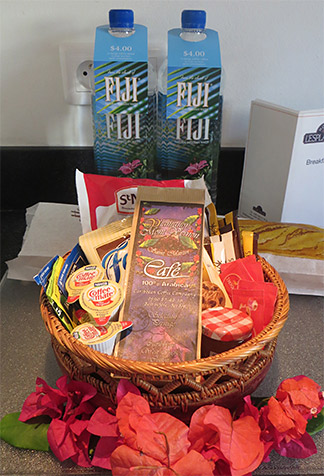 Hotel L'Esplanade really does their best to make you feel right at home.
When we arrived, there was a nice welcome basket of "necessities" ready and waiting.
The basket included tasty little madeleines, chocolate chip cookies, coffee (and everything you need to go with your coffee), a fresh-made baguette and jams.
I particularly enjoyed the madeleines.
The French even do pre-packaged goods perfectly!
They were vacuum sealed, but soft, eggy and delicious.
On top of that, a complimentary bottle of Fiji water was chilled and in the fridge.
It was all attractively displayed with bougainvillea flowers.
We took note of the breakfast cards that were set on the counter and filled them out right away. They have to be returned by 8pm to reception. More on that to come.
The View From the Balcony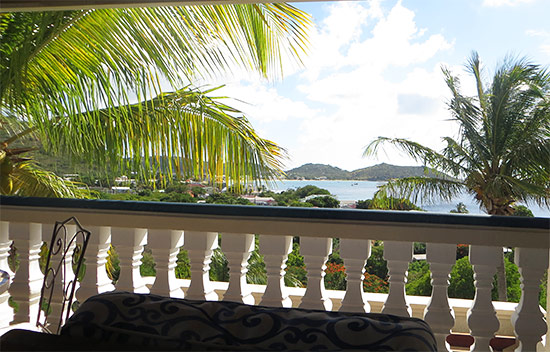 Just opposite the kitchen is a small powder room.
Beyond the kitchen is a dining area, the living space (with stereo and TV), and a terrace.
Note: As you move from the kitchen/dining area into the living area, the ceilings open up into full, high ceilings with rich wood.
The vaulted ceilings give the room a nice Caribbean feel.
It is quite spacious!
The terrace has two paisley lounge chairs, and a wrought iron dining set.
The views from here are best at sunset.
Having toured the downstairs, what was next?
Up the staircase to the full master bedroom and bathroom!
Looking Down on the Living Room From Up Top in the Loft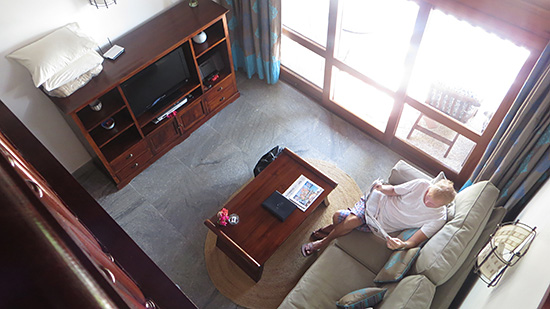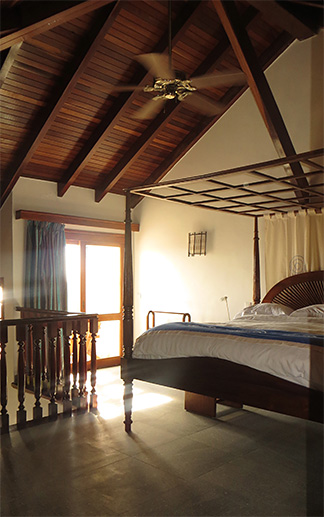 The bedroom has a king bed that lies high off the ground.
My Mom (5'0") had to use the steps to get up on the bed.
It's actually a clever thought...
The height of the bed gives you a higher perspective so you can better enjoy the views from the bedroom's private terrace!
The room also has a ceiling fan, a flat-screen TV and plenty of storage space.
My parents felt right at home!
I slept downstairs on the pull out couch.
It was so cushy and comfortable!
Your head just sinks into the pillows here.
View From the Bedroom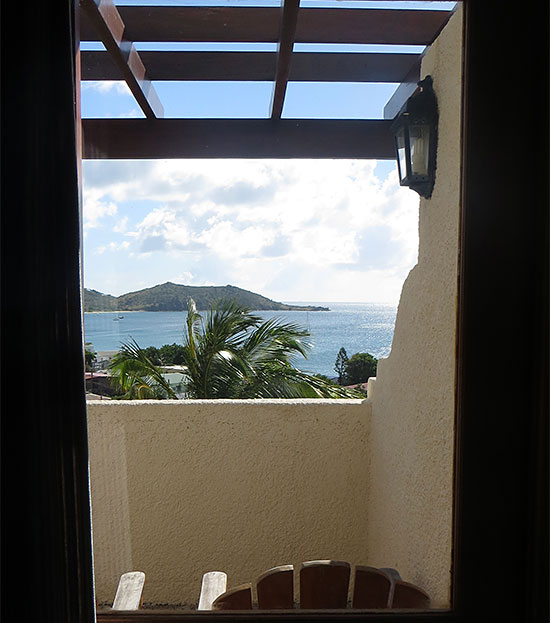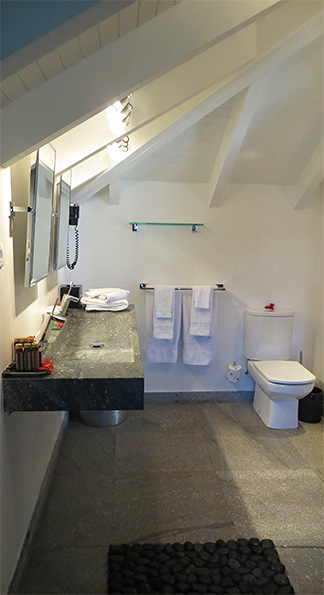 One last thing that really deserves an ultra special mention...
the master bathroom.
It is perfect.
With the same slate floors, which are throughout this loft unit, and white wooden ceilings, the contrast is beautiful.
The sink is one length of stone.
All fixtures are modern.
The shower space is enormous, open and made of stone, too.
And, it is a rain shower.
The water heats up quickly, which is a special treat here in the Caribbean.
And, unlike the rest of the suite, the bathroom isn't air conditioned.
So, you aren't freezing cold when you get out of the shower!
The toiletries are divine.
They are Occitane!
I could spend all day in here, applying these luscious products and standing in the rain shower.
The Hotel Grounds
After settling into our room, we were off to explore the hotel. We returned to the central area of L'Esplanade, the reception area, and took a look around.
Down the Steps at Reception...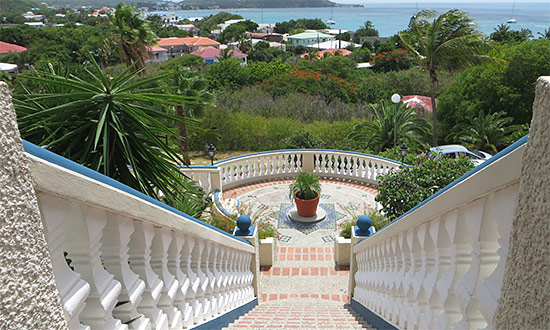 A tall staircase leads from reception to the rest of the hotel grounds. At the bottom of the stairs, you're faced with a tough choice. To the beach or to the pool?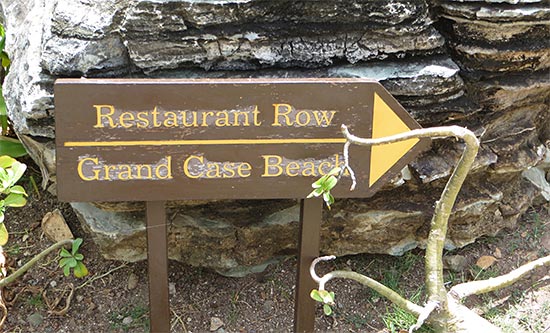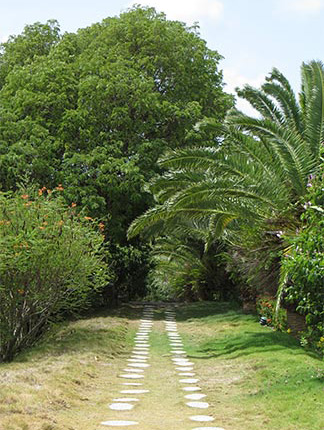 Follow the sign above if you want to head to the beach!
Well manicured, this path takes you into Grand Case.
Grand Case is one of the most popular and frequented spots in St. Martin.
A town with plenty of hotels, nightlife, "lolo's" (Caribbean BBQ joints), five-star restaurants, and a sandy beach, it is popular and there is plenty to do!
Locals and tourists alike frequent Grand Case regularly.
Feeling lazy, we didn't venture down the path.
With beautiful beaches in Anguilla, it was to the pool.
The pool area is nicely fenced in. It has two entrances, a wet bar, lounge chaises and tables and chairs for dining and having a drink. Surrounded by St. Martin's mountains, it's a blissful spot to unwind on a hot afternoon...
The Pool at L'Esplanade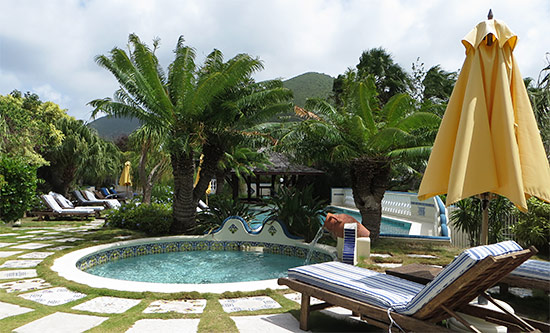 There is a larger pool with a flowing fountain, and a smaller jacuzzi pool. Without anyone else around, I dove right in!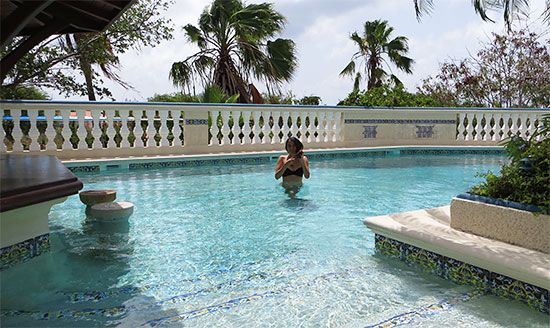 Personalized Service in a Picture-Perfect Setting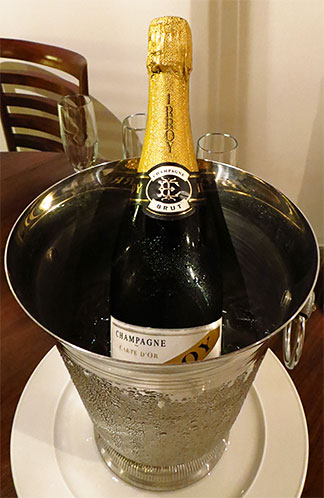 The sun low in the sky, it was time to head back to the room and get ready for dinner in Grand Case.
But first, champagne!
Note: There is no mini-bar, but you can purchase drinks from reception, including wines.
I have to note that L'Esplanade does everything to make your stay perfect.
They arranged everything quickly and promptly, and thought of all of the details.
We were celebrating a birthday on this trip to St. Martin.
The kind people at Hotel L'Esplanade were the ones who thought of and included the champagne! ;-)
It was a wonderful touch.
We opened it and took it to the terrace to capture the last rays of the day.
Used to being on the other side of the channel looking at St. Martin, being able to see "home" was heartwarming.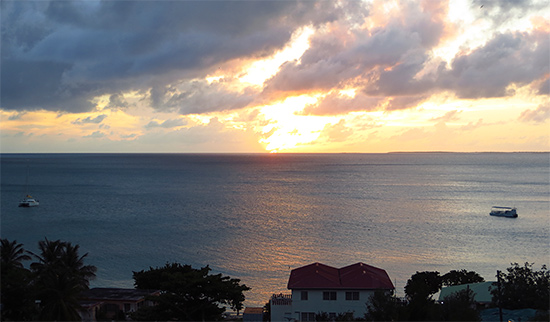 Le Cottage & Grand Case By Night
Champagne finished, we headed to Grand Case for dinner...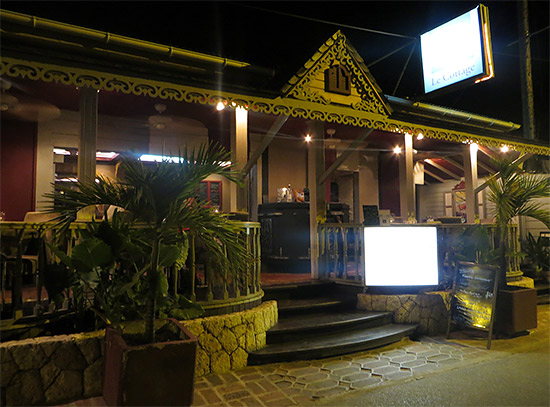 St. Martin is one of THE fine dining capitals in the Caribbean. Home to several five-star French restaurants, it is hard to eat badly in St. Martin. Hailed as one of the best, Le Cottage was our choice that evening.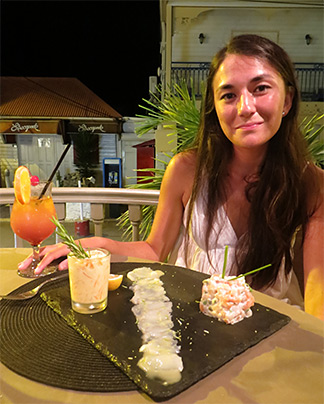 This restaurant is truly a cut above.
Service is attentive and professional.
The setting is more fun and lively, overlooking Grand Case's busy main street.
It's certainly less Caribbean in spirit, but we had come to Grand Case seeking French dining!
One look at Le Cottage's menu and I knew exactly what I wanted.
I started with the "tartare de saumon et mahi-mahi" which is served with "carpaccio de St Jacques fraîches" and a "cole slaw de fenouil."
Phenomenal.
I wish I could eat this every day!
My favorite part of the appetizer was the tartare of salmon and mahi mahi. It was so creamy, smooth and undeniably fresh.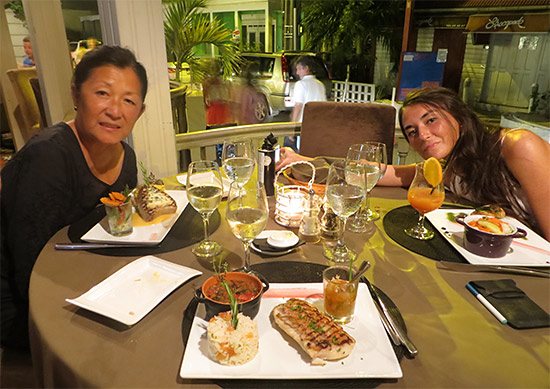 For dinner my Dad chose the snapper and my Mom went with the tuna. I had my heart set on the mahi mahi with goat cheese.
Mahi mahi with Goat Cheese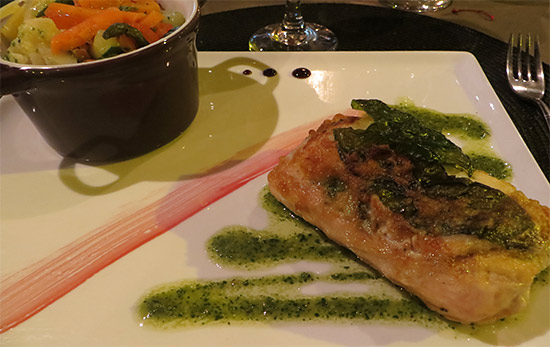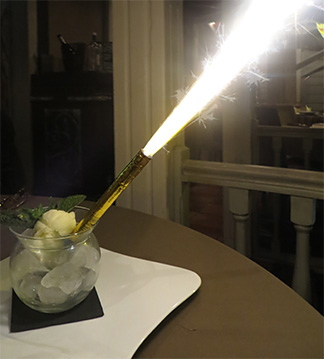 Goat cheese makes anything and everything infinitely better, doesn't it?
The dish was excellent.
Although, next time I might opt to split an entree.
I hate to say that I was unable to finish my plate!
With that, we were certainly too full for dessert.
Apple pie, chocolate cake, tiramisu... ahhhhh, how tempted we were.
Because it was a birthday celebration, they thoughtfully brought a refreshing homemade sorbet with a roaring sparkler! It had been a flawless meal.
After dinner, we walked the main street of Grand Case.
Grand Case By Night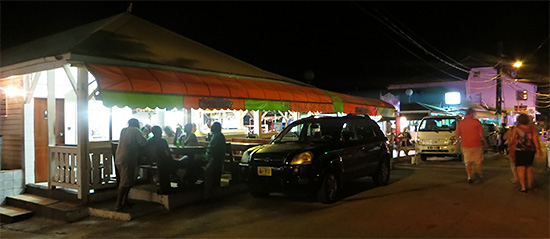 At the advice of my St. Martin surf teacher, we checked out Calmos Cafe.
THIS is where to be on a Thursday night in St. Martin, for sure. Seemingly quiet from the street, inside, this place is packed with people eating, drinking and socializing. It is a scene!
A French Breakfast & The Following Day
We called it a night early, and came home to L'Esplanade. Just a short drive away, it's such a convenient location. A peaceful, deep sleep followed. The next morning we were pleasantly awoken by a buzz at the door...
Beautiful is Served!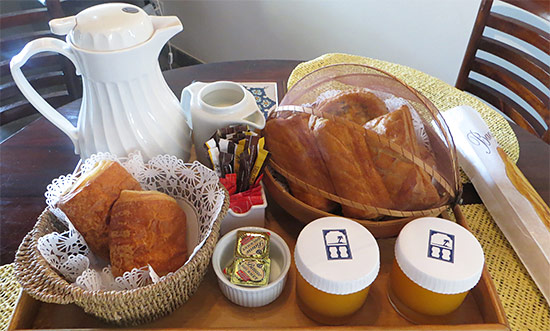 In retrospect, we ordered way too much food. Our eyes had certainly been bigger than our stomachs!
The tray was filled with spinach and goat cheese quiches, ham and cheese quiches, sausage rolls, meat puff pastries, chocolate croissants, a baguette and a large pot of coffee.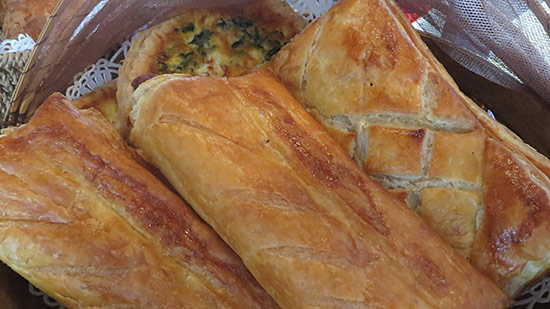 We heated everything up in the oven, toasting the baguette, too. Hot and fresh, the quiches were the highlights. So flakey, with flavorful filling, my mouth waters just thinking about them. It was a delightful French breakfast.
Pain Au Chocolat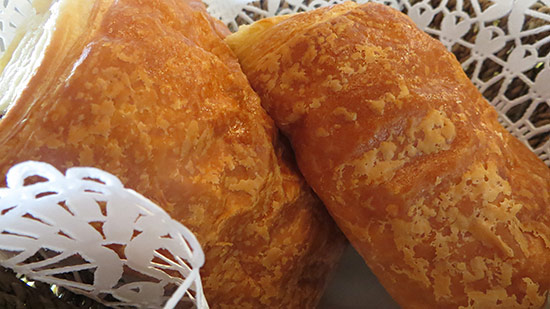 After a lazy morning of coffee and pastries enjoyed on our balcony overlooking the Caribbean Sea, we were ready for the rest of our day in St. Martin.
We got in a little shopping and walking in Marigot, and plenty of surfing with SXM Surf Explorer at Le Galion...
Heading to the Le Galion Reef Break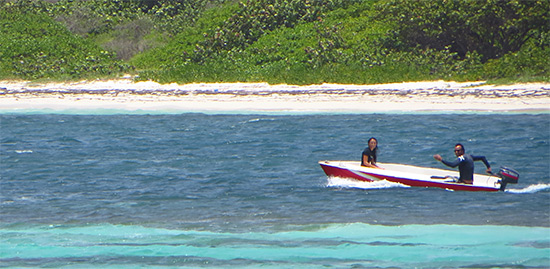 Starting to Turn!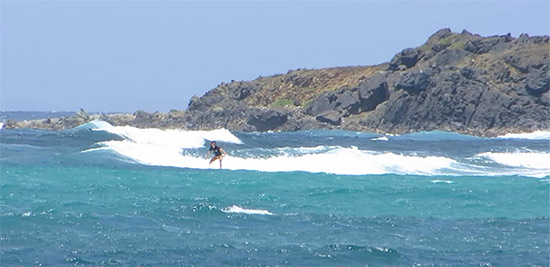 Well fed, shopped out, and having caught bigger waves than ever before, the trip was a success.
Thank you, L'Esplanade for an idyllic "sleepover" in St. Martin!
Location