Anguilla Restaurants
Are So TASTY!
Even though Anguilla restaurants are truly excellent, I normally would not trust a restaurant called "Tasty's." After all, so what? It's kind of like hotels that say "Color TV in every room."
We passed Tasty's every day on the main road towards the West end of the island, never giving it a second look. But one day, a local friend told us it really was a tasty place to eat... one of Anguilla's best, actually.
When you consider that there are endless delicious Anguilla restaurants, and that it was so nearby, well... we had to check it out...
Welcome To Tasty's!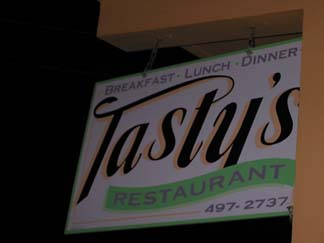 We arrived just a little before dinner time, only a couple of tables occupied. Despite that, it took a little while to be seated and for someone to take our order. It was clear already why "Tasty's" was not called "Fasty's."
The menu had many exotic, tempting choices. My sister and I ordered a penne pasta dish (we split it). We hadn't had pasta in so long! And my parents each ordered one of the fish daily specials. After a bit more waiting, they served up small appetizer salad, just enough to really make us hungry.
At this point, my Dad was itching for a cigarette (he likes to have one or two at restaurants), but Tasty's seems to be one of the only Anguilla restaurant where you can't smoke. To his disappointment, he had to get up and go outside. This degraded his rating on the restaurant. (However, it may be a huge PLUS for you!)
After his cigarette outside, we waited a while longer for our food! And the place was filling up with people. Our stomachs were rumbling. Our mouths were drooling. Our brains were wondering where our food was!
Finally.... we saw the waiter approaching... with our food! We forgot everything, sat up in our chairs. We were so hungry, my sister bit the waiter's arm (just kidding!). But we were definitely starving.
The food looked so tasty! Mmmm... delicious! Yes... it did live up to the name of the restaurant.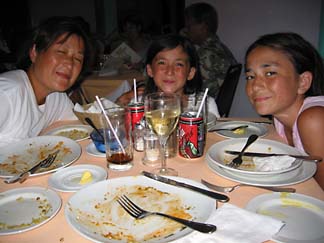 By the time the food had leaped off the plates and into our tummies, we had almost forgotten about what had seemed like a long wait. The waiter gave my parents free coffee because we had waited so long. He was so nice and felt bad, explaining that he was all alone that night (but not explaining why).
When he asked us if we wanted dessert, we decided not to risk more waiting. My dad just had a ciggie with his coffee (we all sat outside, this time), and off we went. Well, not quite. It took the waiter a little while longer to return after my Dad gave his credit card to pay the bill!
Actually, waiting is pleasant when you're relaxing in oceanfront Anguilla restaurants, but Tasty's is on the main road, nowhere near the sea. Tasty's ambience is nice... and the food really is superb. But, that night at least, the service was too slow.
It must have been just a bad-luck night, at least I hope so, because every time we drove past Tasty's, it was always crowded. I just pray that poor waiter had help!
And here's another comment by a subscriber to Anguilla Beach Lovers, Stephen Cohen, from Medford, New Jersey (and who really knows Anguilla), telling me about his favorite of all Anguilla restaurants ...
BEST (value)I would say that Tasty's is no. 1. Everyone we met that we sent there... loved it. Dale Carty (owner/chef) has the right touch to make the dining there memorable. The only downside is it is not on the water... but on the main road.
Our family couldn't agree more with Steve. Next time we visit, we'll give this TASTY Anguilla restaurant another try, this time for breakfast. Their Caribbean pancakes are supposed to be outstanding!