The Best Anguilla Restaurant for Breakfast
Tasty's offers the best breakfast in Anguilla.
It's true, Chef Dale is one of the hardest working restaurant owners I know. He's open 6 days a week for two meals, plus breakfast on Sundays (and select days in-season), he is a husband, a father, and of course the greatest of chefs.
We aren't the only ones who think Tasty's has the ultimate breakfast. Click here to read Anguilla-Beaches reader Bob Powers' review of Tasty's breakfast.
Tasty's Anguilla Restaurant is open for Breakfast! :-)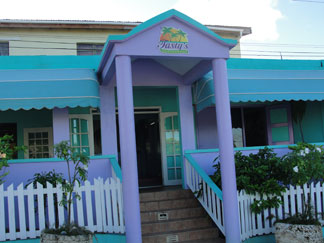 How does he do it? Maybe I just better stick with saying, I'm glad he does it!
There are not as many options for breakfast in Anguilla as there are for lunch and dinner.
I'm grateful for Tasty's for offering breakfast for that reason besides the fact that the food is incredible at breakfast...
The Grand Marnier French Toast with sliced fruit. Need I say more?
Mornings are GOOD at Tasty's
Breakfast in Anguilla, at Tasty's is quite the deal. The prices are just right. You can go all out and still pay less than $20 for two!
Breakfast begins in a classic Anguilla way, with bush tea. The bush used for the bush tea at Tasty's is particularly aromatic. Made with basil, it really does soothe the soul. I love the smell of basil and to have it piping hot along side a nice plate of Tasty's scrumptious food is a true Anguillian treat.
Next up? The "must try" plate is...
The Caribbean Sampler Breakfast, my favorite!
Great for those who don't have a big sweet tooth for breakfast ;-)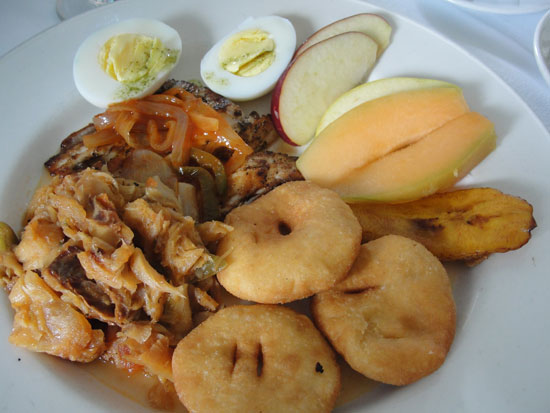 This is a hearty plate, rich in Anguilla flavor! Saltfish, filet fish, fruit, hard boiled eggs and plantain are all rounded out by Chef Dale's famous Johnny cakes. This plate is a true taste of Anguilla.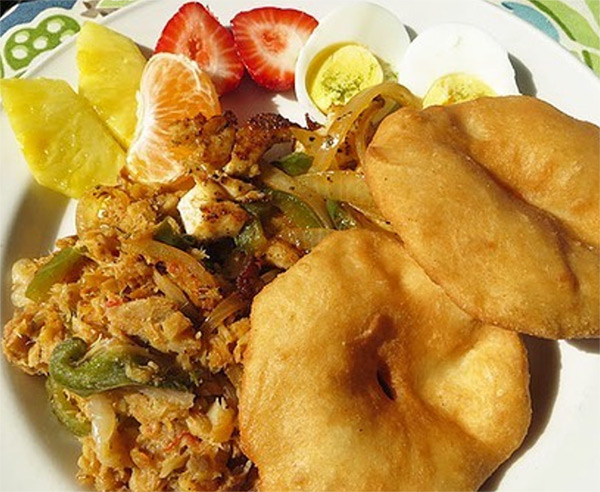 The menu also features omelette options, pancakes served with syrup and fresh fruit, good ole eggs and bacon prepared how you like, and of course, the great Grand Marnier french toast.
You can also do a more American-style breakfast (equivalent to my Caribbean Sampler) which has eggs your way, choice of bacon, sausage, or ham, potatoes, fruits, toast with butter and jam, and juice and hot beverage of your choice.
Bacon & Eggs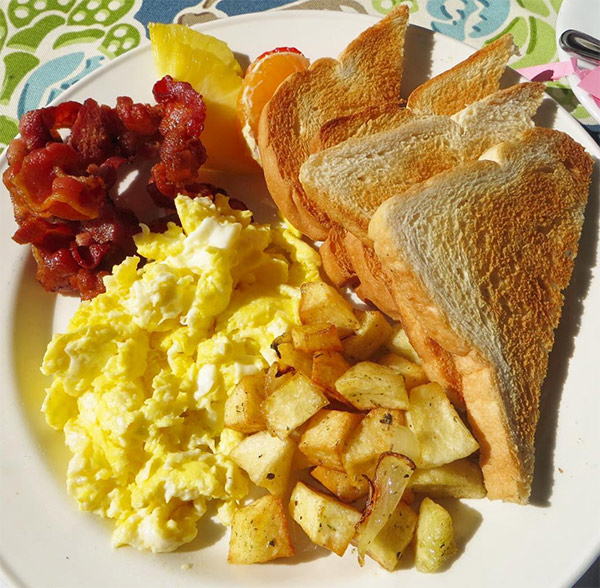 Tasty's likes to please! With all of the options and choices there is something really good for everyone.
It is no wonder why Tasty's is an Anguillian institution. Dale's goal of offering "tasty", fresh and well-prepared food that appeals to tourists and locals has been achieved and then some.
Breakfast That Stands The Test of Time!
Our love affair with Tasty's breakfast began many moons ago on a trip to Anguilla in the early 2000's. We had heard a rumor about a great breakfast at an old favorite of ours. So, we woke up early and zipped over to...
Tasty's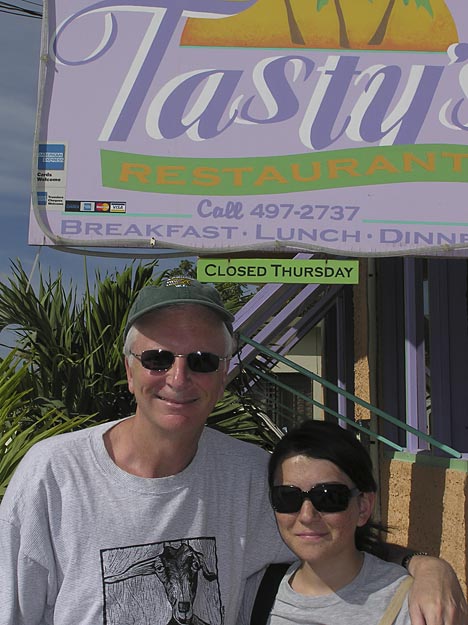 Years and years ago, on our first trip to the island, we tried Tasty's for dinner. The food had certainly lived up to its name! We had heard a lot of praise for its breakfast. And since cereal (at the villa) was getting "a bit old," we gave Tasty's a try.
Having been disappointed by breakfast at so many restaurants, we were a little skeptical. But matters started looking up when we set foot into Tasty's... the place was packed with Anguillians.
Always a great sign!
My Dad and I were dying to try them - but they were all out. The morning rush had eaten them all up! We'll come earlier next trip!
So were "stuck" with everything else!
My Mom and Dad opted for vegetarian omelets, I went with a smoked salmon bagel, and my sister stuck with her bacon and eggs.
Unlike our first taste of Tasty's, the food came promptly!
And the prices were certainly low, compared to some other breakfasts we had tried.
So only one question remained?
Were all these other customers right? Will the food be "Tasty"?
Locals know best.
My parents' omelets made their taste buds explode! They were incredible, made with hydroponic greens.
My mom's drooling meant that everything was just right. Ha! Ha! Just kidding. She does not drool... much.
My bagel? The smoked salmon was fresh and delicious, tough competition for even the best New York deli! And my sister didn't say a word all of breakfast; she was too busy enjoying the bacon!
Five stars out of five!
What a breakfast...
But it still wasn't over! We met the man in charge of the hydroponic gardens and chatted with our waitress, Tammi for a bit.
Tammi and I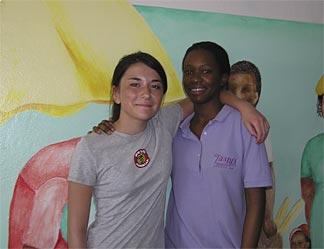 Perry (Organic Veggie Grower) and Mom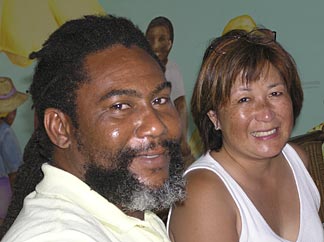 An extra five points for warming hospitality!
Overall: 10/5
There isn't an Anguilla restaurant that provides such a "Tasty", low-cost, friendly breakfast as Tasty's!
One of the best breakfasts on the island, and still true to this day, many years after our first visit to Tasty's for breakfast.
Tasty's serves breakfast on Sunday morning.