The Best of All Anguilla Inns?...
The Ferryboat Inn
For years, Ferryboat Inn (reputed to be one of the best Anguilla inns) has been our #1 go-to spot for the island's tastiest burger! As we frequented Ferryboat Inn more and more, we found ourselves returning for more than just the burgers. Wednesday Wings and Thursday Roasts became weekly habits.
We know the Ferryboat Inn menu well. But, we were never familiar with the inn itself. We had heard that it was one of the great Anguilla inns, but didn't know much more than that.
... Until I met my friend Kristin Bourne.
Kristin and I met in New York City, thanks to a mutual Anguilla friend, Christian, who actually owns and runs Ferry Boat Inn. Kristin and I became friends quickly, bonding over how we so longed for Anguilla's crystal clear waters.
Me, Kristin and Christian in NYC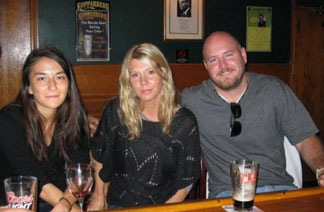 Kristin's passion for Anguilla is deep and pure. So deep, in fact, that after two years of working in "the City" she decided to get out of the rat race. She chucked it all, quit her job in advertising and marketing, and relocated...
Today Anguilla is home for Kristin!
Before moving to Anguilla, Kristin visited the island up to three times a year, for several years. Ferry Boat Inn became one of her favorite Anguilla inns.
Now, I will let Kristin take over and share her Anguilla inns experience at Ferry Boat Inn...
Ferry Boat Inn At A Glance
Ferry Boat Inn was reviewed by Kristin Bourne.
Kristin's Rating: 5 out of 5
Affordable apartment-style units on Blowing Point's Sandy Point beach, Ferry Boat Inn has it all. Located a 5-10 minute walk from the ferry terminal on Blowing Point's Sandy Point beach, its location is not only pretty (St. Martin as a backdrop), but convenient, too. With a top-notch restaurant on site and the caring hospitality of the owners, Marjorie and Christian, Ferry Boat Inn is a special gem of a hotel.
I've experienced The Ferryboat Inn in many capacities: as a solo traveler, during vacation with my mom, and after I moved to Anguilla, through visiting relatives of all ages and backgrounds.
I'm forever thankful for having made the decision to try out The Ferryboat Inn. Here's why...
Location, Location, Location!
First, the location of this Anguilla inn is very convenient. You are in luck if your temporary home is The Ferryboat Inn because, hence the name, it is very close to the Anguilla ferry.
Note: The majority of people traveling to Anguilla arrive on the ferry, so the convenience is so helpful. You can even walk to and from The Ferryboat Inn to the ferry if you wanted (it only takes about 5 minutes). A taxi ride is helpful if you have a lot of luggage.
The Ferryboat Inn's location on the island of Anguilla is also very central. It's not too far from the concentration of restaurants and beaches that are on the Western half of the island. However, if you feel like heading East (maybe for a Shoal Bay beach day), just jump on Jeremiah Gumbs Highway.
Besides the location being great as far as getting around, you also have incredible view, which is one of my favorite views. St. Martin is across the way, looming in a majestic manner.
Welcome to Ferryboat Inn

It is breathtaking! I always say that I'd rather be on Anguilla looking over at St. Martin than the other way around. They don't get much of a view of our flat, desert island! ;-)
I always feel lucky to have discovered Anguilla and the great vantage point from The Ferryboat Inn.
The Ferryboat Inn sits right on the sea with their restaurant and "beach house" (a single villa that can be rented, more on that later). They are the closest buildings to the smooth Caribbean sands.
The Anguilla inn's main accommodations, the apartments, sit just behind the restaurant and parking lot. They have a great view of the St. Martin vista and the sea. Once you exit your apartment and walk toward the sea, you are standing on the beach in less than a minute... it's that close.
Inside This Anguilla Inn
There is more to The Ferryboat Inn other than its ideal location. The rooms are just right too!
Each apartment is nicely set up. For instance, each bedroom is large and has a full bathroom, a nice big dresser and a chair, and an air-conditioning unit.
I am not a huge fan of air-conditioning but it was nice to have it on low if I was in the room during the day, or when cleaning up after a long day on the beach. I really only used it when I was there in the summer months, not much in the winter months.
Panomaric Pictureqsue Views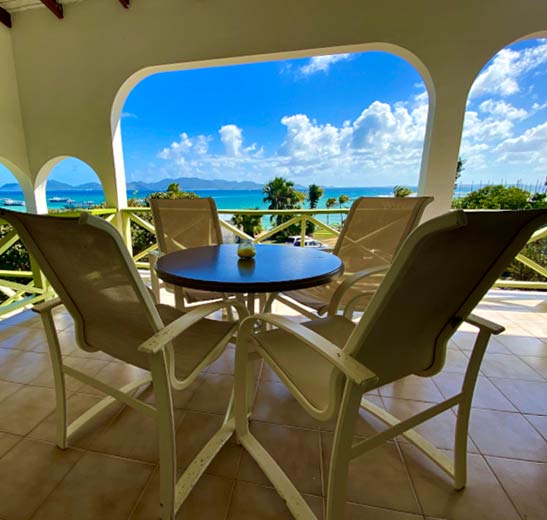 When the owners built their Anguilla Inn they knew what a view they had and they allowed for the architecture to take the surroundings into account.
When you are in one of the apartments, you can still see the incredible view, so long as you keep the curtains open of course!
Naturally the second story apartments offer more of a view, however the first floor is elevated and you can see over to the vibrant blue water.
Inside the apartments, high wooden cielings, breezy open spaces and a beautiful idyllic views of St.Maarten make these apartments a perfect example of Classic Anguillian architecture.
Breezy High Wooden Cielings

As for the Sleeping? One Word: Ahhh!
I've had many a good night sleep at The Ferryboat Inn.
The king size bed is a nice luxury for a single traveler. And the breathtaking views of Saint Martin makes every morning worth waking up to!
Dreamy, picturesque views greet you every morning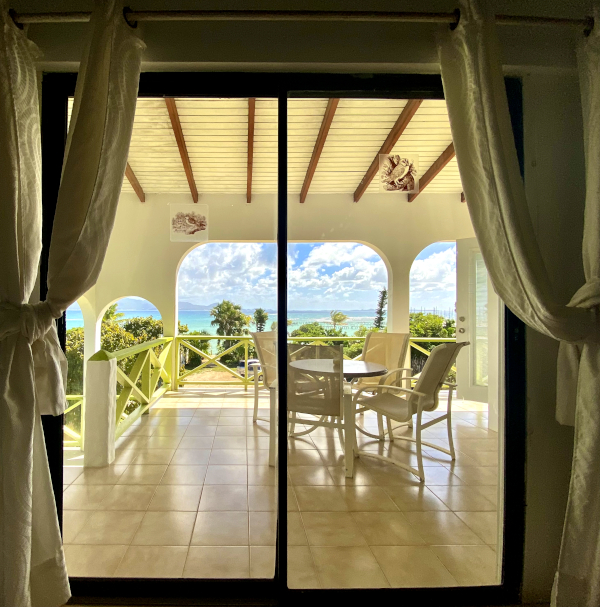 If you prefer fresh air only, like me, there are so many windows to allow the breeze through.
Other arrangements can be made if a king is not your preference, or if you need to accommodate more people.
The linens are comfortable, clean and just the perfect weight for the Anguilla weather.
Now, For The Living & Dining Space
The living room area is expansive and has a lot of comfortable seating, a nice big closet, and a TV. Depending on which apartment you are in, there are a variety of books on hand in case you forgot yours.
Dark woods and wicker furniture and open floor plans make it the traditional home experience
Traditional Anguillian Stylings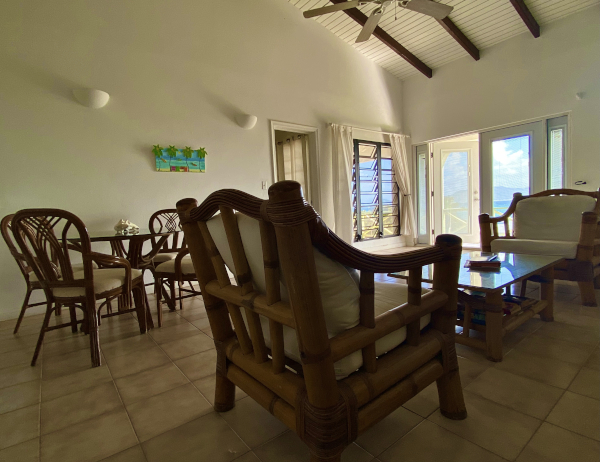 This makes the Anguilla inn feel even more like home.
The living room room is open to the well-equipped kitchen with an eating area and additional full bathroom. I have to admit I never made much use of the eating area inside because the private large patio, porch, gallery, verandah (or whatever you want to call it :-) has a nice big table on it.
Nothing beats eating outside in Anguilla.
One of my many favorite things about staying at The Ferryboat Inn would be to grab some grapes and gouda cheese, and make some toast with mango jam and sit out on the patio in the morning. A perfect breakfast. This is a great opportunity to bird watch, if that is up your alley. The "bananaquits" are in abundance and there are a variety of fragrant trees around The Ferryboat Inn.
Tip: There is also usually a beach chair or two sitting around either outside or in a living room closet that you are welcome to take with you as you sample all of Anguilla's beaches.
That about wraps up this Anguilla inn's apartments. Now onto their famous unit, the "Beach House"...
Last But Never Least? The Beach House
The Ferryboat Inn Beach House
sits right on the beach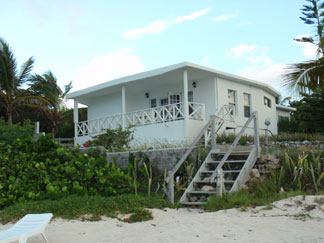 The Ferryboat Inn has a beach house option. I have never stayed at the beach house, but I've spoken with people who have and it is highly coveted.
First, it is a great deal... Imagine having your own little house right on the beach, and overlooking St. Martin! It is two bedrooms and it seems to book way in advance.
Tip: If you are interested in the Anguilla inn's Beach House, I would recommend checking on it well in advance and prior to booking your flight!
Convenience, Should You Choose Not to Take an Anguilla Car Rental
Ashley's Market is walking distance to
The Ferryboat Inn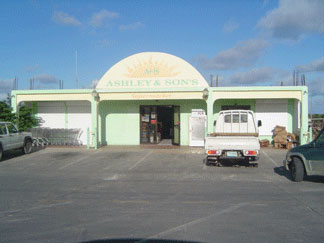 Regarding filling your kitchen with food like I did...
Ashley's Market is in walking distance.
This is the smaller version of two Ashley's Anguilla Grocery Store locations, with the other, larger one located in The Valley.
The smaller Ashley's close to the Ferryboat Inn really does have all you need: fruits, vegetables, bread, dairy (like that delicious gouda cheese!), cereal, snacks, and even sunscreen.
I almost forgot to mention... More often than not you will arrive to a nice assortment of snacks in your apartment to start with, thanks to one very lovely and hospitable lady, who I will talk about next!
Even More Incredible? The PEOPLE, Your Hosts
Moving on to even more incredible things about this most special of all Anguilla inns. I've addressed the location and accommodation but what really makes this Anguilla inn special is the people.
The people are what set Anguilla apart from other islands, and The Ferryboat Inn is no exception to the Anguillian standard. Better yet, The Ferryboat Inn is family owned and operated. In today's world of fragmented families, I find this to be a rare amenity in itself.
Meet Marjorie
Marjorie McClean is the matriarch who is your very gracious hostess and runs the accommodation side of things. She makes sure you are as comfortable and adjusted as can be. She is Anguillian and spent her youth on both Anguilla and Trinidad & Tobago.
She and her late husband opened The Ferryboat Inn together when her son Christian was 2 years old. Marjorie is also one of the most delightful people I've ever met. Sweet, witty, smart, and courteous - I could go on...!
Marjorie and Christian McClean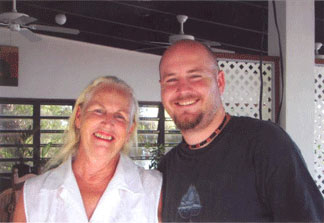 Meet Christian
Fast-forward twenty-something years and Christian is the man behind The Ferryboat Inn Restaurant and in my opinion, the best bartender in the world (not like Tom Cruise in the movie "Cocktail" but still very talented).
He is funny, has great stories, and can share a lot of information about Anguilla.
He makes so many delcious drinks from scratch - no mixes here! He does things the right way.
Marjorie and Christian are supported by family members, cousins, and friends as they all work to make sure anyone staying the Inn or visiting the restaurant is taken care of.
The Ferryboat Inn Restaurant, aka "FBI"
This Anguilla inn is ideal, the people are special... Now let's focus on the food!
The Ferryboat Inn Restaurant is open for lunch and dinner every day but Sunday. The restaurant is truly understated. They don't do any heavy advertising. It is not trendy or posh (thankfully), it is just REAL.
The FBI Bar and Restuarant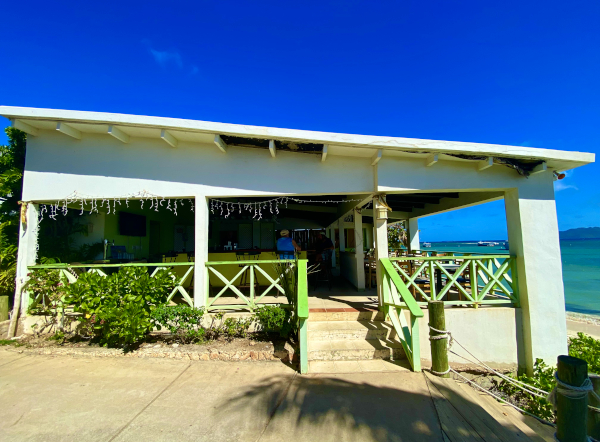 In Anguilla, it's a win-win experience when you find a place run by locals, sitting on the beach, and serving consistently great food in one of the best spots for a view on the island.
Since this bar is popular with both locals as well as guests to the island, you can find yourself pleasantly surpised unwinding on a lazy afternoon...
The Beachfront during the day

During the day, FBI is as casual as they get. A quiet and expansive beachfront garden peppered with large, lush bouganvilleas open up to panoramic views of St.Maarten and the local beach, Blowing Point.
The Bar

Light music and even lighter conversations with Chris and Jenn and other bar patrons make any afternoon pit stop the most enjoyable on the island.
Finger foods and sandwiches are on the menu for lunch. The prices are also very fair considering Anguilla standards...
My vote for best hamburger EVER!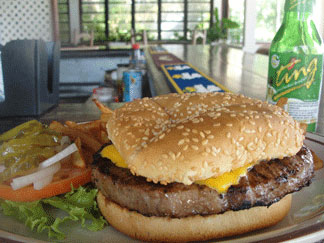 I am not, never have been, a huge fan of hamburgers.
Especially the big, thick ones.
That all changed in Anguilla...
Upon my first stay at The Ferryboat Inn I told Christian I had heard that they had the best hamburgers on the island.
I asked simply because on an island known for its food, that is a pretty big rumor.
I asked him if it was true and in true Christian form, he said that I would just have to see for myself. Note: the McCleans are not boastful people!
I then proceeded to give myself a huge surprise by falling in love with hamburger!
Actually, it was a cheeseburger (you can get whatever you want on it). Still to this day the girl who, prior to FBI, could take or leave a hamburger, now craves FBI burgers. "FBI" is the affectionate local abbreviation for The Ferryboat Inn, by the way ;-)
Click here to read more on FBI's burger, the best burger in Anguilla.
Enough about the hamburgers already!
Over the years, as family and friends visit Anguilla and we go to The Ferryboat Inn restaurant, I've managed to pry myself away from choosing the hamburger and I've tried a few other FBI classics.
My Mom and I don't share many food preferences (one of the only things we don't share) but we are both self-labeled French Onion Soup connoisseurs. We both agree that FBI's French Onion Soup is the best we've ever had. I've also tried the poached snapper which was delicious. My local friend Betty was raving about even how great their simple side salad was.
True attention to detail, with each and every menu item.
How would you like to sit here and eat a perfect hamburger? You can at FBI!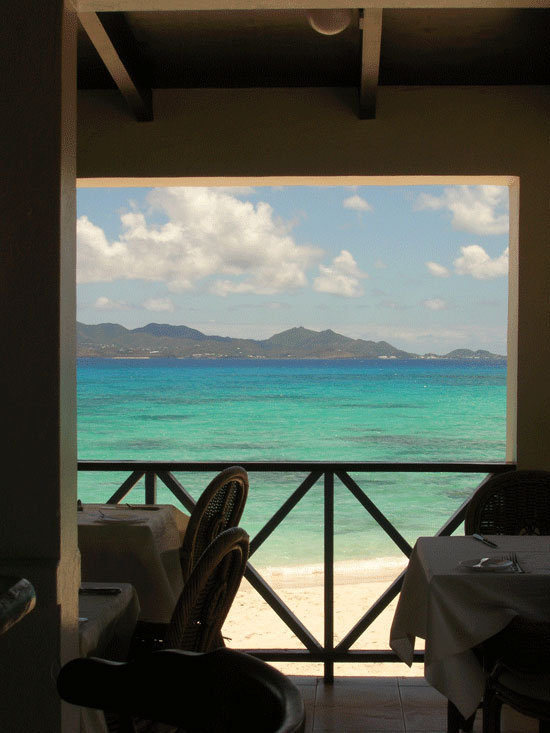 FBI At Night!
Ferryboat Inn By Night

The restaurant holds Wednesday Wing Night each week too.
This night, the regular menu is shaved back but still abundant enough and the focus is on $1 wings.
These wings are some of the biggest wings I've eaten and they are cooked perfectly.
You can get them plain or with mild, medium, hot (they mix in the Matouk's!). This is a busy night and it's best if you show up around 7pm just to be safe.
Thursdays is a traditional style roast night, where Christian cooks up anything from pork to roast beef, served with potatoes and a vegetable of the day. Don't miss this evening.
To read more about Wednesday Wing Night and Thursday Roast at The Ferryboat Inn, click here.
You can't go wrong at the FBI Restaurant unless you just show up when they are closed! ;-)
Ferryboat Inn By Night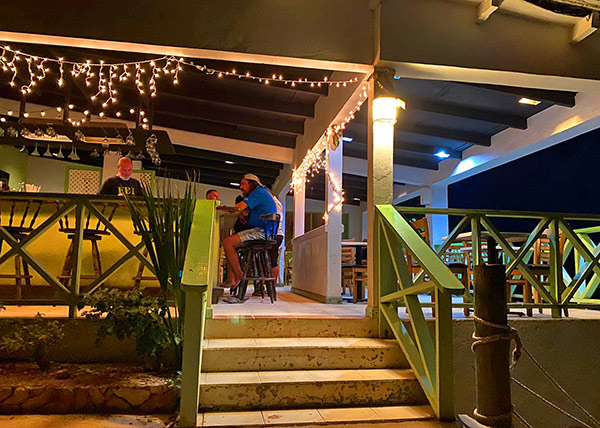 Last, but Not Least... THE BEACH
It's true, you don't read much about the beach in front of The Ferryboat Inn. You hear about the more publicized Shoal Bay, Meads Bay, etc.
Don't forget Anguilla has 33 beaches and this Anguilla inn sits on one of them! A gorgeous, sandy beach touched by clear turquoise waters of the Caribbean Sea. It is a great beach for walking and taking a dip in the sea.
There are plenty of lounge chairs and regular chairs all along the grassy yard that lines the beach. If it is shade you are looking for, there are some pretty palms blowing in the breeze and there to shade you. The Ferryboat Inn is a laid-back, unpretentious place. You can move their chairs wherever you want. Privacy and peacefulness is in order down on their beach.
That's me, celebrating the pretty
sunset at Sandy Point with a cartwheel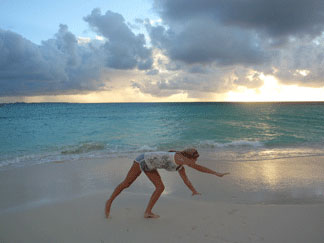 From The Ferryboat Inn if you are facing the sea, the ferry boats are off to your left.
I enjoy watching them come and go in the distance.
They just help contribute to the beautiful backdrop of St. Martin and remind you where you are... Anguilla, an island most conveniently reached by boat!
Off to your right, you can walk all the way around Sandy Point and back.
I love Sandy Point at sunset. It's like your own private wedge of sandy beach jutting out into the insanely beautiful clear blue water.
I Love The Ferryboat Inn
In case you haven't gathered by now, I love The Ferryboat Inn. It is my favorite of all the Anguilla inns.
I have always felt safe there, in fact, I never even locked a door during my stay.
Many people have the impression that Anguilla is very expensive, period. The Ferryboat Inn is the perfect example of a lovely Anguilla accommodations that will not hurt your wallet. They offer tremendous value.
I've told Marjorie before I feel like I should be paying her more!
Contact Ferry Boat Inn
Tel.: (264) 497 6613
Email: ferryb@anguillanet.com