Best Value Anguilla Restaurants...
Ferry Boat Inn
Ferry Boat Inn At A Glance
This family-run, pub-style restaurant overlooking the Caribbean sea and St. Martin is one of the best value spots on the island. Run by two of the sweetest souls, Christian McClean and his mother, Marjorie, when you're here, you're always made to feel welcome.
The friendly service is just one aspect that makes Ferry Boat Inn an A-list restaurant. The food is tops, too. From one of the best burgers on the island, to their $1 wings night, to their Thursday roast specials, not only is the food delicious, it's reasonably priced, too.
More on Ferry Boat Inn, below...
On a sad September day in 2005, one of our favorite mid-priced restaurants in Anguilla, home to Anguilla's best burger at the time, (Le Bar, first discovered years before), said "Au Revoir."
Tears were shed as we thought of all the good memories affectionately. But we refused to wallow in our own misery for too long.
After all, Anguilla is loaded with excellent mid-priced restaurants. Surely one of them would have a burger to die for.
The hunt for the next best Anguilla burger was on!
But which Anguilla restaurants to try?
We searched high, we searched low. We surveyed people living on Anguilla. The recurring advice?
"Try Ferry Boat Inn. Theirs is unbeatable."
Maybe. But could they come close to Didier's fine, herb-stuffed, 12-ounce burger? Being professionals on a critical mission, we couldn't get sentimental. Off we went!
We made our way down to Blowing Point village, past the colorful, Caribbean school, past the local grocery shop, and took a right just before reaching Anguilla Ferry, down Cul-De-Sac.
Soon we saw the rustic sign...
The Ferry Boat Inn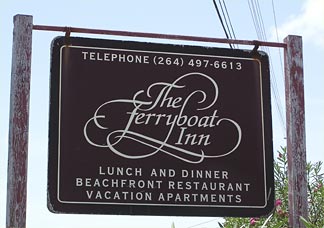 Car doors slammed behind us, as we gazed out at the picturesque little restaurant perched right on Blowing Point beach.
Ferry Boat Inn's Setting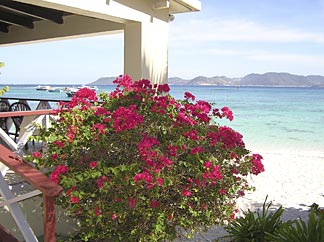 Visually, this place was already ahead of the game.
Magnificent view of St. Martin.
Gentle turquoise seas and rhythmic lapping waves.
Literally right on the beach, Ferryboat is your prototypical beach bar/restaurant.
Ten out of ten for location and funkyy, friendly vibe.
We took a seat right by the edge of the deck, enjoying the trades and the sun.
We waited for our friend Claire Devener to join us.
We pretended to examine the menu.
But who were we kidding?
We were not here for the dolphin sandwich.
An our stomachs were not craving the snapper salad, as tasty as it sounded.
We were on a mission. Burgers!
As our waitress brought us two diet Cokes, a Carib and a rum punch (guess who!), Claire made her entrance. "Make that two rum punches," she announced.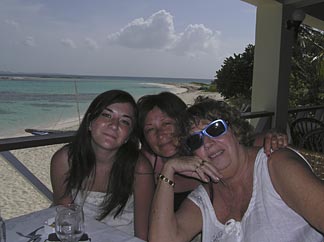 "Claire!"
Would she miss out on the potential-next-best-burger on Anguilla? Never!
She skipped the menu-scan, and we all cut straight to ordering 5 big, juicy burgers.
We chat and drank and chat and drank.
And then, suddenly, the moment of truth had arrived...
Five sensational-looking hamburgers lay before us.
The Ferry Boat Burger

The moment my teeth sank into the burger, I knew. My sister knew. My Mom knew. My Dad knew.
This was our new #1 burger in Anguilla.
It was charbroiled to perfection, with lettuce, tomatoes and onion, all on a fluffy, white bun.
You want bacon? They'll put it on there! Just ask.
All served up with tasty fries, something we always missed at Le Bar.
Le Bar will always hold a special place in my heart. It's not every day you find a burger seasoned by a french cook with fine herbs.
The Ferry Boat Inn, though, is definitely our new burger champ among Anguilla restaurants.
More Than A Good Burger
For the longest time, you could only get me to eat one thing at Ferry Boat Inn.
Yep, you guessed it, burgers.
Ferry Boat Inn is home to the island's best burger.
Whether you want a charbroiled cheese burger, or a deep-fried, whole chicken breast burger, they top any and every burger joint.
Simply put, you can't beat a burger at Ferry Boat Inn.
And, I have a rule about eating out.
Why sacrifice perfection in the name of trying something new?
The answer?
You might find something that pleases your palate, even more. Maybe you will develop a new favorite.
And that is precisely what happened with Ferry Boat Inn.
Ferry Boat Inn is one of our favorite, lower-priced, high value Anguilla restaurants.
The food is consistently good, the service is welcoming and friendly, and the atmosphere, right on Blowing Point beach, looking out to St. Martin leaves nothing to be desired.
Since moving to Anguilla, we have become regulars at Ferry Boat Inn.
Wednesday night is a popular night at Ferry Boat Inn.
No reservations, starting at 6:30 PM they serve their weekly special: wings, battered and deep fried. Order them plain, medium, hot. Warning: hot means hot.
For $1/wing, eat to your heart's content.
Yuki, and just about everyone else in Anguilla, swears by their wings!
I have never been a wing person, so I stick to burgers on Wednesday nights.
Wednesday Wings night at Ferry Boat Inn is fun and usually very busy.
If a calmer evening is what you are looking for, come back on Thursday.
Thursday is a special night at Ferry Boat Inn.
Every Thursday night, Christian does a "homemade" roast that family members often turn out for.
Meet Christian McClean

Christian owns and runs Ferry Boat Inn with his family, who are from Trinidad. His father was from England, which may be why Ferry Boat has a sort of tropical bar-pub atmosphere.
Thursday night, Ferry Boat Inn is calm, the tables are delicately set, and the menu rotates among 4 possible roasts.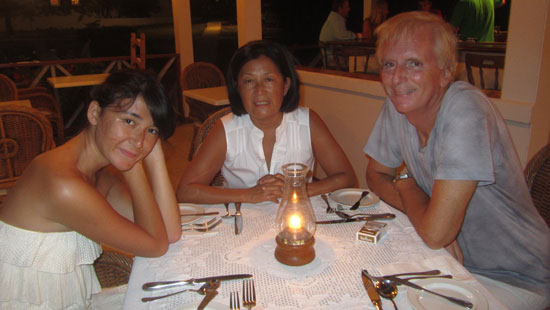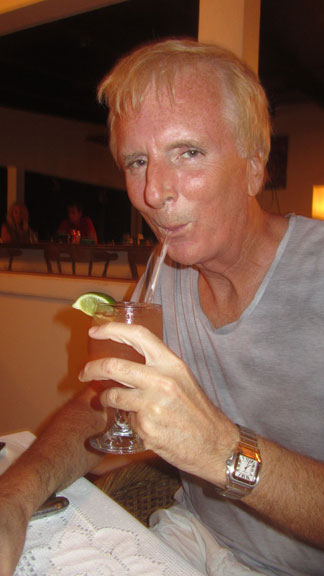 But before getting to the Thursday special, let's talk about drinks!
Christian serves one of the best rum punches on the island.
Not watered down, no fruit juice, not too strong, just perfect.
It's hard to find a rum punch that tops Christian's!
As you can see, my Dad loves it
After cocktails, Christian announced the evening's special...
Roasted pork tenderloin, scalloped potatoes and steamed vegetables.
4 specials coming up!
Christian brought over a warm basket of bread, straight-from-the-oven.
In an effort to save room for the evening meal, we resisted asking for two baskets! ;-)
My Mom started with a fresh mixed salad.
As she ate her salad and we ate our bread, we all enjoyed the sounds of lapping waves while soaking up the line of lights visible from St. Martin...
The Soft Lights of St. Martin in the Distance

In good time Christian's cousin, and a good friend of ours, Juliet approached, large plates in hand...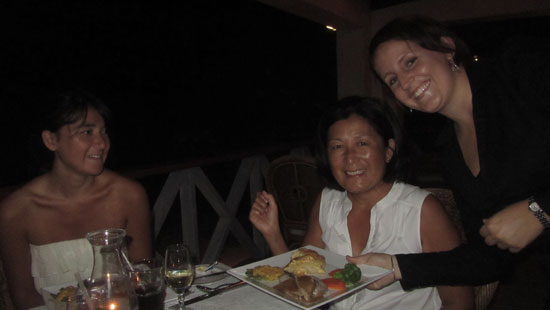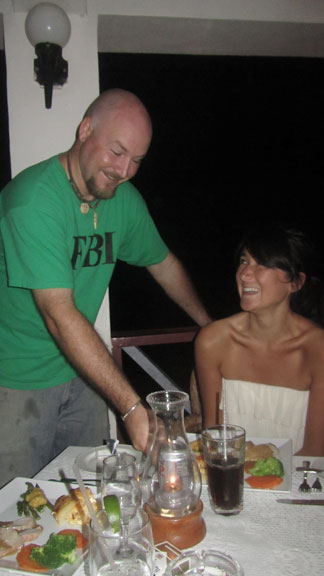 Pork tenderloin roasted to perfection, served in a light gravy.
Fresh asparagus and steamed vegetables on the side.
Yuki's favorite part?
The scalloped potatoes!
Some nights Christian serves baked potato, mashed potato or roast potato.
Each are equally good, but Yuki loves scalloped potatoes.
And, she doesn't get them often.
Scalloped potatoes aren't a regular menu item at most restaurants, and rarely are they done this well! ;-)
Other specials served on Thursdays include roast lamb, roast beef and, when Christian is feeling creative, chicken parmesan stuffed with coconut.
Each week the specials are served with fresh vegetables, and a potato side.
We skipped starters to save room for Christian's special, but if you're a bigger eater, for starters, most people can't get enough of Christian's French onion soup.
Mom and Yuki Dig In!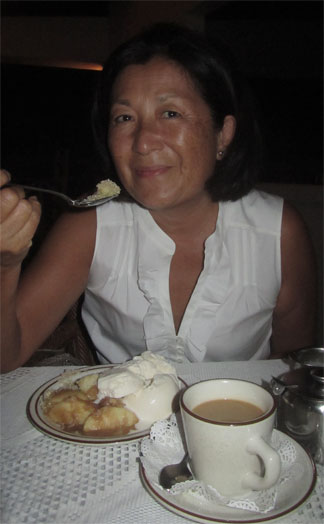 Our plates were clean in no time.
My Dad thought, "Should I order a second plate?"
It was that good.
We opted for a dessert of apple crumble and coffee instead.
As the meal was coming to a close, I gave in, I admitted what I thought had been impossible...
I had strayed from my favorite Ferry Boat burger and found another favorite, Ferry Boat Inn's Thursday Special roast.
But, it's not an either-or situation.
The perfect compromise?
Ferry Boat burger on Wednesday.
Ferry Boat special roast on Thursday.
The only solution!
Ferry Boat Inn is one of the best value Anguilla restaurants.
Four special roast dinners, 1 cocktail, 5 glasses of Pinot Grigio, dessert and a salad for starters cost just under $150.
The reasonable cost and consistently good food keeps us coming back again and again.
Don't miss Ferry Boat Inn's Thursday specials!
Friday Curry Nights
Nothing warms the soul like a good bowl of curry and no one does it better than Christian.
Every Friday Christian serves up a variety of tasty curries along with a special appetizer. It has become one of our go-to's on Friday Nights, loved especially by my Dad.
Our favorite is his Chicken Tikka Masala. It's served with salad, plantain and fruit. The curry itself comes on a bed of basmati rice. Each bite was truly more delicious than the rest. The only matter I couldn't resolve? Which did I like more? The curry or the appetizer of Cassava!
With $5 glasses of wine and mixed drinks, it's one high-value deal.
Christian, you have done it again :-)
Directions, Hours & Contact
Directions: Heading towards Blowing Point ferry terminal, take the right immediately before the ferry area. Continue down that road. Shortly, you will see a Ferry Boat Inn side on your left. See map below for exact location.
Ferry Boat Inn
Good for Wings Night every Wednesday ($1 wings), burgers, French onion soup and Thursday roast specials.
Hours: Lunch is served Monday-Saturday from 11:30am-3pm, dinner is served Monday-Saturday from 7-10pm. Closed Sunday.
Tel: 264-497-6613