Straw Hat &
Frangipani Anguilla Hotel For Lunch
Update: For the main and up to date page on Straw Hat click here.
One of our Anguilla "classics" is Straw Hat.
Back when the charming Anguilla restaurant was stilted above the waters of Forest Bay, we knew our hearts had been taken captive.
The food, the atmosphere, the service...
Straw Hat served a memorable experience!
When Peter and Anne (Straw Hat's owners) left their Forest Bay location in 2009 for a prime beachfront spot at Frangipani Anguilla hotel, we knew there would be some readjusting to do...
But it wasn't too bad! How could it be? ;-)
Apart from a dream location, my favorite part about Straw Hat at Frangipani Anguilla hotel? They are open seven days a week, for breakfast, lunch, and dinner.
I knew I loved their dinner menu, so curiosity about breakfast and lunch set in. One step at a time. We went for a Straw Hat lunch first...
Straw Hat's Picture-Perfect Spot at Frangipani Anguilla Hotel

Their expansive patio is delightful during the day. Each way you look, you gain expansive views of Meads Bay... the inviting, turquoise, sea and the shimmering, silky, sand. The scenery almost seems like it was Photoshop-saturated. The backdrop belongs in a postcard!
And then you open the menu...
Salads: Mixed Salad, Caesar Salad, Greek Salad (Add snapper, tuna, chicken, crayfish, or shrimp)

Small Plates: Gratineed Potato and Goat Cheese Salad, Gazpacho, Mediterranean Tapas, Tequila-Lime Ceviche of Red Snapper, Spring Rolls, Chips 'n Fish, Tuna Tartare, Warm Tomato Pie, Shrimp Crepes

Sandwiches and Burgers: Portabello Mushroom Focaccia, Spicy Fish Sandwich, Grilled 8 Oz. Angus Burger, Open Steak Sandwich, All Natural Beef Hot Dog, Meads Bay Turkey Club, Pastrami Reuben, Grilled Chicken Breast Tortilla Wrap

Main Courses: Spinach Frittata, Penne & Roasted Chicken, Tuna BLT, Pan Seared Snapper Fillet, Grilled Local Crayfish, Grilled Anguillian Lobster
A perfect lunch menu! It covers everyone's needs. From light dining, to full meals, Straw Hat's lunch menu has something for everyone and the cost is reasonable, too.
This lunch date was "girls only", just me, my Mom and Yuki. My Dad and I had snuck a bite to eat here before though. His recommendation? Chips 'n Fish. His tip? Order fries on the side.
The dish actually doesn't come with fries, the "chips" part is in the batter! Peter doesn't do fish and chips the traditional way. It is more like tempura.
My Dad said the combination of Peter's sensational french fries and the tastily battered "chips 'n fish" made it his favorite fish and chips on the island. It's not traditional British fish 'n chips (of which he rates Roy's and Ripples highly). But he days that if you do like this British classic, my Dad says you'll love the flair and originality of this version.
He also (modestly!) suggests that Peter and Anne should add this combo to the menu as "Dad Evoy's Favorite Fish 'n Chips" so folks don't have to figure out that they have to order the fries as an extra dish to "complete" the Chips 'n Fish. Ha ha!
On that Straw Hat visit, I was craving goat cheese (as always!), and tried the gratineed potato and goat cheese salad. It was different, unlike anything I had tasted before, but it sure was heavenly!
But, back to the mom & daughters Straw Hat lunch day at Frangipani Anguilla...
Our kind and accommodating waitress took our orders and brought us some cold drinks!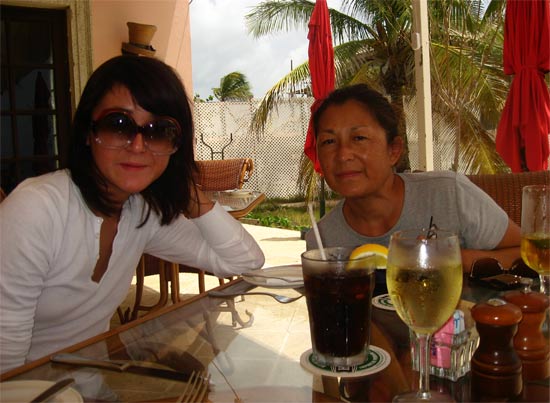 We sat and chatted, sipping our drinks, enjoying the cool shade and the blissful afternoon.
In good time, lunch was served!
Yuki went with the turkey club... oven roasted turkey double-decker with bacon, Swiss, lettuce and tomato, served with Straw Hat's famous french fries.
(Some of the best fries on the island. So light and crisp!)
I stayed simple, with a greek salad and sumptuous shrimps!
My Mom loves fish sandwiches, so there was no passing up one at Straw Hat! It was a grilled local fish with spicy jerk sauce, lettuce, tomato, served on a baguette with fries.
She didn't have to tell me that she loved it.
I just watched her inhale it!
Lunch was ideal. We were beaming... Tasty food, great company, a spectacular setting, and for an affordable cost. It doesn't get much better than that.
Straw Hat serves one of the island's best lunches!
I would love to stay at talk, but in fact, as I write this, I am watching the clock. Just a couple of more hours till lunch time.
Guess where I'm going today? :-)
I think this time I'll try the turkey club!