The Best Way to Finish
Caribbean Island Vacations
Update: Straw Hat is now located on Meads Bay. More on Straw Hat here.
Caribbean island vacations are always very special trips.
But of course, there is no feeling of despair that matches the sadness you feel when enjoying that last meal, with a heavy heart.
The thought of that plane ride returning you to a wintery (in our case!) climate, the following dreaded day, looms over your head like a grey storm cloud.
Our family has a motto... Don't make that sad meal sadder!
The solution? Dress up, get fancy and try one of the high end Anguilla restaurants.
Now, we have criss-crossed Anguilla's map of ritzy, glitzy restaurants like Lewis & Clark, but there was one that I had never tried.
My parents had the pleasure of dining out with friends at this high-end, delectable eatery, but my sister and I were left out in the cold with pizza and curiosity about the very fine...
Straw Hat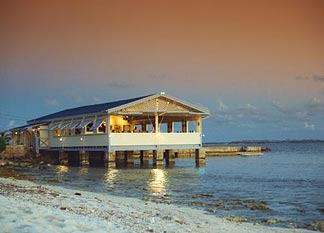 Photo Taken From: http://www.festival.ai
Later that night, while my sister and I were munching on the leftovers of take-out, my parents burst through the door ranting and raving about this Anguilla restaurant. "Delicious, delicious, delicious."
I faked a happy face for them, but inside I grumbled.
"Delicious, huh? I need to try Straw Hat!"
On every one of our Caribbean island vacations that followed, I begged and begged to go. But there always seemed to be new Anguilla restaurants to try each year. And so the mystery of the appetizing Straw Hat grew ever larger in my mind.
Then, finally, one evening, my dream was realized.
"Nori, guess where we're going tonight?" my Dad asked with a smirk.
"I don't know. The new place that just opened in the West end?" I asked with a sigh.
"Guess again..."
He didn't have to say anymore, I already knew.
Straw Hat, Straw Hat!
My gut feeling was correct. The time had arrived. Would it live up to the hype I'd built in my head?
Upon pulling up to the restaurant-on-stilts, I had a good feeling.
It was so picturesque and peaceful, sitting at ease on the calm Caribbean sea.
And the first few steps inside, confirmed those initial impressions.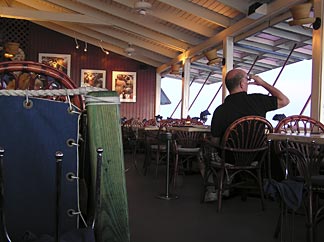 I felt cozy and safe in the restaurant's warm environment.
The atmosphere made me feel as if I was dining in Long Island or somewhere on the coast of Massachusetts, rather than the fact that I was on a Caribbean island vacation.
The decor was one of a nautical theme, with navy blues and maroons and just a few Caribbean colors to create a subtle Anguillian flair.
I took a deeper look around before I sat down at our table.
Yes, I really was in Cape Cod, sort of! Ha! Ha! The bar definitely added to the restaurant's New England beach charm...
The Bar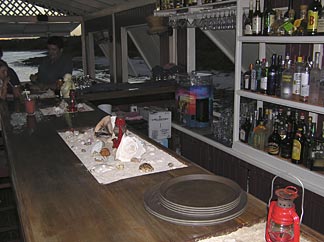 But when I looked to my left, out the open sides of the restaurant, I remembered that yes, I certainly was in the Caribbean!
Sweeps of St. Martin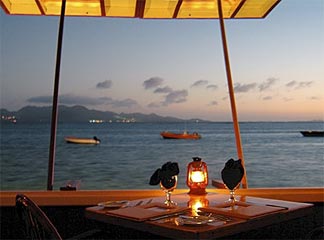 Photo Taken From: http://www.strawhat.com/
I couldn't stand and gaze for too long, though. My family was getting impatient to order!
It was time to take a look at the menu I had dreamed of for so long.
Everything sounded beyond delicious... Lobster & crayfish spring rolls, charred tuna, pan seared snapper, ancho crusted tuna, pan roasted duck... The menu just got more and more mouth-watering.
I couldn't decide on anything on the menu though, so I went with the special of the day! A grilled snapper served with wasabi mashed potatoes. Mmm. Of all the ways potatoes can be served, mashed is my favorite.
So of course when I saw roasted garlic mashed potatoes, at the last moment, on the menu under "Sides", I had to have a plate of those too!
"Sure you have enough carbs, Nori?" My Dad laughed.
My nutrition would have to be sacrificed... It's not everyday that you get to sample wasabi flavored mashed potatoes, and garlic ones too.
The food came a little while after we ordered, and our mouths were in heaven!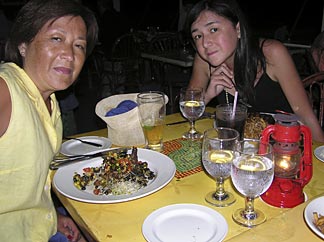 My Mom had gone with the Jerk Chicken that was cooked to perfection and accompanied with black beans, rice and roasted corn tomato salsa.
Meanwhile, my sister was well in over her head with a huge "New York Strip Steak"!
She enjoyed every bite, but "every bite" only brought her halfway through it before she was filled to the top.
Somehow though, she did have room to polish off the tasty fries! ;-)
My Dad and I were working on our fish dishes. Delicious!
But the variety of mashed potatoes made the meal for me.
Both the wasabi and the roasted-garlic ones, were creamy and zesty!
Our stomachs were feeling quite full, but who knew how long it would be before we returned?
We just had to order the "Chocolate Lava Cake" served in a "lavender Creme Anglaise"!
The order was placed, and I knew my stomach would be stretched and stuffed to the max, but the thought flew out of my head when the owner of Straw Hat himself, popped over to say, "Hello!"
My Sister and I with Peter Parles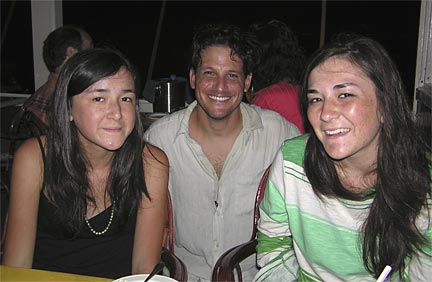 Peter used to work on the show Blue's Clues on Nickelodeon before he opened up his restaurant in the Caribbean.
He is truly charming and delightful and even rearranged reservations to squeeze us in at the last second!
We chatted for a bit, and then the dessert arrived...
We zeroed in on the scrumptious, chocolate-filled mountain of cake.
Moments after we had polished the plate, my stomach was mad at me. "Too full, too full!"
But my taste buds were happier than ever.
The entire meal had been spectacular!
I can't even begin to think of a better way to end Caribbean island vacations!