Johnno's...
Anguilla's Original Beachfront Restaurant
One of the very first beachfront establishments in Sandy Ground, Johnno's has been loved by many for decades. A lunch restaurant and bar, Johnno's is known for its whole snapper, live music and prime location on the beach.
Johnno's From The Sea

Owned and operated by Johnno Edwards, this friendly beach bar opened in the mid-80's. Decades later and still - no trip to Anguilla is complete without visiting one of the island's original beach bars.
Welcome to Johnno's

Covered and open-air, it is casual and laid back just as a beachfront Caribbean restaurant should be.
Johnno's for Lunch
There are plenty of tasty lunch eats at Johnno's. Hot dogs, hamburgers, chicken and fish sandwiches and fried fish are all available from the grill, as well as...
Ribs With Rice & Peas

Mouthwatering and oh-so tender, these ribs easily fall of the bone. They are some of the best on-island.
In addition to beachy eats, Johnno's has terrific Caribbean fare. Favorites include steamed or grilled fish, lobster, fish fillet, stewed conch, shrimp scampi, chicken and either a striploin or t-bone steak.
Grilled Snapper with Rice & Peas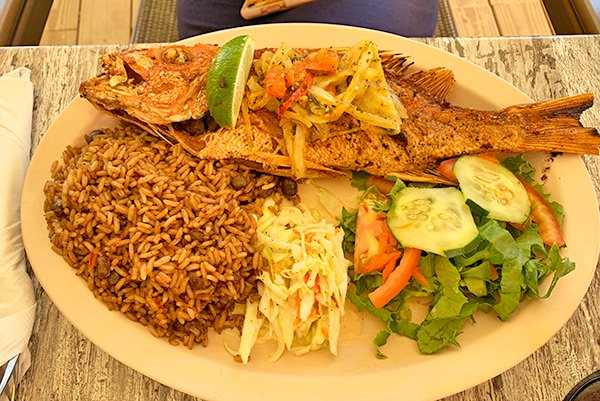 These dishes come with sides like coleslaw, salad, rice and peas, fungi, and French fries.
Having eaten everything at Johnno's (I do mean everything - the fish sandwich, ribs and cheeseburger!), I must say that the whole steamed snapper is my favorite. It's not surprising that this entree is the menu item that Johnno's is best known for.
Granted, many people and places in Anguilla do a great whole snapper but Johnno's, to me, raises the bar, somehow, some way…
The famous Sprocka takes a break after a fun performance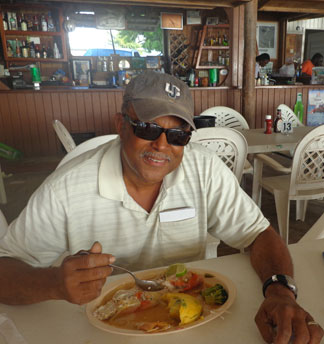 First, it is fresh. It is right out of the sea, caught by a local fisherman.
Secondly, it is cooked perfectly, full of flavor, and just feels like you are eating what you are meant to eat when you are at Johnno's.
Have it with fungi, have it with fries, have it with rice and peas, whatever you please, but it will still be all about the fish.
The Entree to try at Johnno's... The Steamed Fish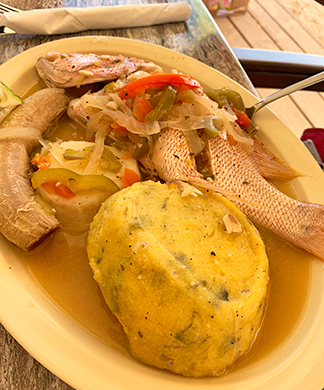 Whole fish is an Anguillian staple, it's a classic!
When it comes to drinks? Johnno's has a variety of cold beverages.
From soft drinks and beers, to their frozen drinks… the Johnno's Special is a good one to start with. When it comes to non-alcoholic drinks, the frozen drinks and smoothies are eye-pleasing and so refreshing.
Daiquiri at Johnno's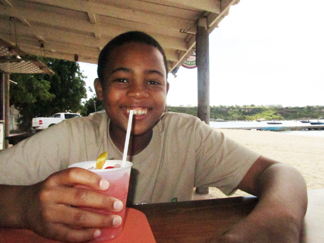 It's hard to beat a cool frozen drink and a tasty snapper lunch with this Sandy Ground setting...
View of The Sea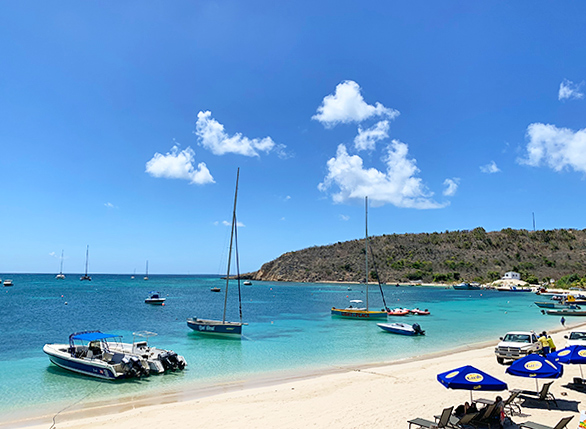 Live Music at Johnno's
Over the years Johnno's has become a go-to venue for live music, especially on a Sunday. You don't want to miss Jazz at Johnno's from 1pm to 4pm.
Lucky day for these visitors as the cutest singer does a song for them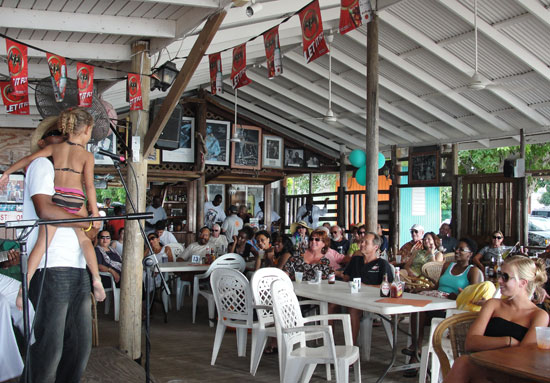 While jazz is the key genre of the day, some other more "jazzy" and mainstream tunes make their way onto the set list as the band will take requests.
Here's a video of Black Magic Woman being performed at Johnno's...
Brilliant, clear and soulful!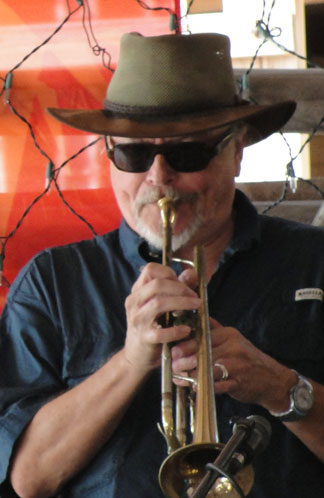 Popular names and faces that have graced Anguilla with their musical talent are on hand to entertain, including Sprocka.
Sprocka is an Anguillian musician, multi-talented and amazing on the guitar, keyboard, saxophone and trumpet.
His smooth voice has been keeping Anguilla entertained for many years and he is able to fulfill just about any request.
There are a few regular musicians on drums, bass and brass as well.
These musicians are talented and are very willing and able to allow for impromptu guest musicians to make their way to the stage if they are inclined.
I recall one of the award-winning Mary J. Blige's back-up singers who was vacationing in Anguilla and got up to sing a few songs in 2012. She was fantastic.
Jaiden Fleming of Anguilla's band
British Dependency on drums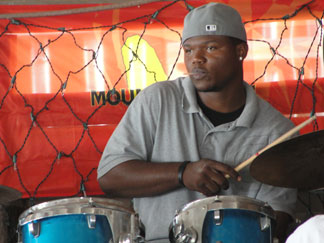 You never know who might be around and ready to jam.
Tip: If you choose to visit Johnno's on a Sunday, the service may not be as swift as you would prefer. It's best to plan for a leisurely afternoon and to spend at least a couple of hours there. The time flies by. :-)
When you do get to Johnno's... relax, unwind, enjoy, try the steamed whole fish, groove to the music, and know that you are experiencing a beloved small piece of Sandy Ground establishment history.
Johnno's decor sets the mood for Sunday jazz...

Many people love this spot for the local community feel, cool water and soft sand. The second your feet touch the warm sand, your senses are heightened.
Directions, Hours & Contact
Directions: Located on the beach in Sandy Ground, right next to the wharf.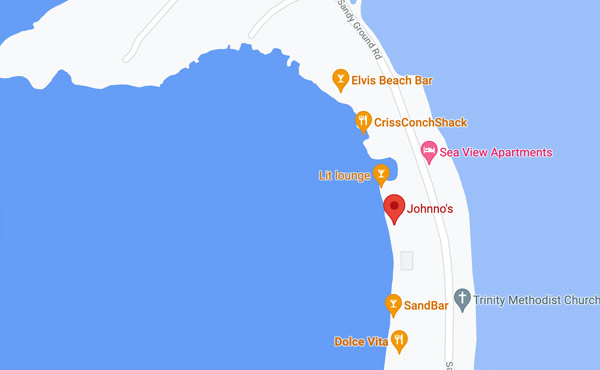 Hours: Lunch on Friday-Sunday.
Tel: 264-497-2728
Menu: Click here