The Sandy Ground Good Times, Good Eats,
Cold Drinks Pioneer... Johnno Edwards
By: Kristin Bourne
Nice and straight-forward, calmly friendly and private, if I hadn't directly asked John Edwards a little about himself, I may not have uncovered the adventures the man known as "Johnno" has lived.
He can be called many things; a bartender, a cook, a boat mate and captain, a dinner cruise operator, a builder, a business owner and more.
Johnno in the earlier days of Johnno's Beach Stop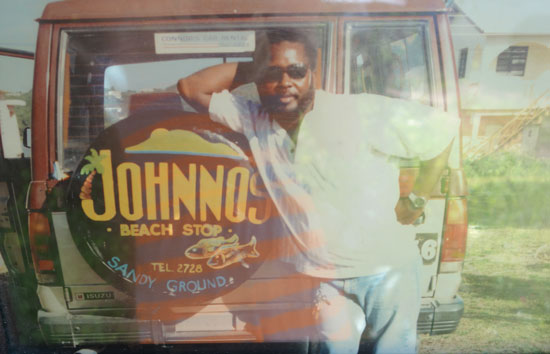 This man is the pioneer of Sandy Ground nightlife. And it's with him where the popular and uplifting, now common practice of live music on the beach, on a Sunday, in Anguilla, got started.
If you're familiar with Johnno's Beach Stop in Sandy Ground, I'm speaking of its founder and owner. It opened back in 1983 but his business ventures in Sandy Ground and his story doesn't start there…
Johnno was born in the 50's and was living in St. Thomas at the early age of 13 and moved to the United States in his early 20's. These are the two key places where Johnno's career path and taste in music was influenced.
Early Influences
Work officially began at a young age in St. Thomas where he worked as a bartender. His first experience was an order for two strawberry daiquiris and he made a $5 tip.
He continued and learned how to be a successful bartender while in St. Thomas. Johnno even trained the original Malliouhana bartenders at a location in Cul de Sac, Anguilla prior to their first and original opening in the 80's
Bartending was now under his belt.
His father had a boat and traded, using the 'Rebecca Edwards' to sail throughout the Caribbean and as far south as Trinidad.
The 'Rebecca Edwards' was named after Johnno's grandmother. Johnno worked as a cook and that working boat unfortunately sank near Dominica.
Both boat mate and cook were now under his belt.
Sandy Ground's First Beach Restaurant and Bar
In 1974, in Anguilla, Johnno brought in 28 rum barrels and put down a concrete slab in Sandy Ground, in the very spot where Barrel Stay Restaurant sits today.

This was the start of his businesses and the first "liming" destination in Sandy Ground.
There was no electricity then so he brought in a generator. There was no kitchen. He cooked on the beach. His fare was light.
Bread was baked in the nearby rock oven which is still standing and was recently given some renewing tender, love and care by a caring Sandy Ground resident.
Drinks were served without ice.
Over time, he built the structure that is still in use, housing the current Barrel Stay Restaurant.
Barrel Stay today. Built by Johnno in the 70's.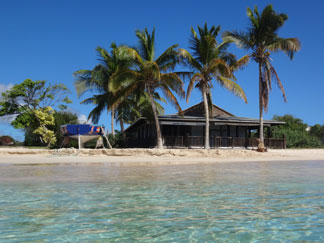 Live music started up on Saturdays from 8pm to 2am. More and more people came as it was something great to do in Anguilla.
His innovation included installing an antenna TV and showing wrestling. Watching wrestling was and is popular in Anguilla!
In 1983 he opened Johnno's Beach Stop and it's still in full operation today, serving a full menu including fresh catch, sandwiches, entrees and a variety of drinks.
As with Barrel Stay, Johnno designed and built the Johnno's Beach Stop building from the ground up. [He had left behind the rum barrels at the old location and a few can still be seen if you dine at the current, upscale and decadently delicious Barrel Stay.]
Johnno grills in the early days of the current Johnno's Beach Stop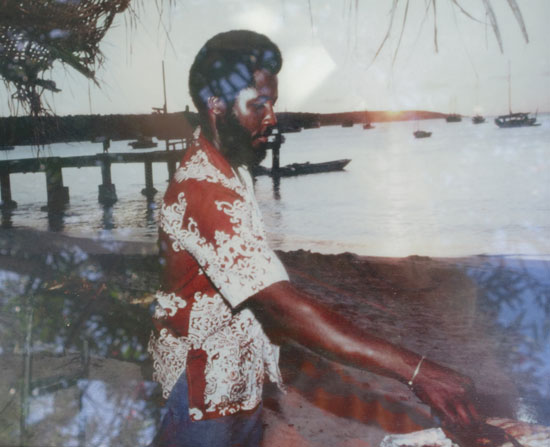 At its start Johnno's Beach Stop was only open on a Sunday. Johnno did all of the fishing himself. His Sunday band was a string band called "Sleepy & The Allstars".
As the restaurant evolved, Johnno's love for jazz that developed during his time away became the background music when the music wasn't live.
During his time in the States he had driven a DJ around and through that connection he accumulated a nice collection of jazz records that he brought back with him to Anguilla. In fact, he paid for overweight luggage to get those records back.
Today, live Jazz on Sunday's is by far the most popular day at Johnno's and one of the most popular destinations in Anguilla on a Sunday.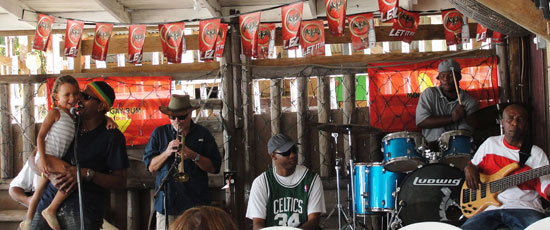 Johnno's Beach Stop is lined with images of jazz greats and some pics of visiting musicians from over the years.
Johnno has a million stories but he's humble and you might have to go searching for them.
Jazz greats on the wall at Johnno's Beach Stop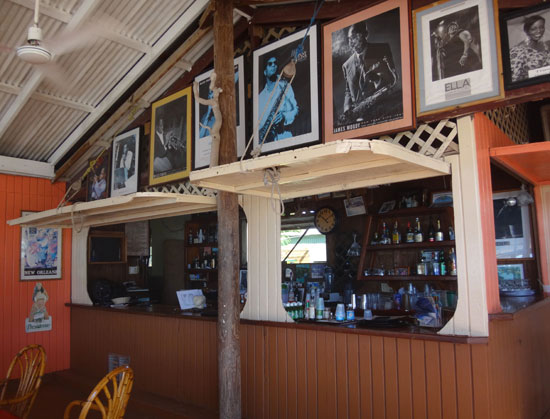 Johnno's Buckely Smith drawing can be seen hanging
behind the bar in the current Johnno's Beach Stop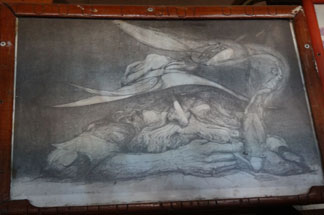 He did tell me a story from his early business days in Sandy Ground about a visiting sailor that ended up not having funds to cover what he'd consumed. To pay he pulled a drawing from his boat and happily gave it to Johnno. It was a ink drawing by fantasy marine artist Buckley Smith.
You can see it today, hanging behind the current bar at Johnno's Beach Stop.
Business owner is under his belt. Can you believe he was a dinner cruise operator too?
Dinner Cruises & The Start of Prickly Pear
With Johnno having spent some of his youth sailing on a wood boat around the Caribbean and cooking, he decided to offer a sailing and dining experience in Anguilla with the "Banana Boat".
It was originally a Carriacou working boat called New Desiree with beautiful wood planks exposed.
He did lunch and sunset cruises around Anguilla before a hurricane damaged it in a passing storm. You can see the Banana Boat today on the shore on the southern end of Sandy Ground.
Since business owner, dinner cruise operator, bartender, cook and his skill in operating a boat are all at his fingertips and he likes to stay busy, he also operates an offshore cay excursion in Anguilla.
Lunch at Johnno's Prickly Pear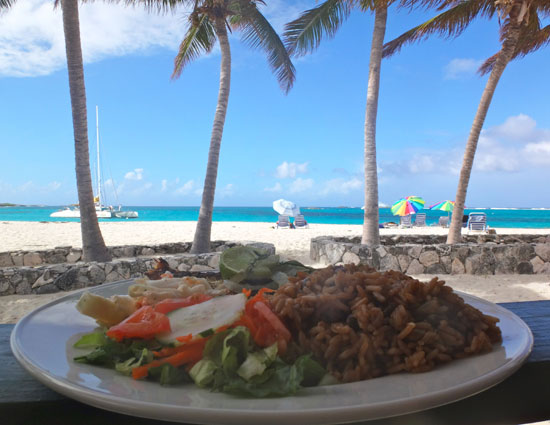 On several days of the week, he drives his Prickly Pear Express boat out to Prickly Pear, loaded with supplies and fresh food. He and his staff serve grilled lunches, provide beach umbrellas and loungers and a full bar. Day-trippers from St. Martin are the bulk of his business but you can ride out with Johnno for a great day at Prickly Pear.
Yes, it sounds like Johnno has always been a busy man. Throughout the years he did find time to marry and have children. He's now a grandfather and he and his wife run Johnno's Beach Stop in Sandy Ground. He also operates the Johnno's at Prickly Pear.
He shows no signs of slowing down but he likes offering relaxing times, good food and cold drinks to visitors and locals alike. He was on the early side on serving literally "ice cold drinks" because ice was not common in Anguilla until the early 90's.
Johnno is a true innovator and pioneer. If you look down the stretch of beach in Sandy Ground today and note the growth, I can't help but think that Johnno was the original.
When he started his first business on Sandy Ground, imagine a time when there was only homes, one wharf, a tiny shop or two and devices for supporting the salt export and local fishing industry.
More people walked. There were cars but not many. Since there was no electricity, I can imagine how the first beachfront business might look at night, powered by a generator. Johnno brought a little ambiance to the dark, quiet beach.
Today Sandy Ground is THE restaurant row and nightlife and live music center of Anguilla. The man that kicked that off still moves about Sandy Ground, quietly and humbly doing what he's always done and in his hard-working yet relaxed manner. Thank you, Johnno.