Anguilla Hike:
Who Says You Can't Have a
Cheap Caribbean Vacation?
(Click here for more on cheap Caribbean vacations)
Think it's impossible to take a cheap Caribbean vacation in Anguilla? Most people believe that Anguilla must be extremely expensive.
And yes... it would be if you stay on Anguilla, Brad Pitt style... sleep at Exclusivity Villa and eat at Hibernia every night. I guarantee that holiday would cost you a pretty penny.
But for the rest of us, a cheap Caribbean vacation is indeed possible!
First off, Anguilla has many nice, yet price conscious hotels. Our favorite is Anguilla Ku Hotel. If you prefer Anguilla villas, the C-Breeze Inn has our vote for best low-cost Anguilla villa.
Your next budget concern would probably be eating. Again, Anguilla has that covered! There are so many tasty beach bars and local BBQs at which you can eat like a king, for as little as $5!
Activities? You don't have to spend $1,000 for a round-the-island-tour. (Save $970 and purchase my DVD -- now that is a cheap Caribbean vacation!)
There are tons of free activities to fill your day. Anguilla is famous for its beaches... lounging, swimming, shallow snorkeling. Relaxing on the beach... a great start to the perfect cheap Caribbean vacation is possible!
There's nothing better than lying in the warmth of the Caribbean sun on Shoal Bay Beach. But, if boredom rears its head get off the beach towel and adventure into the "wild."
Anguilla is safe, so a trip into the "Anguilla Outback" isn't dangerous. Just don't be like my dad! Wear proper apparel and bring water! Lots and lots of water.
My Dad once made that crucial error. He trekked all the way out to the Western tip of Anguilla in flip-flops and without any water. He came back half dead.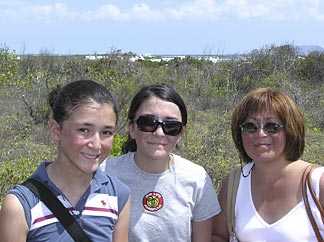 Despite that bad experience, my Dad was determined to hike along the Western tip of Anguilla again. This time, however, he didn't want to start on Sherrick's Bay along the south shore. No, he wanted to hike to the tip along the north shore, first through the thick of dense brush and then along, well, you'll see!
And he wasn't going alone. My Mom, sister and I were part of his madness this time!
So, what is the major difference between the south side and the north side to the Western tip?
The cliffs.
On the south side, there aren't any high ones. You have to climb up (when you run out of shore) and clamber down (when the brush becomes impassable). It's exhausting. That is what almost did my Dad in.
However, on the north, after you break through dense brush, you reach the very edge of 100 foot cliffs. You are then presented with a smooth, if somewhat vertiginous, cliff-side walk. These cliffs are H-I-G-H. There is no up-and-down. You "merely" walk right along, GULP, the precipice.
It really is a little bit dangerous.
We didn't want any accidents or near-death experiences! So, this time, my Dad brought four bottles of water, and we all wore running shoes. And then the adventure began.
We stopped the car when the road out to the western edge of Anguilla ended, and began walking a long a marked foot path. Unfortunately, the trail faded after a few minutes of walking, and my family and I found ourselves surrounded by trees, bushes and we could hear the scampering of lizards.
My Mom, sister and I were terrified! However, our fearless leader had experienced worse. "Heck, you're bigger than they are!" He went on ahead and made a track to the edge where the cliffs were.
Desperate to leave the claustrophobic atmosphere the foliage created, I ran to catch up with him. We had to leave my mom and sister behind as "sound beacons" for our return. If we didn't, we would never have been able to find our way back to the car.
My dad may be crazy, but he's not stupid.
The moment we emerged from the "forest", we were struck by a wall of sheer beauty. Few visitors to Anguilla have seen this magnificent view...
Behind Us...


The contrast of the dry shrubbery and desiccated cliffs to the sudden, fresh, cool blue sea was overwhelming. The beauty washed over us.
We kept moving. Our goal was to get within view of Anguillita Island. We knew we would not walk all the way to the tip, since it descends to sea level. We likely would not have the energy to make it back up.
Even so, there were still many feet of high, cliffs for us to walk before we were to accomplish our goal. My Dad claims this walk was physically easier, but it was scary, especially in certain places! One wrong footing and it's Hasta la vista baby!
It's a long way down. Not a great ending to a "cheap Caribbean vacation"!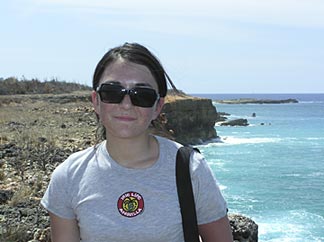 Slowly we began to see the western end of Anguillita Island.
We were nearly there!
The last steps before reaching an Anguillita Island vantage point, were the most daunting.
Although we were well hydrated, we were exhausted and boiling, just the same.
And then, could it be?...
A feeling of accomplishment!
Anguillita Island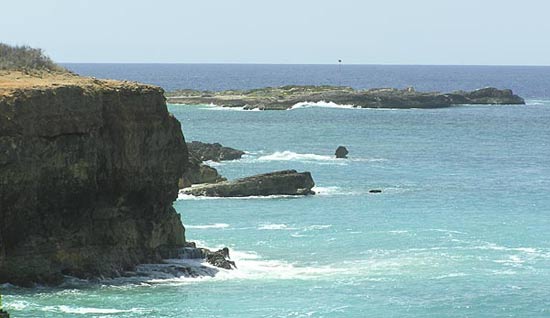 We made it!
We didn't give up!
We didn't die!
Yet!
... we still had to get back.
The problem was, we were drained! The walk along the high cliffs would be a hundred times more dangerous, now that we were tired and less sure-footed. My Dad's recommendation?
Cut inland through the brush.
That was the last thing I wanted to do. Well, I guess second after death!
And so thus began our trek inland. We alternated between "Anguillian forest" and open fields, making much better, but hotter (without the breeze) time. Branches were cracking under our steps, lizards were scattering, and then, we came face to face with this guy...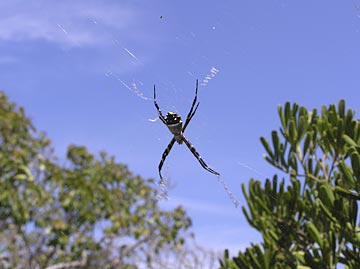 I don't know what species this spider was. I should have put my hand beside him for scale, but I was afraid he'd eat it. He was at least 6 inches across!
Fear struck my heart,. It was huge. I needed to get home as fast as I possibly could!
A short while later, my Dad and I began screaming out, "Janice, Yuki." We needed our human landmarks to make it back to the car!
In the distance, we heard faint voices screaming, "Ken... Nori." At first, I thought maybe we were merely hoping that is what we heard. But the voices got louder and we followed the direction to them. We were soon reunited and walking back to our car.
It was indeed lucky that we had left them behind. While we had marked the cliffside trail, we had not returned that way. I doubt we would have found the car without them.
It never felt so good to sit in an air conditioned vehicle!
What a day it had been... the hike was certainly fulfilling!
This was not Disneyland. This was real. Real fun. And all for a few dollars worth of water. Who says you can't have a cheap Caribbean vacation in Anguilla?