Brad Pitt Visits Anguilla
Brad Pitt. A magical name. Here is the story of how all is not as it may seem in Hollywood (or Anguilla).
A magnificent mansion was completed on Captain's Bay in 2004. While it overwhelms a perfect little bay beach (it's about 1/3 of the size of the beach!), it certainly does get attention.
At a rate of close to $10,000 per night, its name, Exclusivity, is certainly "on-the-money."
Naturally, it's become a home-away-from-home for the super-rich and famous. Including Brad Pitt and Jennifer Aniston.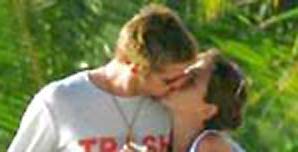 According to Jacquie Ruan, a dear friend of ours who owns and runs Yuki's favorite restaurant, Ripples, all was very lovey-dovey between "Brad and Jen" when they ate at her restaurant.
And the tabloids (as you can tell at the left) certainly seeemed to capture that spirit.
And they were certainly staying at the most sensational spot on the island (so what could possibly go wrong?)...

There was once much confusion as to who owns this magnificent villa-mansion, but Susanne Thevenet cleared that up!
Brad Pitt Comes To "Town"
I've written about Hollywood stars and Anguilla before. Jay-Z and Beyoncé, and Nelly and Ashanti have been here recently. And "older folks" like Robert DeNiro and Paul Simon have long been regulars -- click here for that story. But Brad Pitt really seemed to wake the world up to Anguilla.
Unfortunately, Exclusivity has recently attracted a super-super-star, one that the paparazzi track relentlessly.
Brad Pitt.
The stars who come to Anguilla love the fact that the paparazzi don't know about it. The famous go to St. Barts to be seen and photographed. Then, they come to Anguilla to melt away, unseen.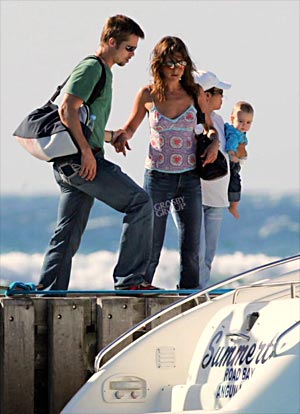 As you see here, not this time.
Brad Pitt and Jennifer Aniston were visiting here, for a week, with friends Courtney Cox and David Arquette. Too bad they couldn't spend it unbothered...
Brad Pitt and Jennifer Aniston had been rumored to be breaking up. So the photographers were really hot on their trail.
For the first time, paparazzi invaded the island.
Yes, unfortunately, the secret is out. Never before have they followed any celebrity to Anguilla...
Not Denzel Washington, Robert De Niro, or Uma Thurman. But they were relentless in tracking Brad Pitt and Jennifer Aniston.
I hope this isn't a trend!
Stars like Brad Pitt come to Anguilla to disappear. They go to St. Barts to be seen. The paparazzi are used to going there!
More on Brad Pitt and Jennifer Aniston in Anguilla