C-Breeze Inn:
A Special and Economical
Villa Rental in Anguilla
UPDATE: C-Breeze has closed.
Suppose you were to offer me an Anguilla villa rental in the village of Sandy Ground. White, sandy beaches lie just across the road. I'd be surrounded by some of the best restaurants on the island.
Vibrant night life beckons. Sailors dock here, arriving from so many exotic ports of call. (I love eavesdropping on their conversations.)
It would be Anguilla Villa Rental Heaven.
"Wait," I'd say. "How much is this going to cost me?"
Luckily, the C-Breeze Inn will alleviate you of that worry.
The C-Breeze Inn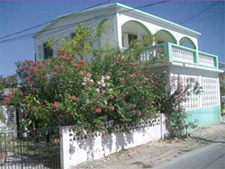 How did we discover this perfect little spot? Our good friend, Shaun Webster, told us about it one day at dinner. Shaun is the captain of the Sea Grape boat, and has taken us on some wonderful boating trips.
I had been mentioning to him how expensive most Anguilla villa rentals were and that I receive a lot of e-mail asking...
"Aren't there any really great and inexpensive villa rentals in Anguilla?"
He told us about a dear friend of his, Carol Richardson, who had just opened the "C-Breeze Inn." Off we went...
This charming villa offers more than you can imagine.
First off, location, location, location.
Sandy Ground is the place for action.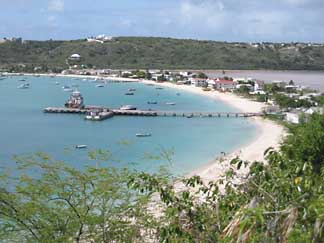 In August (especially), this is the spot for night life.
Anguilla holds "Carnival" and its most important annual boat races in August. It all centers on Sandy Ground.
These boat races are huge. The whole of Anguilla gets all riled up.
Everyone comes down to Sandy Ground to party and celebrate!
Of course, Sandy Ground is the center of activity 12 month around. And it also delivers...
One of the best sunsets in the Caribbean!


Right across the street from the beach, the C-Breeze Inn also backs onto Sandy Ground's most sensational salt pond, Road Salt Pond. They used to "mine" salt here. Some of the old salt-related structures are now restaurants!
(My Dad likes to tell them not to put so much salt in the food. Everyone rolls their eyes!)
Here's the view from the back verandah of C-Breeze. I'd love to have breakfast right here...

Beach in front, right across the road. Pond in back. And you are a 2-minute walk to the middle of the village of Sandy Ground.
Some of the best Anguilla restaurants are right next door. Ripples (Yuki's favorite) is the closest (about a 45 second walk). Johnno's, Barrel Stay, and Roy's (new restaurant) are all just a short, pleasant walk away.
Before we entered the villa itself, I asked Carol how much it would cost to rent the villa. Shaun had told us that it was "very reasonable," but that is often not so "reasonable" in Anguilla!
Under $100. Uh-oh, I thought. How nice could an "under-$100" Anguilla villa rental be inside?
How do the rooms shape up?
An usual, Yuki and I rushed inside, ahead of my parents. We love going into hotel rooms, villas, etc., for the first time. It's so much fun!
First on the left, as you enter, is...
The Living Room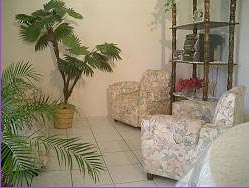 And gazing over to the right...
The Kitchen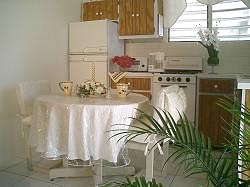 Behind the living room and kitchen is...
The Bedroom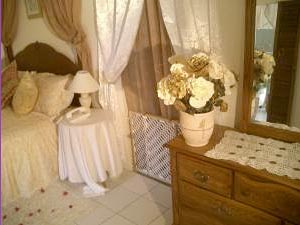 Yuki And I Loved This Cozy Spot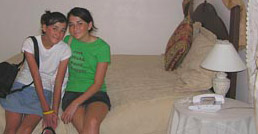 When Shaun told us the rate for this Anguilla villa rental was "reasonable," he wasn't kidding...
The daily rate is $75-$85 US per day. That's for two people!
The only downside of the villa is that it is only large enough for two people. So if you are a family of 3 or more, you will definitely be too squeezed.
Otherwise, if you are a couple on a budget (or a single looking for fun in Sandy Ground!), I have not found a better deal on the whole island. And if you had any other worries...
You can forget about them. The woman who owns and runs this villa rental is so excited and energetic. She is a delightful lady.
Carol Richardson and I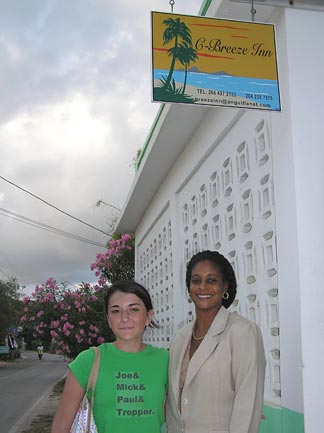 To contact and reserve directly with Carol Richardson, just fill out the form below. (I never put e-mail addresses on Web sites due to spammers who take them.)