Discovering Stonehenge
On An Anguilla Vacation
Anguilla is an island of peace, oasis of calm, the place to escape the world and relax. Your body and brain slow down to "island time" -- I can see it in my parents, too, as the pressure from their high-pressure dot-com lives subsides and is replaced with the peace Anguilla fills you with.
So naturally, I was fascinated when a fellow Anguilla traveler wrote to tell me about the calmest, most spiritual spot on the entire island! Steve Cohen from Medford, New Jersey, calls it "Stonehenge Minor."
It's on Rendezvous Bay. Steve says to walk all the way to the west, past the Dune Preserve. You'll come to a large piece of driftwood against the dunes, sort of forming an entrance... "the permanent protector of the balance and harmony that exists in this special place."
Steve explained this area as profoundly calming and spiritual. Just relax and reflect.
And build a sculpture out of rock, coral or whatever else you find washed up on the beach. He says that each year the sculptures change, along with the area.
Steve writes with great passion about this magical, mystical spot...
This is a spiritual place. It is a place for those who wish to find the peace and quiet within themselves.
When you go there...do so with reverence and you will find that the balance and harmony that exists there between the sea, sun and air can be yours.
When you go there... do so as the sun awakens as it gently engulfs the air, sea and you in its glow and warmth.
When you go there...pay homage to the creations of both nature and those who left their footprints in the sand before.
When you go there...create your own sculpture to reflect the way you feel.
When you go there...find a sitting place and let go of time....breathe so that your breath can breathe you.
When you leave....do so gently.
To share more of his experience Steve even sent some great photos!
Sunrise At Stonehenge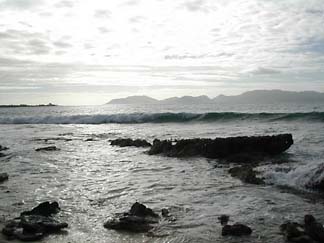 Stonehenge Structure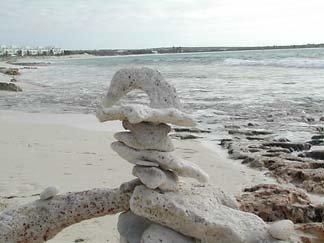 The Watch Dog Out Here!
(Can You See It?)

Many Masterpieces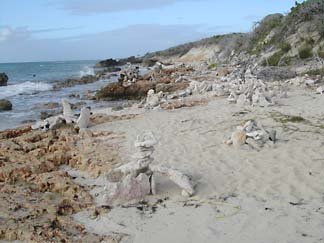 We will be sure to visit Stonehenge Minor, relax and reflect in this "island of calm" on our up and coming Anguilla travels.