Anguilla Home Movies
Pull up a seat and get your popcorn. Yes... It's time for "Nori's Anguilla Home Movies!"
Wait, don't run away. I'm not going to inflict 20 minutes of boring pain called "Anguilla vacation movies of the Evoy family."
These are just fun little 30-second spots, a little off-beat or funny or even sad. But they're all worth watching, I promise.
Really.
Well, most of them are pretty good, anyway...
Ready?
Set?
Play!
Anguilla Movie #1:
The saddest part of every Anguilla vacation is leaving. And as you can see...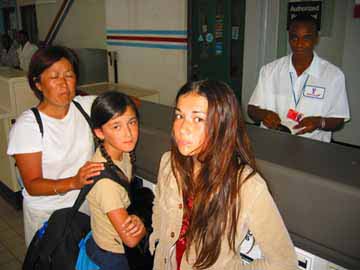 #2: One word: Party!

#3: August Races: Anguilla boats racing around the "tranquility wrapped in blue"...

#4: I love kittens.

#5: They should have put a "Turtle Crossing" sign!

#6: Yuki Plays The "Scaredy Cat" Anguilla Sea Monster
(Look for the small fish that scares her away!)

#7: Anguilla Beaches Aerial View:
Sandy Ground and Rendezvous Bay

#8: Anguilla Beaches Aerial View: Maunday's Bay, Shoal Bay West, Sherricks Bay, Lower West End Point, Anguillita Island, and St. Martin

#9: Ever wonder where those delicious Anguilla BBQ ribs come from?

I hope you enjoyed the movies and your popcorn.