Alex Guerre...
A Caribbean Photographer Inspired By The Sea
Inspirational, tropical, dreamy. Those are the three words that came to mind when I first saw this photo of Sandy Island, one of Anguilla's laid-back, offshore cays...
Sandy Island

When this picture popped up under the #Anguilla tag on my Instagram feed, curiosity mounted. How was it taken? Who took it? Are there more photos like this? There's just something to its sea-land-sky range. The sunlight dancing on the water and the coral, the curve of the blue sky and the spit of palm-tree-dotted sand in the distance... it is captivating.
I had only seen photos of a similar caliber and style taken of Tahiti and other exotic locales lining the Pacific Rim, but rarely of the Caribbean.
So, I dug into Instagram to unearth the eye behind this photo. I would have never guessed, but that Instagram find unleashed a love affair with a particular set of Caribbean photos...
St. Martin-Based Photographer, Alex Guerre
Originally from Avignon in the South of France, Alex Guerre is a hobbyist photographer. He moved from France to St. Martin, a place he loves deeply and dearly, with his wife in 2011. Looking through his photos, it's evident that he is most inspired by the breathtaking scenery that surrounds him daily.
With Alex Guerre in St. Martin

"My grandparents lived in St. Martin," he told me one afternoon over coffee, "I always visited them. On each trip I fell more and more love with this island. At a young age I knew I had to live here..." He paused and lingered for a moment before continuing, "There's just nothing like this place."
Wanting to capture his surroundings, Alex took photo after photo on his point-and-click. It wasn't long before its limitations became obvious. Today, he shoots on a Nikon D3100, and uses his GoPro from time to time.
From composition, to color, his Caribbean photos conjure up a certain feeling of tropical life that is desirable and full of wanderlust. They showcase our little slice of paradise perfectly, exactly the way I, and many others, see and feel it.
Let me share some of his Caribbean photos...
Alex's Caribbean Photos
I'm not the first to recognize Alex's talent. His photos have won Corsair and St. Martin Tourism contests. And, he's been featured in both Corsair's in-flight magazine, CorsairFly and in St. Martin's tourism book, Discover. This is one of his most popular...
Taken in Grand Case, you can see Anguilla peaking out behind. "I love the colors and the little glimpse of seaview on the background," he says.
Speaking of Anguilla, it is one of his cherished tranquil escapes. He visits Shoal Bay, Prickly Pear and Sandy Island, pictured below, often.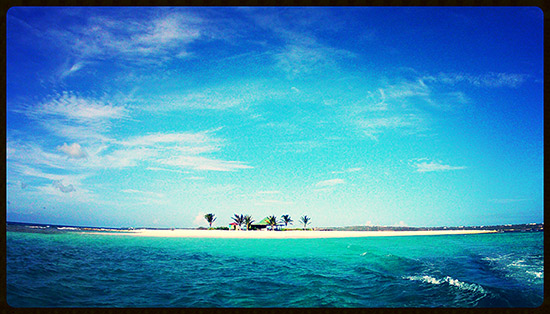 "It may be a little island, but it is an awesome paradise!"
As you may have already guessed, Alex adores the ocean. An avid bodyboarder, his timing is spot-on when it comes to surf photography.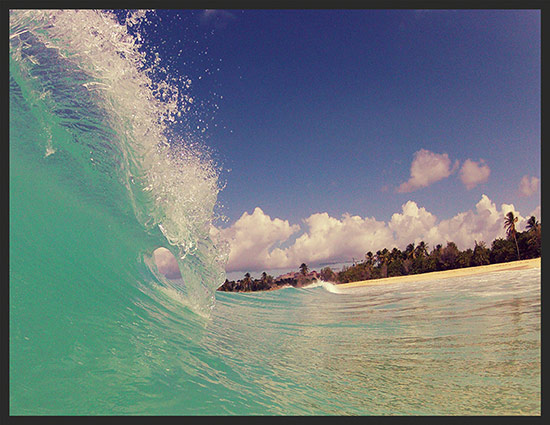 Really in the wave, the photo above is my absolute favorite... the way the wave bends and just starts to break, that sea-foam green characteristic of Caribbean waters, the droplets splashing down from the white water froth...
Both of these pictures were taken in the winter, when strong north swells move through the Caribbean.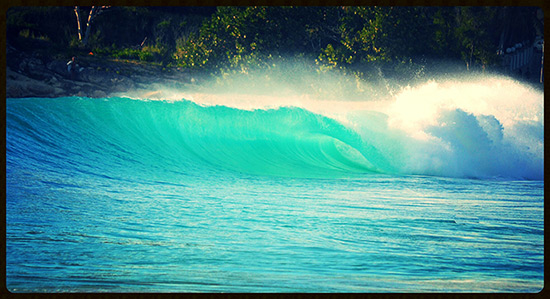 Now, let's go under the sea...
A lover of marine life, too, Alex has a fascination with sharks. Fearless, he swims right up to them for a chance at a snapshot!
"My wife gets scared for me," he says, "but I'm drawn to them." He's even swam with Tiger Sharks (although they are rare to come by here). The one above is just a little baby he spotted at Prickly Pear. The clear water and the sea's pattern, illuminated by the sun's rays, reflected on the shark's smooth skin all has such a surreal effect.
Sharks and turtles are two subjects that he photographs frequently. His shots of sea turtles make me smile...
The photo above is one of his personal accomplishments, capturing the turtle's elegance and grace so flawlessly.
"This pic is amazing! I am proud of it. I love the "tortue marine," as we say in French. We need to try to preserve this species because it's important for our future and the next generation. Turtles are so cool!"
Alex effortlessly collides two worlds... that high-quality level of professional photography with that which is warm, personal and unpretentious. A down to earth guy, he truly cares about and loves the ocean that gives life to and surrounds his home. That passion comes across through his photography.
Like Alex said when we met, I have to say "thank you Instagram!" Without it, I never would have discovered these pictures. Even though I live in Anguilla, a "tropical paradise," I find myself revisiting his Instagram, waiting for him to publish more Caribbean photos. For more from Alex, and for his most recent pictures, follow him on Instagram, here.
Thank you, Alex for all that you do, and for sharing your work!