"Where's YOUR Anguilla Card?"
An Exclusive Contest For Anguilla Card Holders
That's a wrap!
Since launching our "Where's YOUR Anguilla Card" contest a few weeks ago (with a $150 dinner for 2 at AXA Seafood House as the prize!), we've received so many terrific submissions. We tried narrowing them down to the "top 5." But, alas, we were unable to choose just 5.
We selected 7 finalists. From there, it was up to you to choose the winner :-)
Based on your votes on this page (by way of Facebook Like and Comments), Abbi (the owner of AXA Seafood House) and I are excited to announce the winner.
Drum-roll please!...
The Winner?...
Robert's photo, "I'm going to Anguilla!!!"...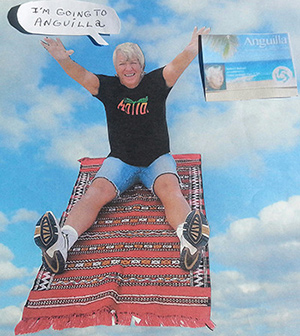 ... with an impressive 104 Likes and a comment of support on this page!
In addition to that terrific entry, Robert had shared two other fun photos..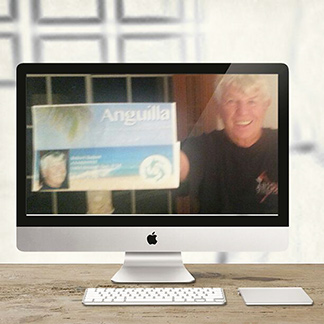 Super submissions, Robert. Congratulations!
Now, for your prize...
A $150-Value Dinner For 2 At AXA Seafood House
Redeemable on your next trip to Anguilla, dinner at AXA Seafood House is outstanding!
New and highly-acclaimed, AXA Seafood House is our good friends over at Dolce Vita, Abbi and Christopher's latest restaurant.
The island's only seafood-centric eatery and the menu is oh-so-enticing. Think: tartares of the day, carpaccios of the day, crab cakes, tempura, lobster mac and cheese, seafood paella, yellowfin tuna prepared Mediterranean style with rosemary and chick pea puree...
The Paella!

The food is indeed fresh, AND delicious!
Inside AXA Seafood House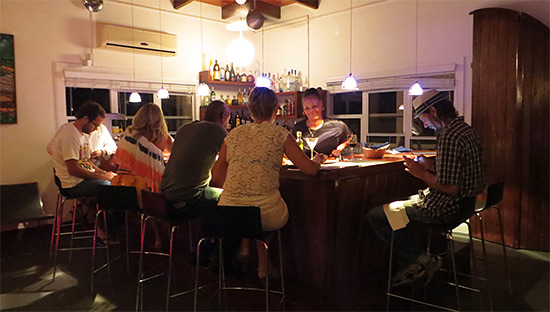 All in a laidback and cool yet upscale setting, with down to earth and accommodating service, Abbi and Christopher have "done it again!"
Contest Background
Since launching the Anguilla Card, we have received many emails from happy Card Holders. Some have lovingly printed out their digital (PDF) version of the Card. They have posted them to office walls at work, framed them and placed them on their mantles, and up on their fridges, reminders of good times to come.
Inspired by their enthusiasm, I wondered...
"Where's YOUR Anguilla Card?"
In early January we asked you to snap a photo of you and your Anguilla Card, either at home or here in Anguilla. Then, either post it to our Facebook page or, email it to me.
After 3 weeks of collecting submissions, we set out with the mission to narrow them all down to the top 5. But, it was impossible to just choose 5 out of the number of clever, heart-warming and fun entries.
The result? 7 finalists. :-)
THE Finalists

"I think, for all that Anguilla
has to offer, some of us want to get away,
or leave something behind.
-David



"It has been snowing in northeast Ohio,
hence the salt and snow on my truck.
But my license number and Anguilla card will
always remind me of the
beautiful beaches of Anguilla.
Counting down the days 'til our next
visit as we keep warm.
Maybe I need to fly to AXA, which is a goal.
Fly a Cessna 210 to AXA." -Donna


"Family pyramid supporting
the new Anguilla Card on Meads Bay!" -Arthur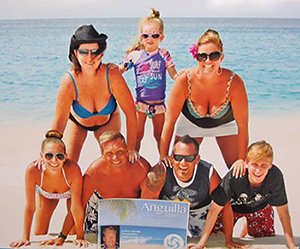 "My wife and I had our bedroom done
over to look like a room in an Anguilla
beach villa.
A huge mural of Rendezvous Bay is painted
and framed out
with sheer drapes in our
bedroom on the wall infront of
our bed so that every night
before we go to sleep and every
morning when we wake up it looks like we
are looking out our window
onto our favorite beach.
If you zoom in to the middle of "the window sill"
you will see that's where
we keep our card:)" -Jeff

"The gorilla, the Card &
me at Valley Bistro!" -Meg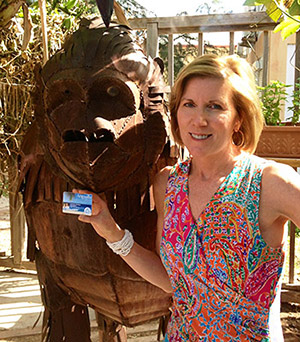 "My Mom gets to go to Anguilla and
all I get is this stupid hat." -HorseLady4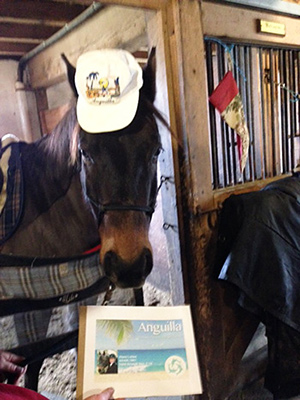 "I'm going to Anguilla!!!" -Robert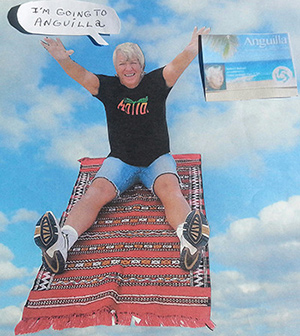 Voting was held by way of Facebook Likes and Comments.
Voters chose their favorites by clicking the "Like" button below their favorite submissions and by leaving a comment at the bottom of this page.
Voting closed February 1st at 11:59pm EST.
Abbi, the owner of AXA Seafood House, and I selected the winner based on the votes, announcing his big win here, in the Anguilla Card Holder Newsletter and on Facebook.
Congratulations to Robert, our winner! :-)