AXA Seafood House...
For Lovers Of The Sea
AXA Seafood House At A Glance
High-end, AXA Seafood House serves ultra-fresh seafood expertly prepared in a variety of ways. With a view of Sandy Ground and the sea, the setting is particularly idyllic for lunch.
2014 Update: I am sad to say that AXA Seafood House will not be re-opening for the 2014-2015 season. We will keep you updated if Abbi re-opens this terrific restaurant in the future.
More on AXA Seafood House, below...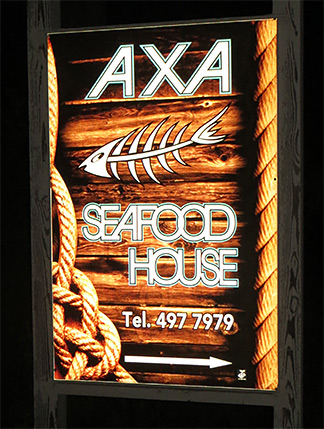 Abbi, our good friend over at the very popular Dolce Vita restaurant, is a master at marketing.
Months before opening its doors, this sign stood at the end of the road to the old Luna Rosa restaurant.
Talk of its appearance buzzed around the island, prompting many a rumor and discussion!
When everyone "in the know" found out that it was backed by Abbi, we all started counting down the days 'til opening.
Finally, and not a moment too soon, that day came...
Inside AXA Seafood House
Palms lit up and swaying, a cool gentle breeze blowing through the night sky, stars overhead, AXA Seafood House's setting is particularly inviting.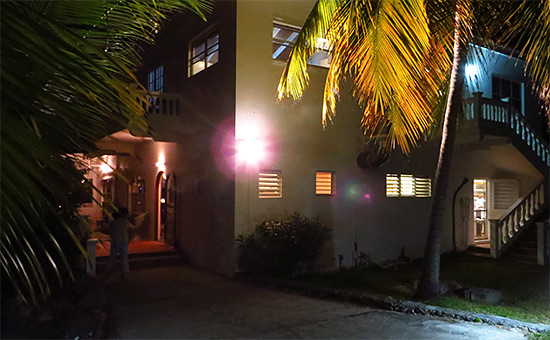 At the threshold of the restaurant, and already we could hear a low hum inside. It was barely 7pm, and the restaurant was full of guests eager to enjoy Abbi's new spot.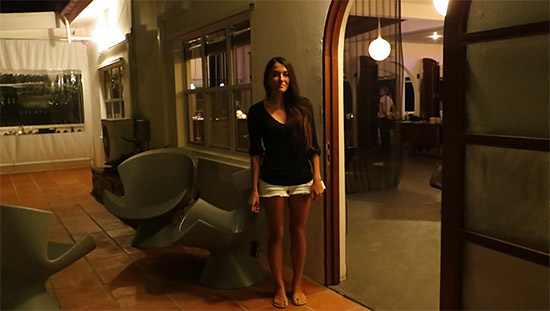 Abbi greeted us and introduced Silvestro who manages the restaurant. If you were a regular at the old Luna Rosa, you may remember Silvestro from those days. Fun Fact: Did you know that Silvestro even built AXA Seafood House?
Before heading to our table, we took a look around at the familiar restaurant. Inside, there is a spacious dining area and a large bar perfect for not just drinking, but eating, too. This bar has a particularly warm and inviting yet upscale vibe.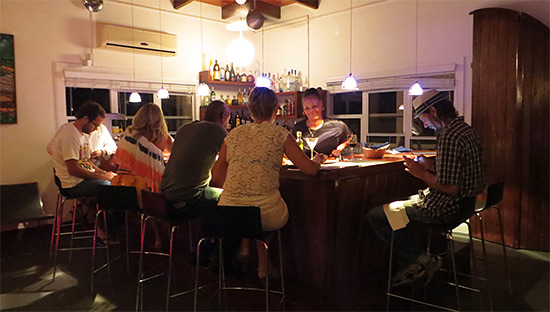 Tucked to the side, but completely un-missable, a new addition, the wine fridge. So modern and stylish, it draws the eye!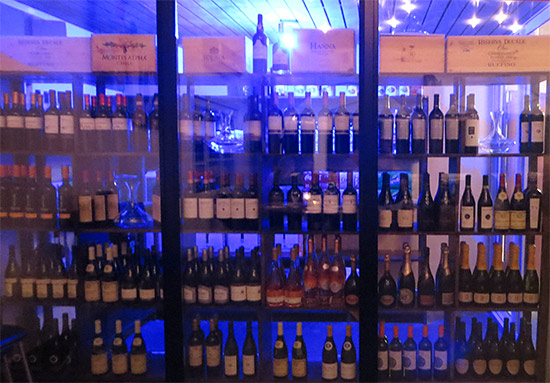 Silvestro kindly walked us through the restaurant and brought us to the outdoor terrace and to our table.
Onto The Terrace!
Spacious and open to the clear, quiet Caribbean evening and Sandy Ground below, the view is peaceful. There's something so calming and reassuring about twinkling lights in the distance...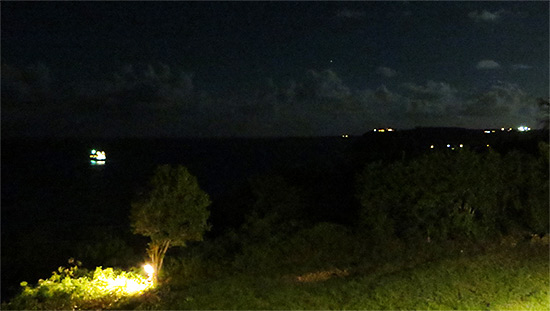 We sat at the edge, marveling at the pretty view below, and the terrace itself. I especially love the use of wood on the ceiling that hangs over the veranda.
Soon, Abbi joined us. He explained that he will still be running the show over at Dolce Vita, and that Silvestro will be in charge here, just as it was when AXA Seafood House was Luna Rosa.
We chatted a bit longer with Abbi, before he presented us with the menus. Our waitress promptly took our drink order and Silvestro told us the day's specials.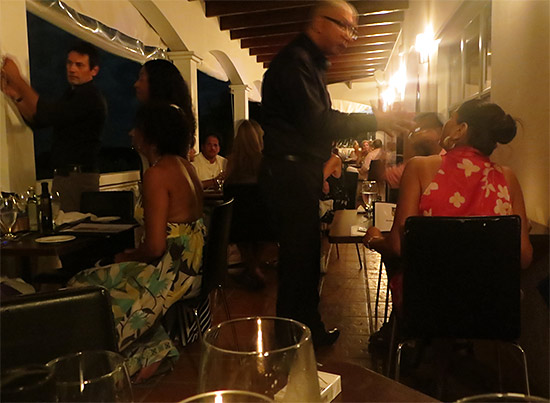 AXA Seafood House lives up to its name!
The menu is divided into cold starters, hot starters and main courses.
Cold starters include a "rainbow island salad," beau soleil oysters from New Brunswick, Canada, a tartare of the day, a carpaccio of the day and a shrimp cocktail. The hot appetizers include a soup of the day, roasted portuguese octopus, a "seafood symphony" and crab cakes (made with real blue crab meat). The description of the crab cakes was especially tempting, "perfumed with white wine and curry."
Our Appetizers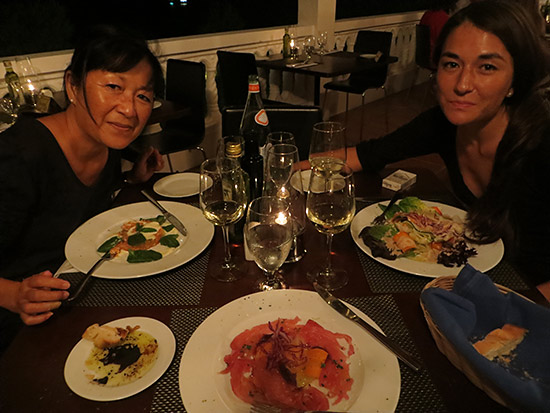 Wanting to save room for the main course, I started with the simple "rainbow island salad," which was drizzled with just the right amount of a zesty, creamy sauce. My Dad had the tuna carpaccio, locally caught and served in a simple light olive oil and with a small salad. My Mom tried the tartare of the day, which was salmon. With a lime-mint yogurt sauce, she was a bit apprehensive at first, but each bite left her wanting more!
Rainbow Island Salad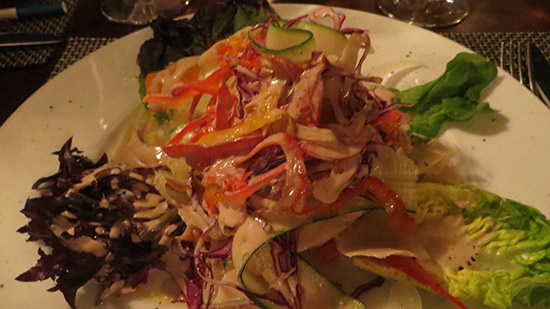 Things got tricky when it came to "mains." Lobster mac & cheese, seafood paella, grilled seafood, fried seafood (this dish includes breaded shrimp, calamari and smelts), Atlantic salmon, Mediterranean style yellowfin tuna (sliced thin and served with a puree of rosemary flavored chick pea puree), salt baked branzino, mahi mahi, and, of course, items for the seafood-averse (steaks and chicken)...
"Can we have a bite of everything?"
Seafood Paella

We decided to go all in and split the enormous paella. The menu says "for 2," but at 3, we had plenty leftover. Filled to the brim with fresh crayfish, shrimp, scallops, mussels and different fresh fillets of fish, this is one high-value menu item. The flavor was just right, a nice blend between seafood and saffron.
Too full to satisfy our sweet tooth, we had to pass on the #1 dessert that caught our eye, the "chocolate ganache." Frozen, it is served with mint sorbet and an orange sauce. We are still hearing rave reviews about this one.
Next time, I am coming armed with an appetite and a mission to get everyone in our party to order something different... lobster mac & cheese, yellowfin tuna, the plate of fried seafood, and the ganache.
Abbi, you will see us back again soon. One visit just wasn't enough!
Directions, Hours & Contact
Directions: If you are coming from the east, the turn off to AXA Seafood House is located after Mingz grocery store, just before Gerauds. You can't miss the signs!
AXA Seafood House
Good for seafood!
Hours: Nightly from 6:00-9:30pm.
Tel: 264-497-7979