Married in Anguilla
by Cathy and Gary
(Roseville, California)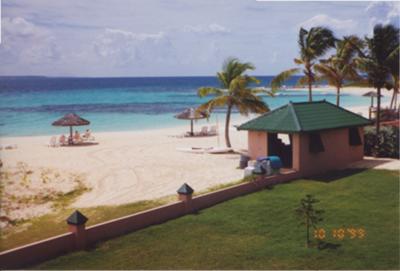 Paradise Found at The Sonesta
My husband and I were engaged in June 1998. After much research and planning, we decided on the beautiful Caribbean island of Anguilla for the ceremony.

Since it wasn't a first marriage for either of us, we decided to keep it simple. We had a pre-wedding celebration at our home with all of our family and friends. We had the DJ, cake, first dance, toast... and well wishes from all present.

The actual wedding, though, was just the two of us!

The next morning it was off to Anguilla to get married. We were married in Paradise on October 11, 1999 at 11:00am on a beach in Anguilla by Pastor Maddonna. The ceremony was simple... A dream come true!

After our ceremony, we spent the day on Shoal Bay. Later, we had our celebration dinner, just the two of us.

We split our 10-day honeymoon between St. Martin, Anguilla and St. Barth. We stayed at the Sonesta resort on the western tip of Rendezvous Bay.

The entire trip was unbelievable. We will never forget our storybook experience!

Nori's Reply: I love stories where people do things "their way." The ceremony sounds so intimate. And the Sonesta must have been beautiful. My parents tell me that we walked through it on our first visit, but I don't remember it.

I have seen the photos, though. The views of St. Martin, Rendezvous Bay, and the Moorish-style artwork and fixtures... What a special setting!

Cathy and Gary, I can't imagine a more romantic wedding... In Anguilla, on the beach, just the two of you. Thank you so much for sharing your special Anguilla wedding and Caribbean honeymoon!