Anguilla Honeymoons
Tranquil and tucked away, Anguilla is romantic, with so many romantic things to do.
A Romantic Anguilla Honeymoon Sunset at Little Bay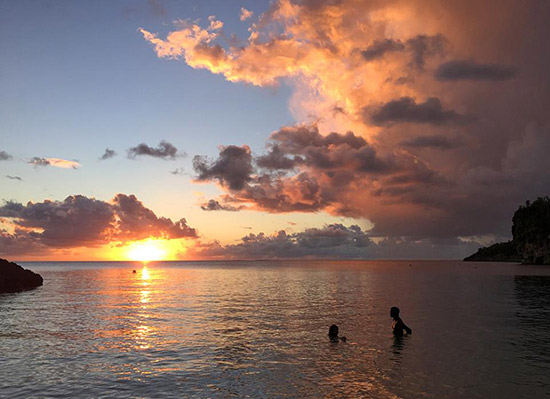 The first decision when it comes to Anguilla honeymoons is choosing the right Anguilla honeymoon resort or villa.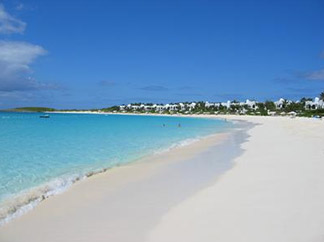 Photo By: Heather & Peter from California
Cap Juluca has long been touted as the most romantic resort in the Caribbean and an idyllic honeymoon destination.
It is loved for its calm, relaxed nature and its hotel suites that open right up onto Maunday's Bay.
My husband & I came to Anguilla for our honeymoon. Hands down, our top favorite of favorites was Maunday's Bay at Cap Juluca! It was the most heavenly ocean experience I've ever had. Can't wait to come back!
-Heather & Peter, California
Malliouhana is another favorite for honeymooners seeking to spend their honeymoon on the beach.
Set at the edge of magnificent Meads Bay, the beach setting is second to none and the lush, tropical property takes your breath away.
Overlooking Meads Bay From Malliouhana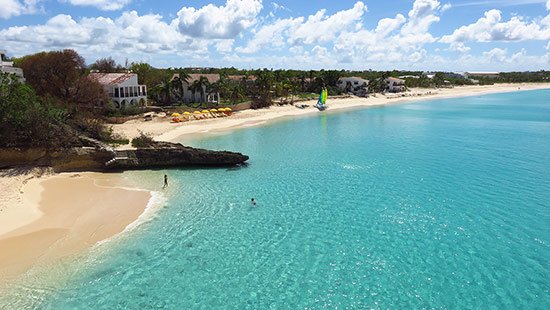 If you are seeking total privacy, Anguilla villa rentals deliver exclusive experiences.
Long Bay Villas is one of the island's most impressive luxury villas, with several amenities included (ex., daily housekeeping, breakfast, turn down service, etc.).
Secluded and set on the aptly named Long Bay, it is one of the island's most romantic villas, too.
Long Bay Villas on Long Bay Beach

After you've chosen the right resort or villa, what next?
1) Consider the time of year. Honeymooning in Anguilla in the slow season (around end of April til beginning of December), there are plenty of deals to be had on even the most luxurious properties. Check Malliouhana, Cap Juluca and Four Seasons for honeymoon hotel specials. These properties are known to have some of the best honeymoon packages and specials.
Also, early summer offers the best weather of all in Anguilla. The water is consistently calm and warm, the sky clear-blue and sunny. With tremendous sunsets in early summer and crystal clear waters, late Spring and early summer has blissful honeymooning weather.
Crystal Clear Caribbean Seas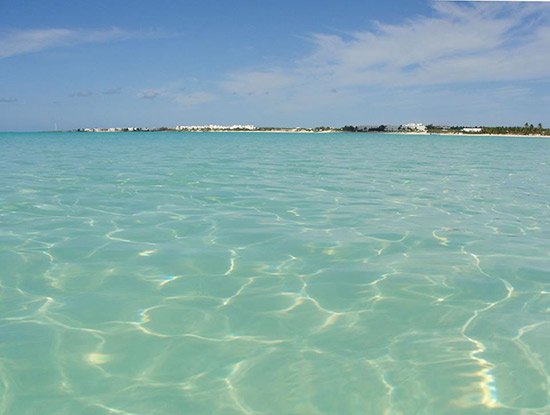 2) Go through the variety of possible things to do...
Quiet walks on the beach (Anguilla's are the most spectacular in the Caribbean - and you often have them all to yourself come summer!)
Romantic horseback rides at sunset
Snorkeling in hidden coves
SUPing down quiet shorelines
Hiring a driver to show you the most secret spots (or rent a car and use your Anguilla map!)
Candle-lit dinners
... and on and on...
Blue Sea Anguilla is who to call if you need help coordinating your Anguilla honeymoon! Made up of a small team of long-term tourism experts, Blue Sea Anguilla can help plan and organize your honeymoon.
Need more honeymoon inspiration? Keep reading for stories from honeymooners!...
Since writing the original Web page about Anguilla honeymoons and weddings, I've received so many splendid stories, that I decided to start a second page about Anguilla weddings, this time just for the stories.
This page was written with love by Anguilla honeymoon couples. You can share your wedding and honeymoon stories, whether they occurred yesterday or 30 years ago (!) by clicking here.
The Honeymoon Stories
And now, without further ado, here are some of the first stories about how couples spent the first days and weeks of their marriages on Anguilla...
Nori,
My husband and I visited Anguilla for our honeymoon in March of 2004. Neither of us had ever been to the island before, and our only expectations were based on the little bit of research we had done on the Internet.
Nonetheless, our expectations were met and exceeded in every aspect. Anguilla was a dream come true and an amazing way to spend our first week of married life together. The beaches were breathtaking, the food was incredible, but for us, the true crowning jewel of Anguilla is its people.
We could not get over how warm and inviting everyone on the island was. They were the icing on an already fabulous cake! We cannot wait to go back!
Our favorite spots were Blanchards, Straw Hat, and Scilly Cay. We also loved chatting with Simon, the bartender at Rendezvous Bay. We loved our day trip to Little Bay (wow!) and cruising around in our Jeep.
We believe Anguilla is our heaven on Earth. Thank you so much for keeping your site going. Your monthly newsletters are a fun way to take a mental vacation to Anguilla from my desk.
Sincerely,
Mary Ellen
Arizona, U.S.A.
Hi Nori!
We just returned from our first trip to Anguilla and loved it! We actually got married there on Say 11/26 at sunset on Shoal Bay West at the Altamer.
The morning started with a rainbow, a blessing from above. Jo-Anne Mason (www.mycaribbean.com) coordinated the event to perfection. Tanya Clark at the Malliouhana Spa took care of all hair and makeup needs. I married my best friend at sunset.
Lindsey Richardson delivered a wonderful ceremony. Sprocka a well known and talented entertainer on the island played guitar and sung many of our favorites. A wonderfully romantic evening, the perfect wedding in paradise. The Altamer staff catered to us and treated us so well. The ambiance was fantastic and the food phenomenal as Chef Leduc is award winning.
We stayed at the Zebra Villa in Mead's Bay. A splendid private villa with a guest house for the second bedroom, an inground pool surrounding the patio. The houskeeper, Elaine was a wonderful woman, who took care of us as if we were family.
The villa was conveniently located close to great restaurants like Malliouhanna, Blanchards, E's Oven, Tasty's, and Flavours. We enjoyed beach bars like Cuisinart, Johnno's, and our #1 favorite was our trip out to Scilly Cave for some beachtime and a great BBQ lunch of Chicken, Lobster and Crayfish...awesome. Sprocka was there too which made it even better!
Getting to know the locals, we were clued into some cool sites like Little Bay. Then onto Limestone beach with the softest white sand, beautiful aqua water, and waves like crazy.
Anguilla will always have a piece of our heart, and so will the great people we met from there.
An Anguilla Wedding in Anguilla's Early Days...
Anguilla is the best. My wife and i got married there back in 1997. Pastor Gums was the one who married us.
Michael Buchanan
Fredonia, United States

More Anguilla Honeymoon Stories...
My wife and I were married in Anguilla in November, 2004. I selected Anguilla after reading about it in a monthly travel magazine. It was all that it was cracked up to be and then some.
We stayed at and were married by Rev. Gumbs at Cap Juluca in one of their pool suites. Cap did such a tremendous job for our wedding. We were indeed quite lucky.
After several days we were given a recommendation by someone at Cap to stay over on the east end at Serenity cottages. We asked for a good place to stay for a great price and boy did we get it. A brand new place with full living room, kitchen and beautiful bathroom for $125 a night. Beautiful lush landscapes all planted by Kenneth Rogers (owner of Serenity). Great views and the best beaches just down a few steps. I would not hesitate to recommend Serenity except I just don't want too many people to find it.
Also, we ate dinner at Zara's on a Sunday night. Chef Shamash is an island treasure for sure. We were almost dinning alone and he's in the back singing Patsy Cline songs. The food was great and so was he. Everyone should eat his crusted snapper, it is to die for.
All in all, what a trip, wedding and short honeymoon. We are going back in May.
Bill
Tampa, United States