Unique & Divine Anguilla Hotel Restaurant: Zara's Seafood Restaurant
Zara's has now closed.
Zara's At A Glance
By: Kristin Bourne
Offering a warm, cozy, eclectic dining experience, Zara's Seafood Restaurant is one of a kind.
With Chef Shamash's Caribbean-influenced cuisine, his happy singing and wonderful service, it's one of the island's best, yet too often overlooked, restaurants.
More on Zara's, below...
Anguilla, in general, is unique. My experience at Zara's Restaurant may be one of the most unique restaurant experiences I've had.
A dreamy, happy, amazing, I wish I could eat there every day type of experience.
With Shamash in his kitchen at Zara's in Anguilla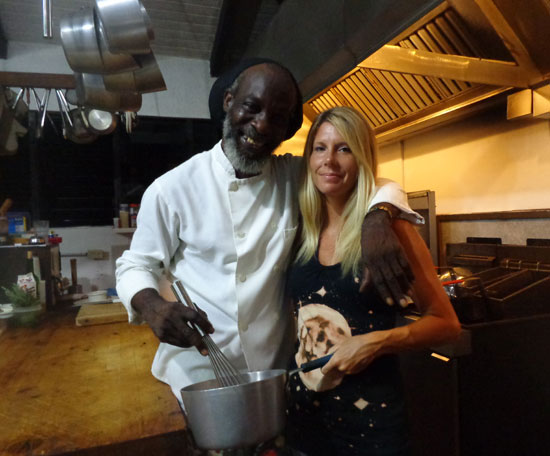 This is coming from someone who really loves food. While I'm not a food snob (I grew up on everything from a nice pot roast and stromboli to potted meat, PB&J's, and Oreo's), I've fortunately had my share of amazing meals...
From Lupa, Gramercy Tavern and BUTTER in New York City, Cucina Toscana in Salt Lake City, Fude in Winnipeg, and in Atlanta: Ecco, Chops, MF Sushi, and Alfredo's. The list could go on from East to West, North to South, and back.
Likewise, in Anguilla, I have my favorites.
Without attempting to take away from the ideal beaches of Anguilla, the restaurants here are another big reason to visit and is part of why I decided to visit for the first time back in 2004.
Discovering Zara's
So why did it take me so long to get to Zara's?
Our seafood crepe!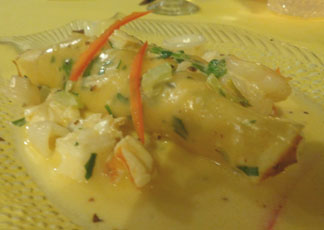 I don't have a good answer other than, it's not necessarily advertised and it is tucked away, just inland from Shoal Bay East on the property of one of Anguilla's hotels called Allamanda Beach Club
Over the years, I'd established my regular dinner spots that I didn't want to miss out on too.
Early on in my Anguilla trips I had dinner at Tasty's Restaurant and it is the main place that I made sure I got back to on a regular basis.
I still do even now that I live here. I love Chef Dale Carty and his creation, Tasty's Restaurant. I love how he prepares his fish especially, even though everything I've tried on the menu is really good.
After my parents vacationed in Anguilla several years ago and stayed at Ku Hotel on Shoal Bay East. They asked where they might be able to get a bite to eat without traveling too far.
Note: Many eating establishments on Shoal Bay East close in the late afternoon/early evening.
They were directed to Zara's.
The real front door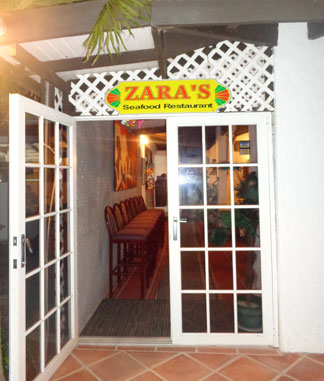 When my parents returned from their trip I asked them about it, where they ate and what their favorite nice dinner was.
They had 3 favorites: da'Vida, Tasty's, and Zara's.
They went on and on about Zara's and I was seriously surprised. It just seems to fly under the Anguilla restaurant radar to me.
Upon their next visit to Anguilla (and to visit me too), the three of us agreed to go to Zara's and confirmed that it was open.
Tip: Do call ahead to make sure the restaurant is open. Zara's tends to close around May/June and reopen in November each year. They are closed on Wednesdays each week.
Fortunately, Zara's had just reopened and we were on our way.
Not Your Ordinary Entrance
As we approached the restaurant (just off the road to the right when you are driving to Gwen's Reggae Grill) my parents started laughing as they recalled their last "entrance" in to Zara's...
The back door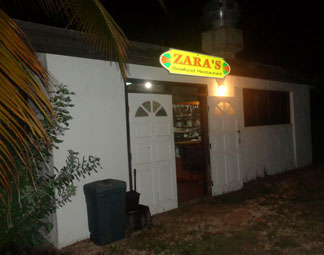 Here's a funny sidebar:
If you are staying at Allamanda you may not have this folly unfold. However, if you drive to Allamanda and park in their sand and gravel lot, the only real door you see in to the building happens to be the back door which is also the kitchen door.
My parents (who I've since learned are not alone in their act) entered in to the kitchen and coincidently felt a bit bashful about it after realizing.
Where else would you enter the restaurant through the back kitchen door (unless you were employeed by the restaurant!)?
This is nice Anguilla-style laid back approach.
Turns out the Chef prefers this, if you like, as he doesn't mind anyone seeing that he keeps a tidy kitchen. Nevermind the mesmerizing aromas!
So, don't by shy... go right on in the back door and stroll on through the kitchen. It's a unique and wonderful way to start your evening at Zara's.
Chef Shamash
As we entered the kitchen the chef was busy doing prep but stopped and warmly ushered us in. He introduced himself as Shamash and was personable and friendly. Then a nice lady intercepted us and seated us in the dining room.
Chef Shamash is so beloved, there is a mosaic of him

Once seated and perusing the menu, we heard Shamash singing from the kitchen.
This is one happy man!
The kitchen has a lovely opening so that from the dining room, you can see through to what's going on and watch Shamash cooking.
A bonus in my opinion!
After placing our order, I noticed how efficient Shamash seemed to be. We all felt as though he must really love what does.
On our way out after dinner, we spoke with Shamash. We learned that he really does love what he does, most importantly (if you are the eater in this equation) he loves to make people happy with his food.
Turns out that, as a boy, Shamash learned to cook from his grandmother in Anguilla. It sounds as though he even taught her a few tricks which leads me to believe he simply has a knack and natural ability.
Cooking and singing!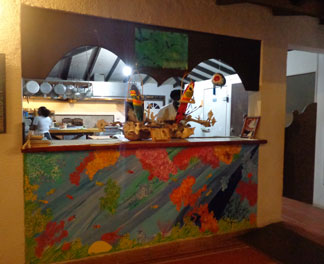 His training continued in St. Thomas and the United States.
Having been at Zara's Restaurant since 2002, he graces Anguilla with his talent for about half of the year.
Shamash believes in using quality and fresh ingredients. To elaborate: If his name is on it, and the dish has lemon in it... you can rest assured that the lemon is coming from an actual fresh lemon and not a plastic-shaped lemon or a glass bottle.
I asked Shamash who comes to his restaurant. He replied that his business is mostly repeat business and word of mouth customers. He'll occasionally get a new customer or two, the same way my parents first found him.
As we ate dinner a family of 3 came in and I could tell that they already knew what they wanted and were well versed with the menu. Repeat! It's so fabulous, who wouldn't?
Another detail to note. That family of three had a young girl with them maybe of around the age of 7. I heard them order and while there is no children's menu, figuring out something for her was no problem for the restaurant to handle. Very accommodating!
My parents and I sure are solid fans of Chef Shamash and Zara's. Now for the dreamy part, the food...
We ordered a bottle of Pinotage and a seafood crepe as an appetizer.
Superb.
We ordered (between the three of us) the Garlic Crusted Snapper and the Spicy Banana Leaf-Wrapped Grouper in a Ginger Tamarind Sauce.
Debilitating.
When I use the word "debilitating", I mean when each of us took our first bite of fish we were rendered silent and still, especially me since I had not had this experience before.
Mouth-watering, succulent, balanced… incredible.
I nearly teared up the dinner was so good.
Garlic Crusted Snapper with purple cabbage, red onion, with a key lime buerre blanc sauce

And it wasn't only the entree that was wonderful, even the sides had been carefully prepared in the kitchen. I find that rare! It's not often I can say that literally every single item that is placed on my dinner plate is so full of taste and quality.
The accompaniments of purple cabbage, mashed potatoes (my choice), and green beans were all best in class. After we snapped out of it and came to our senses we couldn't get over it and we felt completely fortunate.
I was sitting there in a state of shock because here I've been coming to Anguilla for 8 years and living here for almost 2 years and I've just found Zara's… which was right there the whole time!
Ladies and gentlemen, this food is really good.
More on the menu...
The options are well-balanced.
There are a couple salads, hot and cold appetizers, and soups to start.
Entrees: there are several pastas. For seafood entrees there are both indigenous lobster and crayfish. There is snapper, grouper, and shrimp done a couple different ways. There is a veal, a pork, a duck, a beef selection, and two chicken options.
To elaborate further with some description, here are three examples from the menu:
Roasted Rosemary Grouper with Mango Salsa
Grilled Ginger Chicken (ginger, coconut milk, in a light brown sauce)
Grilled Mahi-Mahi with mashed potatoes, asparagus, and macadamia butter
Not too complicated, yet accented with such amazing flavor combinations.
We finished off our meal by sharing a piece of key lime pie, which was also right on - the apparent theme at Zara's.
Prices range from $11 - $15 US for starters and $17 - $40 US for entrees with most entrees falling in the mid $20's US.
More On Zara's
The atmosphere at Zara's is warm and unpretentious. Clean and happy. Chef Shamash's singing helps with the "happy" part.
There are paintings by various artists on the walls that are regional in theme.
Part of Zara's dining room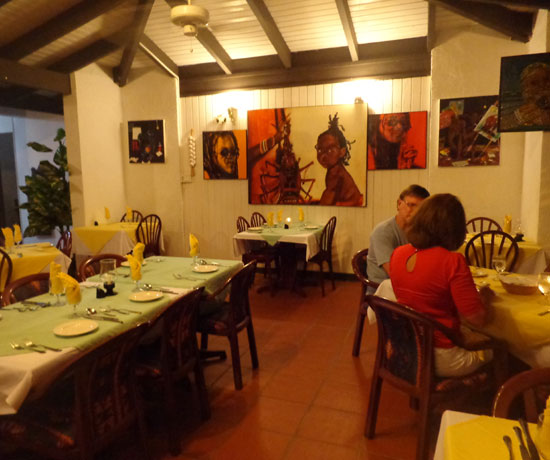 A very nicely done mosaic of Shamash is hanging right next to the opening in to the kitchen.
With the kitchen calmly humming along on one side of the dining room, windows line the other side and overlook the Allamanda Hotel pool.
The bar side of the dining room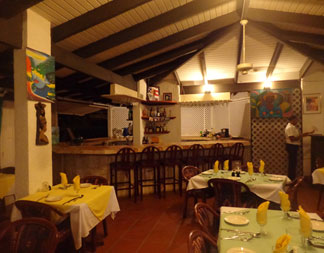 A bar with a base of what looks to be beautiful local stone is on another side of the dining room and the last side is the side full of several paintings.
The chairs and tables fit right in with the general comfort of the place.
It's amazes me how you'd never know from the outside what awaited you inside.
One of the best meals of my life (and I even returned a second time in one week!) and a happy experience shared with my parents. I recommend Zara's to anyone and everyone. Just remember, Zara's is only open in high season.
Directions, Hours & Contact
Directions: Zara's is located in Shoal Bay Village. Drive to Shoal Bay as though you're going to Gwen's Reggae Grill. Follow the signs to Zara's.
Zara's Seafood Restaurant
Good for cozy dining, eclectic atmosphere and creative, delicious, Caribbean-influenced cuisine.
Hours: Dinner only. Call in advance
Tel: 264-497-3229