Gwen's Reggae Grill...
#1 Relaxation Spot of all Anguilla Restaurants
Gwen's At A Glance
Gwen's has all of the key ingredients needed to be a beachside hit! From the reggae tunes, to the location on Shoal Bay (complete with swaying palm trees and hammocks), to the fresh food (ribs/crayfish/other BBQ, fries, salads), to the inviting nature of the staff... Gwen's is a favorite for many travelers to Anguilla.
2014 Update: Exciting news! Gwen's has moved! Their old building on the upper half of Shoal Bay has been torn down. Their new location on the lower half of Shoal Bay, between Tropical Sunset and Zemi Beach, has opened. More on Gwen's Reggae Grill.
More on Gwen's, below...
Our favorite Anguilla restaurants are almost all informal beachside bars. So what do you get when add a perfect little beachside grill, plus the most beautiful of all Caribbean beaches, plus...
... Hammocks! Comfy, relaxing, rocking hammocks, overlooking Shoal Bay Beach? Absolute bliss!
Note!...
There have been several reports about over-charging at Gwen's. Be sure to check your bill before paying.
Is there really such a place? Of course there is... this is Anguilla! The name? Gwen's Reggae Grill.
We saw the hammocks, just before lunch one day, while walking the beach. What a great idea! Eat well, and then snooze in a hammock. "Life just does not get any better," said Dad.
So we sat down to a table, our toes wiggling in the sands of Shoal Bay East...

Stomachs growling, we were ready to order! My Mom, Dad and I requested the snapper sandwhich and my sister ordered the ribs!
Sipping cokes, rum punch (guess who!) and Carib beer, we gazed quietly at the ocean, each in our own little daydream that day. Is there a better way to wait for your food?
Soon, but not too soon, our friendly waiter had laid our lunches in front of us. We were starved and the food looked so tasty!
The fries were scrumptious, crisp on the outside and wonderfully greasy, just the way I love them. The coleslaw was delicious, my Mom said. And we all pronounced the snapper sandwhich as excellent! And the ribs were good, too, according to my sister! However, the best part of Gwen's Reggae Grill was yet to come.
The hammocks awaited! We each took a "favorite" one...
Mom in a State of Bliss...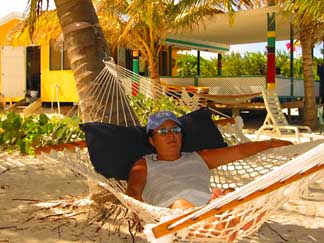 Me and My Sister
"Hanging Around"

Big, comfortable, in the shade, with a sensational view of the beach and ocean, the sound of waves gently lapping in our ears! My family and I enjoyed the hammocks immensely.
But I think my Dad liked them a little more than my mom, sister and I. Because when it was time for a nice walk on the beach, my Dad said he'd wait in the hammocks. After walking Shoal Bay (so many beach bar Anguilla restaurants still to try!), we returned an hour later, my Dad was snoozing solidly in his hammock!
Here's my Dad's favorite view at Gwen's...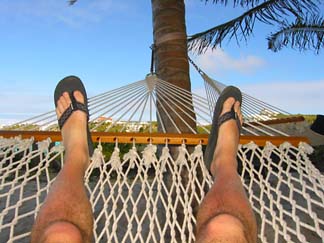 We tried to persuade him to go home for some swimming. But this wasn't easy! He didn't want to get out of that hammock! So we yanked him out!
Actually, I did. I really wanted to cool off in the pool after a long walk on Shoal Bay East. We did not have our bathing suits, (no nude swimming in Anguilla!).
So grumbling under his breath (he was kidding... I think!), he headed the car back towards our Little Harbour villa.
We'll never forget those hammocks... I'm sure we'll be repeating this visit to this most relaxing of all Anguilla restaurants, each time we come back to our "Caribbean home away from home."
Directions, Hours & Contact
Directions: Gwen's was once located on the east side of the beach. Since then, Gwen has moved to the west side (location in map below). Full review on Gwen's new location here.
Gwen's
Good for the beach scene, BBQ and hammocks.
Hours: Open daily for lunch.
Tel: 264-583-2120