Gwen's Reggae Grill on Lower Shoal Bay East
By: Kirmani Honoré
Over the years, the eastern side of the ever-popular Shoal Bay East has taken a beating from the rising tides.
No one was affected more than Gwen, the owner of Gwen's Reggae Grill, a true institution on Shoal Bay's east side. The sand on which her restaurant stood had been gradually sucked out from underneath for years.
Palm trees falling into the sand, beach space at a minimum, it was a matter of time before Gwen would have to close or relocate. Everyone breathed a sigh of relief when she announced that she would be relocating and not closing her doors for good.
Gwen's on Lower Shoal Bay East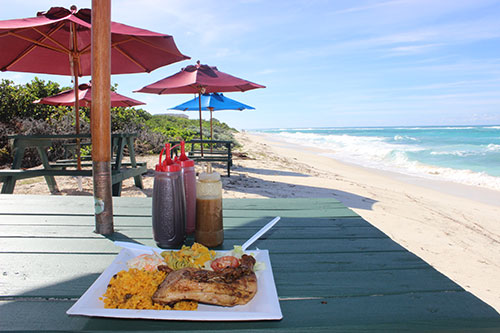 Gwen's Relocation
By: Kristin Bourne
To reach Gwen's Reggae Grill by automobile today, drive to Anguilla's Shoal Bay East and look for the signs. You'll enter the road to Gwen's from the paved road that also leads to Zemi Beach House Resort. It's all well-signed.
Gwen's Reggae Grill is directly on the beach

From the paved road, be prepared to drive down a sandy gravel road until you reach the beach lot that Gwen's sits on. Parking is near the building.
The road and parking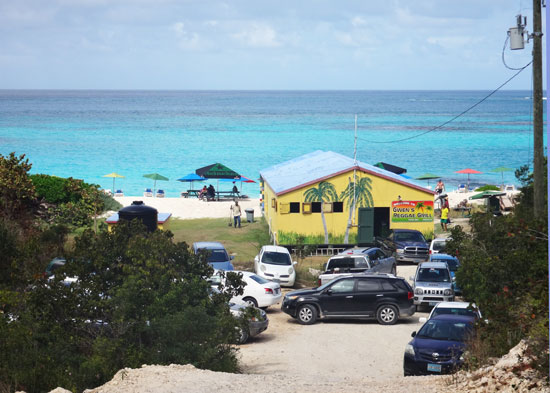 I choose to park a bit up the road and walk down in order to make an easy exit and to leave space for others who may not want to or be able to walk on the hill. Sunday's in particular can get very busy.
The Impressive & Multitasking Gwen
I am always so impressed by Gwen herself, such a multitasking woman. She mans the bar. She grills lobsters. She speaks with guests and manages her busy restaurant.
Gwen buttering lobsters on the grill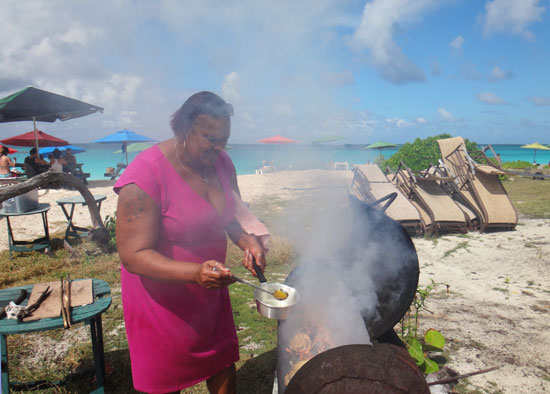 The day I visited, Gwen and I spoke, I ordered a beer and a cheeseburger at the bar and then headed for a picnic table on the beach.
The bar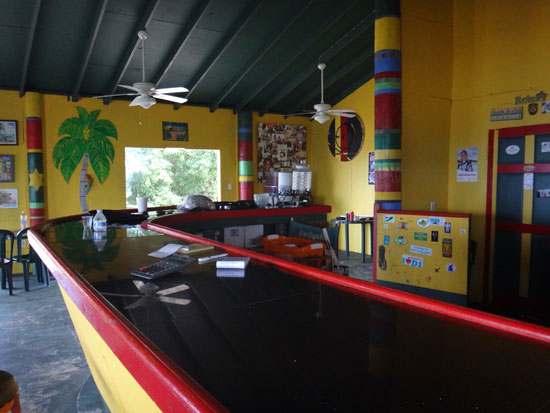 To say that Gwen's Reggae Grill is popular and loyally-loved is putting it lightly. Gwen's is perhaps one of the most visited beach bars on Shoal Bay East, and even all of Anguilla. That popularity all has to do with how warm and welcoming Gwen really is.
That Great Gwen's Taste!
All aspects of service are efficient and friendly, and that day my burger even arrived before I expected it to!
A burger was chosen because I had previously enjoyed Gwen's ribs and chicken...
BBQ chicken at Gwen's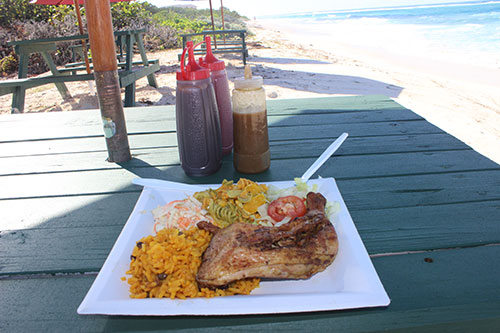 ... and I wanted to try something else for comparison sake.
Smile!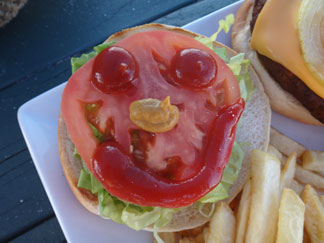 I'm also in search of a burger on the island that tops my favorite, The Ferryboat Inn burger.
Gwen's burger arrived with a smiley face on it and that made me smile. It was tasty.
The menu is written on a board at the bar. The board subtly changes colors which falls in line with the colorful surroundings at Gwen's.
The Menu
The menu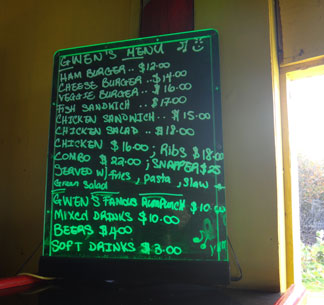 Prices are all in US dollars. Sandwich options include hamburgers, cheeseburgers, veggie burgers, a fish sandwich and a chicken sandwich. They range from $12 to $17.
There is a chicken salad for $18 and the meals of either chicken, ribs, a chicken & ribs combo and snapper range from $16 to $25.
Sandwiches and meals include fries, pasta, slaw and green salad.
Cheeseburger and sides

Gwen's famous rum punch is something not to be missed on the menu. They're $10 as are other mixed drinks made from the full bar. Beer is $4 and soft drinks are $3.
Good Vibes at Gwen's
The bar (shown further above in this article) is inside the main building. The kitchen is concealed in the back from guests but you can step on the side of the building and observe the grills and grill masters at work.
You can sit inside or out on the covered porch where there's plenty of tables. Another seating option takes you further on to the sand and at picnic tables. And if you're feeling super relaxed, there are loungers under umbrellas so that you can settle into a seaside nap after you eat.
The porch

The picnic tables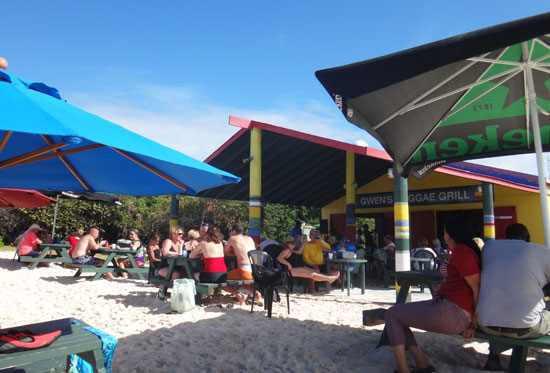 The beach umbrellas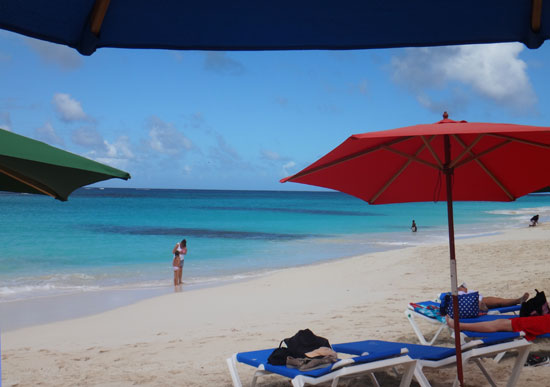 There's a casual and nice bathroom situated separately from the main building, back toward the parking area and away from the beach.
View from the bathroom door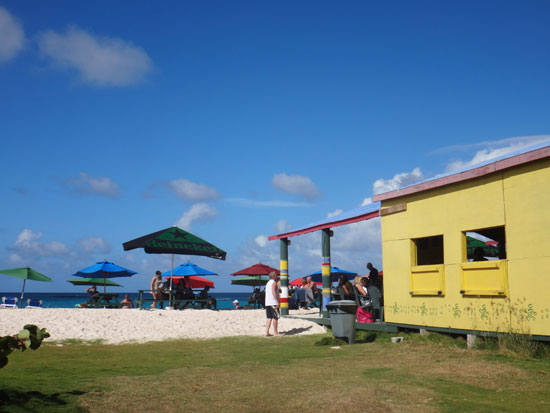 The space is colorful, especially utilizing the "ites, green and gold" colors of Rastafarianism which can be a basis for the genre of reggae music… The inspiring music behind Gwen's Reggae Grill. The colors of Gwen's compliment the bright turquoise of Shoal Bay East.
Island-themed and sentimental decor is all around. Sea turtles are painted on the exterior walls and picture frames filled with photos respecting the past are displayed on the wall..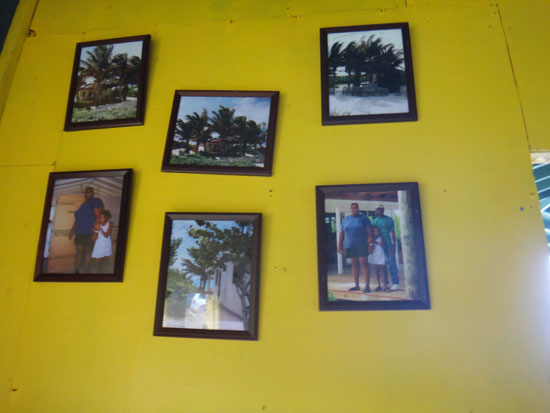 Sunday is the most popular day thanks to the Scratch Band that plays in the afternoon.
Many make it a regular part of their Sunday. On Sunday, Gwen's turns into a place to meet up with familiar faces and dance while dining on Gwen's cooking in a laid back setting on one of the most beautiful beaches in the world.
The Scratch Band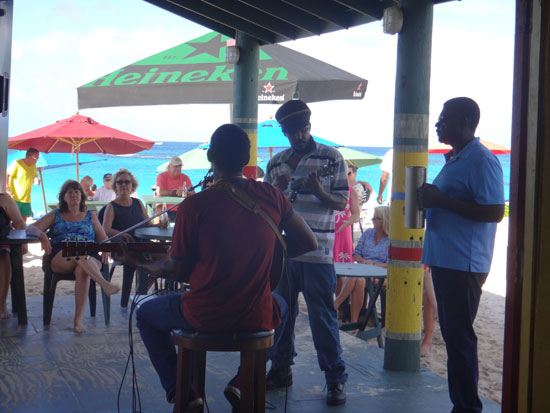 Terrific atmosphere & Anguillian BBQ, served just inches from the beach under huge shady umbrellas...
Only in Anguilla!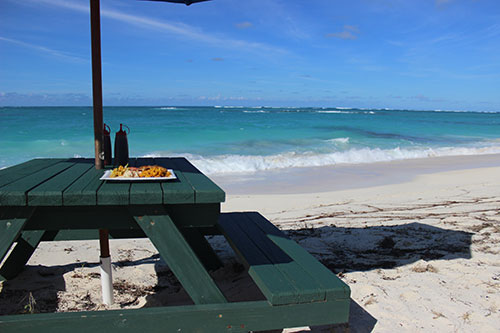 Contact, Hours & Directions
Directions: Drive to Shoal Bay East and make the left turn that you make when you are going to Zemi Beach House. About 30 yards or so down the road you will see a right hand turn and a sign down to Gwen's.
Hours: In-season, Gwen's is open daily for lunch.
Tel.: 264-583-2120