Cape Air Offers Anguilla Flights
Cape Air has discontinued service to Anguilla.
Massachusetts airline, Cape Air, affiliated with major airlines like Continental, JetBlue and American Airlines, is known for their flights within Cape Cod.
But, Cape Air flies outside of the Cape, and the States too!
Cape Air flies to many Caribbean islands from San Juan, Puerto Rico, including St. Thomas and Tortola.
And now...
Cape Air offers daily Anguilla flights from Puerto Rico.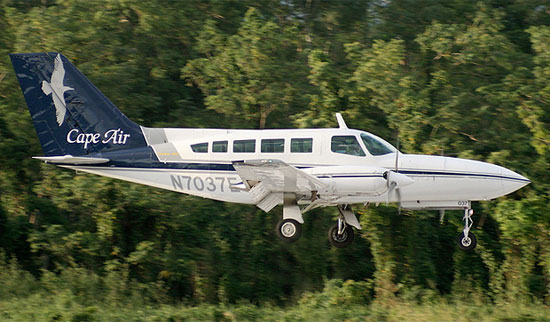 Photo From: nycaviation.com
"A Cape Air Cessna 402 (N7037E) lands at
Eugenio Maria de Hostos Airport in Puerto Rico. (Photo by cavenaghi9)"
When we lived in Montreal, and first started traveling to Anguilla, we would fly Montreal-JFK, JFK-Puerto Rico, and then catch an Anguilla flight from Puerto Rico.
Coming from Canada, connecting through the United States added several delays (including long lines at US immigration) and unnecessary travel hours.
We found a solution! Catch a direct charter to St. Maarten, and then take Anguilla Air Services flights to Anguilla from St. Maarten. This routes cuts our travel time from 12 hours to 5 hours!
Now that Yuki and I go to school in New York (and my parents live in Anguilla), we still take the St. Maarten path. The reason is simple... It's faster, smoother.
Many people traveling to Anguilla choose the St. Maarten connection, but Puerto Rico remains a convenient connection for many American residents Anguilla-bound.
In the high season, Cape Air's Anguilla flight costs approximately $350 each way.