Anguilla Villa Rentals...
Island Harbour
The red pin (below) is Island Harbour. Zoom in on the Anguilla map for more detail.
Right in the heart of Island Harbour's village you will find the most quaint, picturesque fishing village.
Small, colorful fishing boats dot the harbour's clear, turquoise waters... Fishermen bring in their catch while others sit on the dock preparing their bait or gutting their fish.
Just along the harbour's shores there are many Anguilla hotels, inns and yummy places to eat. From the best baguettes and croissants to perfect pizzas and the better than any desert ever, banoffee pie!
Mmm! Just thinking about all of this delicious food makes my mouth water.
While there aren't any Anguilla villa rentals in the harbour, admist all of the action, there are many in the surrounding area.
Villa Hibernia
Size: 3 bedrooms
Location: On the sea rocks overlooking Island Harbour and the open Atlantic Ocean.
Description: Inspired by their travels to the far east, Villa Hibernia is a dream! Owned by the owners of Hibernia, Mary Pat & Raoul have put years of hard work into designing a beautiful Asian-Caribbean villa, complete with a plunge pool and steps down to a gazebo by the sea. More on Villa Hibernia here.
Price: $$ — Return to Villas By Price
Anguilla JEMS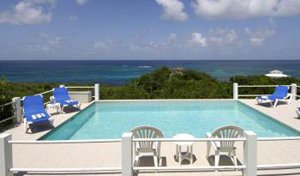 Size: 2-3 bedrooms
Location: Located on sea cliffs.
Description: Where Island Harbour ends and Shoal Bay begins, you will find a gem of a villa... Anguilla JEMS.
JEMS is perched up in rocky cliffs gazing out to sea. The upper level of the villa has two bedrooms with walk outs to the swimming pool. On the villa's lower level, there is a separate one-bedroom suite.
This Anguilla villa rental also has a garden area and is a short walk to Le Bon Pain. Yum!
Price: $ — Return to Villas By Price
Villa Amarilla

Photo Credit: Villa Amarilla
Size: 1-5 bedrooms
Location: Located on the sea rocks between Shoal Bay and Island Harbour.
Description: This five-bedroom villa is spacious! The main living room has two seating areas, and extends into a larger dining area.
The pool area is also large.
If you are traveling with a group, Villa Amarilla would make an excellent choice.
There are four "main" bedrooms, two with views of the sea. Each has been brightly decorated, and each has an ensuite bathroom with Italian tiles. The furnishings and antiques are unique.
A fifth bedroom can be made up.
Price: $$$$$ — Return to Villas By Price
Little Palm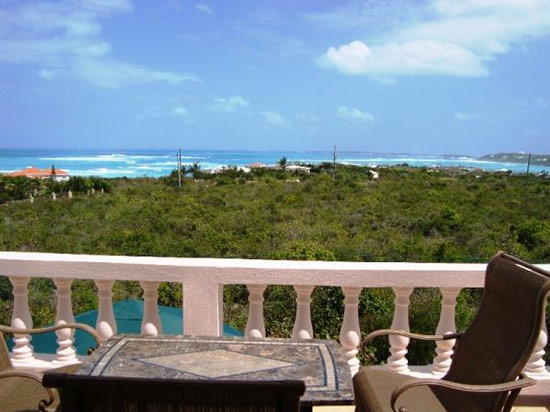 Photo Credit: Little Palm Villa
Size: 2 bedrooms
Location: Located on the sea rocks between Shoal Bay and Island Harbour, but not on the sea.
Description: Comfortable and well-appointed, Little Palm is located in a community located between Shoal Bay and Island Harbour.
The fair-sized pool makes up for the lack of ocean-front. Despite that lack of ocean-front, it is only a short drive to the beach, and there are endless views from the villa's outdoor living spaces.
There is a full kitchen, living space and two bedrooms.
Price: $$ — Return to Villas By Price
Quixotic Villas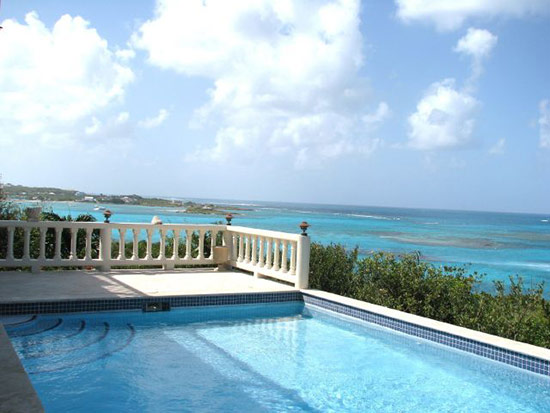 Photo Credit: Quixotic Villas
Size: 1-4 bedrooms
Location: Located on the ridge road to the East of Island Harbour.
Description: Quixotic is made up of four villas: Elegante, Romantica, Amor and Grande. Grande has two floors. You can rent the top or bottom, or both, making it a great option for two families traveling together, or two generations in a family traveling together.
The villas are nice decorated and have breathtaking views of the open Atlantic and Island Harbour.
Villa Grande, as its name would suggest, is the largest. It also has a small pool to cool off in. The villa has two stories with two bedrooms on each level.
Romantica and Amor are one bedroom villas and they share a pool and jacuzzi.
Each of the villas have well kept gardens.
Price: $$-$$$ — Return to Villas By Price
Wesley House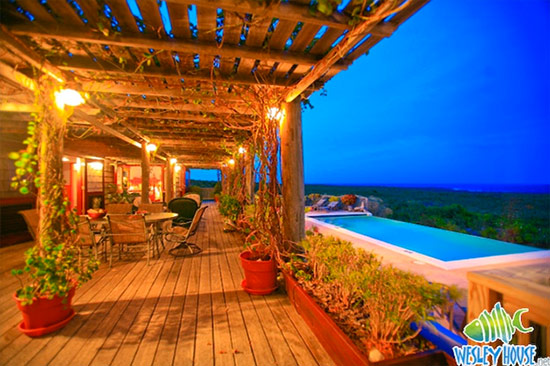 Photo Credit: Wesley House
Size: 3 bedrooms
Location: Set near Island Harbour overlooking Savannah Bay.
Description: Although Wesley House is in the Island Harbour area, the Anguilla villa has exceptional views of Savannah Bay.
Located inland, the villa has been built "up" to offer views and catch tradewinds. Wesley House is 150 feet above sea level!
The three bedroom villa has truly spectacular wood furnishings, and is complete with an infinity edge pool. More on Wesley House.
Price: $$$ — Return to Villas By Price
Country Cottage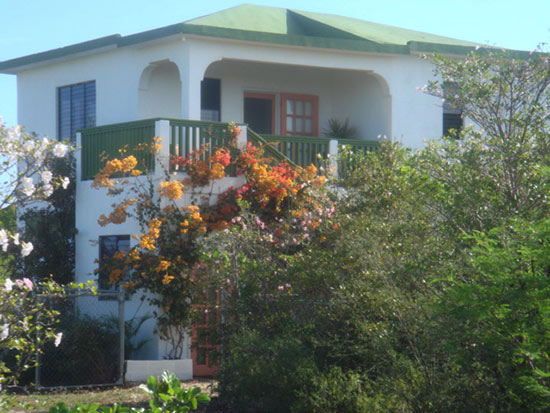 Size: 1 bedroom
Location: Inland of Island Harbour in Welches.
Description: A charming cottage, Country Cottage is clean, well-kept and quite comfortable. The villa captures the natural breezes that blow through the Eastern end of the island. The high ceilings help keep the villa cool, too.
The bedroom has air conditioning (in case you like the ultra-cool feel). The bed is a king-size and has a small patio that looks out to the countryside.
This villa is just a short drive from one of the best beaches in the Caribbean, Shoal Bay, and Island Harbour.
Price: $ — Return to Villas By Price
Villa Soleil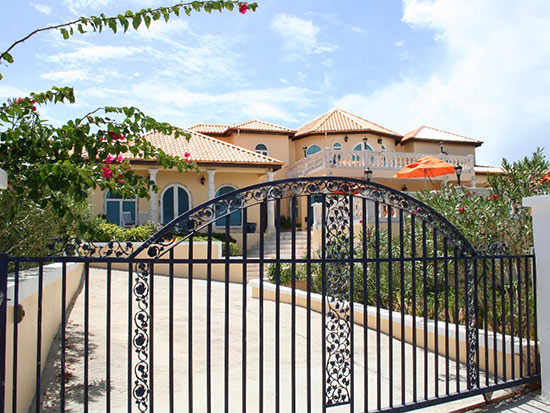 Size: 4 bedrooms
Location: At the end of Island Harbour's ridge road, facing Captain's Bay.
Description: Just off of Harbour Ridge, you will find Villa Soleil. The villa looks out over Captain's Bay in the distance, one of the island's wildest and most remote beaches. Beyond Captain's Bay, you can see also see Anguilla's cay, Scrub Island.
Each bedroom has their own private outdoor area and bathroom.
There is plenty of indoor and outdoor dining (there is a formal outdoor dining space, BBQ and wet bar!) and living space, as well as a large pool. Beautiful. The sun chaises and outdoor furniture is particularly appealing, with its orange and rattan. You will never feel crowded here.
The villa is large and with a Greek style. It impresses visually in terms of its size and grandeur!
Price: $$$$ — Return to Villas By Price
Desert Rose Villa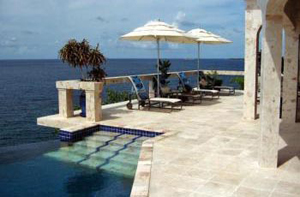 Size: 4 bedrooms
Location: On the Sea Rocks just east of Island Harbour. Views out to sea.
Description: This three bedroom, high-end villa defines the term "posh."
You know you will be living in luxury when the first thing you notice upon looking at the villa, is that it is made entirely of polished Anguilla stone.
Nope, I'm not kidding... The entire exterior is made of fine Anguilla rock.
After that, every other luxurious feature falls quickly into place. Mindblowing views out to sea, superb verandas, a negative edge pool, a tennis court, a media room, a fire place, and even a two car garage.
But what makes this villa truly special are the details. The veranda is not just any veranda. It is a veranda made from "tumble marble" tiles. The bathroom floors? Italian marble tiles. The bedroom furniture? Mahogany only, with a flat screen TV in every room.
There are many services that come included at this villa in Anguilla. These services include daily maid service, linen change, pool service and, my favorite, continental breakfast!
Anyone will tell you that Desert Rose is one of the most beautifully adorned Anguilla villa rentals. The interior, the exterior... This luxury Anguilla villa will take your breath away.
Price: $$$$$ — Return to Villas By Price