Villa Soleil...
The Villa of Anguilla Sunshine
Perched high on one of the most scenic ridges in Anguilla, Villa Soleil is the villa of sunshine!
Welcome to Villa Soleil

Located on Harbour Ridge, this four bedroom villa gazes out to Anguilla's most remote and enigmatic beaches, Captain's Bay and Savannah Bay. With an orange and yellow color scheme, a blue pool and the Anguilla-blue sky above and sea beyond, Villa Soleil embodies the feeling of Anguilla.
Let's take a look inside Villa Soleil...
Catching Rays at Villa Soleil
True to its name, Villa Soleil is built for taking in all of Anguilla's endless sunshiny days.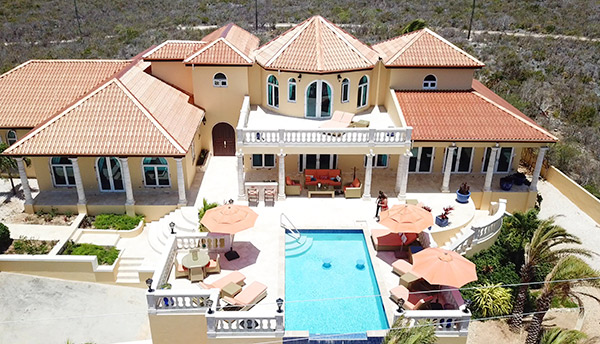 Painted orange, with a terra cotta tiled roof, Villa Soleil exudes warmth. To bask in that Anguilla warmth? Villa Soleil boasts expansive front and back terraces.
The front terrace's bold columns create a majestic and regal feel. Going hand in hand with that feel, the patio is completely outfitted with all of the necessities for plush days by the pool. Sumptuous lounge chaises and large umbrellas dot the oversized patio. The pool is complete with built-in benching and tables, perfect for long days of liquid lounging.
Outdoor Wet Bar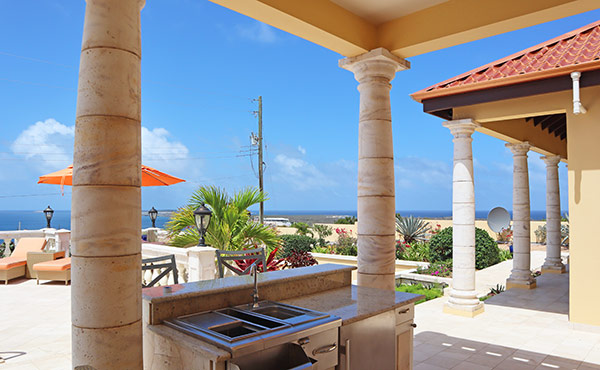 There are two outdoor wet bars and the back patio features a full-length counter with grill.
Captain's Bay in The Distance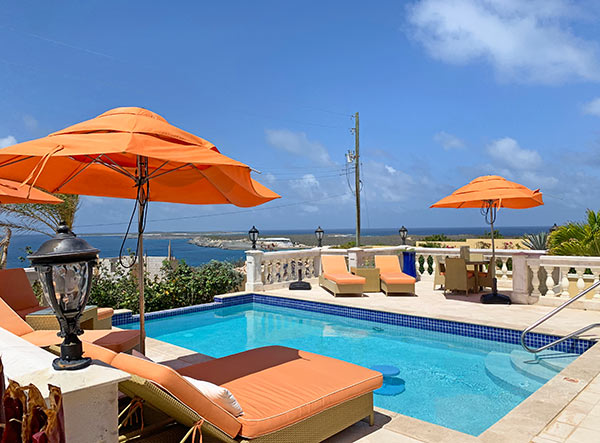 Most unique of all? The front terrace faces enigmatic Captain's Bay while the back terrace provides sweeping views of Savannah Bay. Truly one of the most unique locations in Anguilla, it is highly unusual to find a villa that has these 360° views.
Luxurious Interior Kitchen & Dining
One step inside Villa Soleil and you are struck by its size. At 5,000 square feet, Villa Soleil is spacious. A grand wooden front door gives way to an oversized living room dressed in soothing pastels.
Oversized Living Area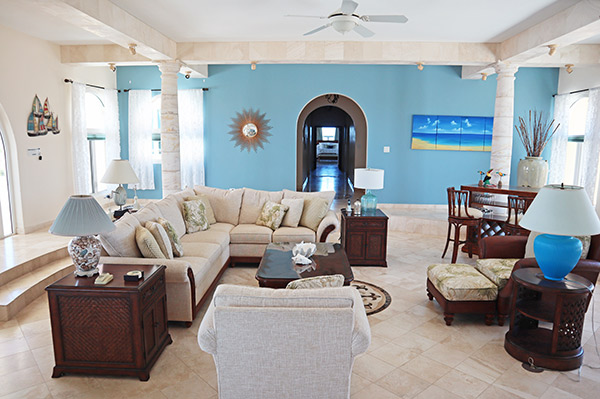 The living room opens to both the front and back patios and is complete with large flatscreen TV. Its arched doorway opens into Villa Soleil's posh kitchen and dining room.
The Kitchen & Dining Room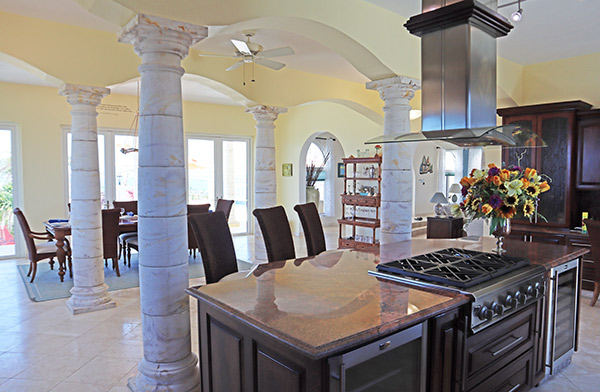 The space is accented by strong pillars and dark wood. Light streams in via floor-to-ceiling windows and doors to both patios. The space even features a small desk area with computer and printer, tucked quietly to the side of the room.
Complete with all modern appliances, the extra-special touch is the kitchen views to Savannah Bay.
Dining With Sea Views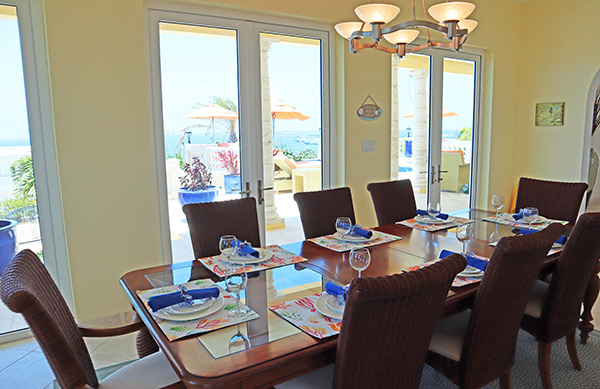 Dining? Check. Preparing meals in? Check. Preparing meals outside? Check. Sunning, swimming and relaxing? Check, check, check. What about sleeping?
Villa Soleil has four grand bedrooms. Let's take a look. First...
The Grand Master Suite
Up a curved staircase lies the first grand master suite. The four poster king size bed sits in the room's center, creating a uniquely royal feel. The suite itself has views in both directions to the Atlantic Ocean and Savannah Bay.
Grand Master Suite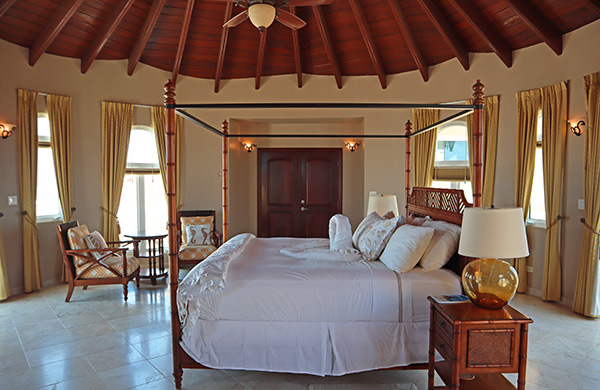 To fully indulge in those views, step onto your private balcony...
Private Sun Deck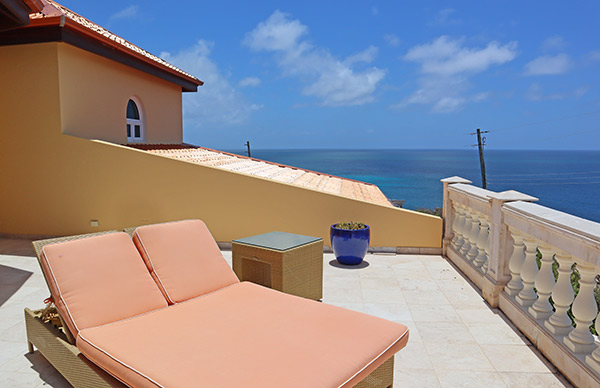 Or slip into your...
Luxurious Outdoor Shower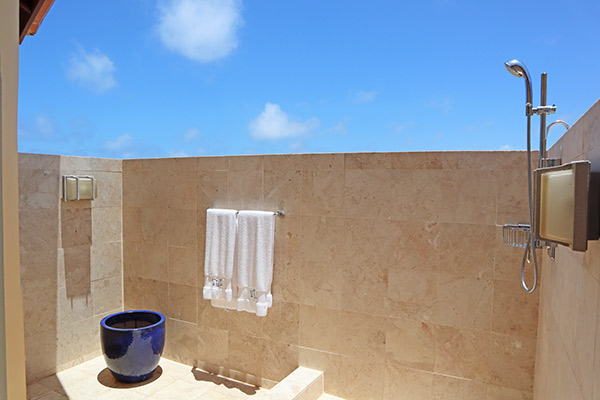 Oversized and open to the sky, this is one of the most luxurious outdoors showers we have seen. Peep over the edge and Savannah Bay meets your eye in the distance.
Luxurious touches don't end there. Inside, in the cavernous ensuite bathroom, lies a sumptuous tub in the ensuite's center. Sink into relaxation!
Master Ensuite Sink Tub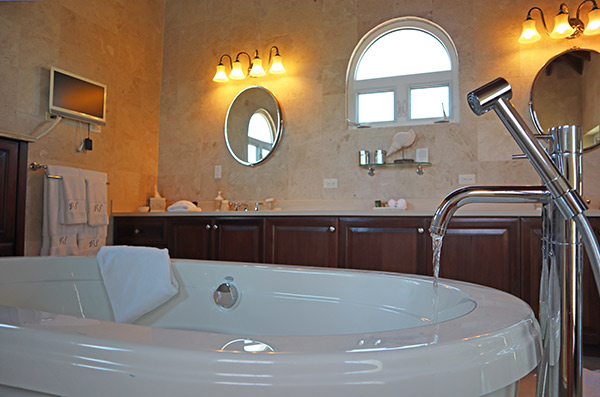 One last special touch upstairs? The second floor features its own wet bar with mini fridge. It is both convenient and adds a level of privacy for guests staying on the second floor. A brilliant addition.
Second Floor Wet Bar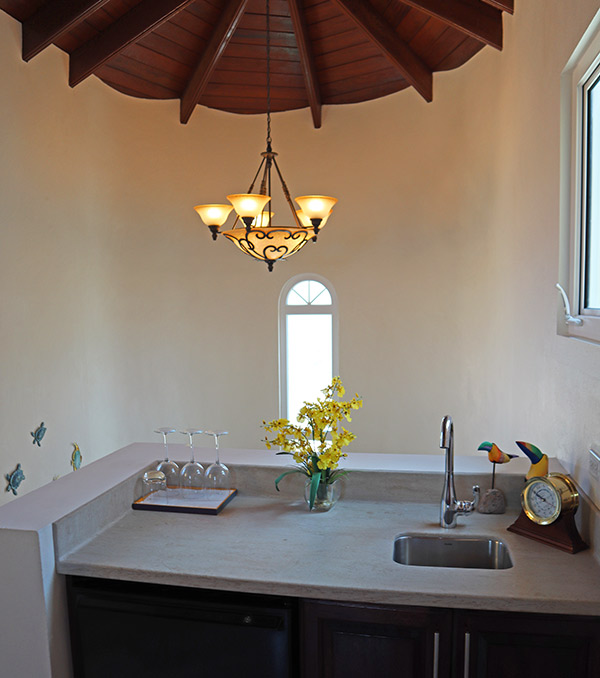 The Three Master Suites
Back on the main floor lie three additional master suites. Each is large, well appointed and complete with private ensuite
Peaceful Master Suite

All master suites feature high vaulted ceilings. Lofty, with floor-to-ceiling windows and tranquil color schemes, the bedrooms are markedly peaceful.
Each bedroom also features its own walk-in closet, air conditioning and opens to outdoor patio.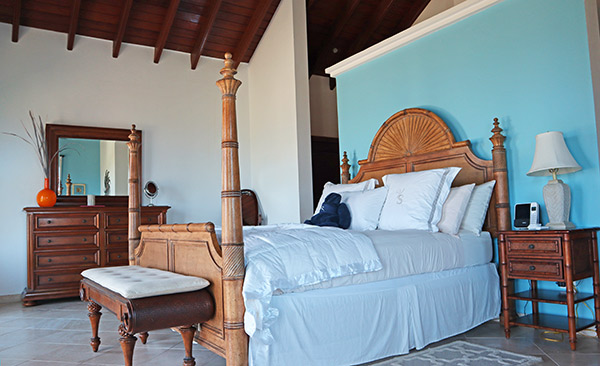 If you are traveling with children or teenagers, the king beds can also be converted into twin rooms.
Twin Room Set Up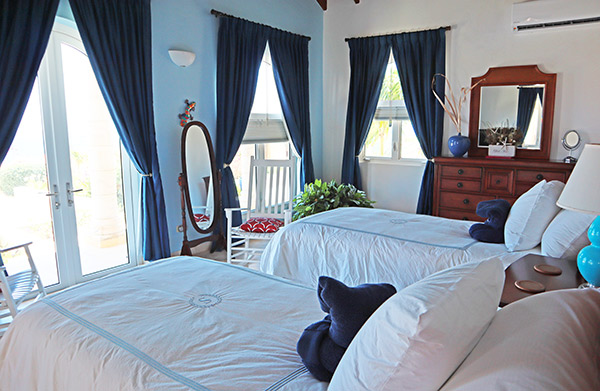 With 5,000 square feet of living space and four opulent suites with private bathrooms, Villa Soleil is the villa for friends and families traveling together.
Whether lounging, dining or taking in the one-of-a-kind scenery...
Captain's Bay in the Distance

Villa Soleil is made for total comfort, and soaking up the Anguilla sun!
Villa Soleil is available for rent via Refined Retreats. To book, see the contact information below.
Bookings & Rental Info
Website: Click here
Tel.: 615-216-5600 / 866-376-7077
Email: reservations@refinedretreats.com
Exact location, here...