Anguilla Dining Update
Anguilla dining can be mighty fine. We had just had a wonderful supper at Ripples.
The night was young, and my parents were joking about how the British sure seem to know how to cook on Anguilla, not like in England (Ha! Ha! they thought that was very funny).
Then we remembered other "Brits" who have mastered the fine art of serving "Anguilla dining on the cheap"... our friends over at the Arawak Cafe! And one thing led to another... and soon we all wanted their famous Banoffee Pie...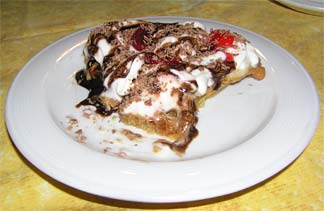 Even though we were pretty full, the taste of Banoffee Pie hung in our minds. And soon were racing off to Island Harbour.
Minutes later...

We were digging into this genuine English specialty.
(You might argue that "Banoffee Pie" is not "Anguilla dining" -- but Anguilla is a British colony, after all. So I'll always consider British cooking, and especially Banoffee Pie as being bona fide Anguilla dining.)
Maria (one of the Arawak partners) had introduced us to this little-known British dessert on an earlier trip. And she has perfected it.
We tried to pry the recipe out of her, but she wouldn't budge, saying that...
"A magician never tells how it's done."
I can't blame her, either!
However, some time after returning back home, we had a yen for Banoffee Pie (or should I say a "pound" for it? Ouch!).
We had two choices... fly back for more of that magical Anguilla dining. Or search for "Banoffee pie" and "recipe" at Google and Yahoo!.
Unfortunately, we didn't have time to fly through two different countries to get to our Banoffee. So began our search engine search.
Wow! We found the original Banoffee Pie recipe as used by "Hungry Monk" chef Lucy Baldwin. This recipe was developed by Ian Dowding and Nigel Mackenzie back in 1972, when they first published their cookbook, 'The Deeper Secrets of the Hungry Monk'
You'll need the following (and I promise it's worth it)...
12 oz uncooked shortcrust pastry (if you need a recipe email me)
2 tins condensed milk
1 1/2 lbs firm bananas
3/4 pint double cream (whipping cream, whipped to stiff peaks does the job)
1/2 tsp powdered instant coffee
1 dessert spoon castor sugar
a little fresh ground coffee
Here's what to do...
preheat oven to 190 deg c or 375 deg f.
lightly grease a 10"x 1.5" flan tin.
line the tin with thinly rolled pastry, prick base with fork and blind bake until crisp and allow to cool.
immerse canned of unopened cans of condensed milk in deep pan of boiling water, cover and boil for 3 hours.
insure pan does not boil dry or the cans will explode.
remove the cans from the water and allow to cool completely (before pouring the cold toffee mixture into the baked flan crust).
whip the cream with instant coffee and sugar until smooth.
spread the toffee over the base of the pastry.
peel and halves the bananas lengthways and lay them on the toffee base.
finally spoon or pipe the cream lightly over the bananas and sprinkle the freshly ground coffee on the cream.
Have we tried it? Sure...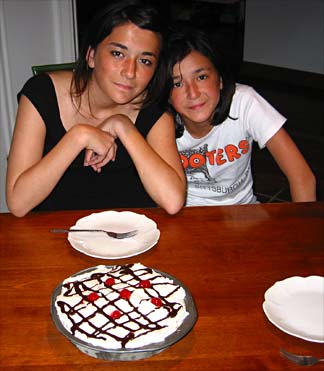 My Mom and I set to work. Well, mostly my Mom. My Dad says that I'm the only person who can burn water!
However, as you can see, my sister and I were more than ready to test to see how close my Mom came to Maria's perfection.
And my Dad put the camera down right after taking this photo.
We all dug in.
The verdict?
95%. Almost as good as Maria's.
I guess you could say that...
Maria still takes the cake... errr, the pie.
And there's a little extra bonus. We get a feeling of Anguilla dining, even when we're at home, whenever we like.