Anguilla Villa Rentals...
Crocus Bay
The red pin (below) is Crocus Bay. Zoom in on the Anguilla map for more detail.
Close to the hustle and bustle of "downtown Anguilla" you will find a quiet oasis... Crocus Bay.
Picture-perfect Caribbean homes line the road down to Crocus Bay. Once you're there you will find sleepy shores graced with one of the best Anguilla restaurants.
Boats are also docked nearby waiting to take you next door to Little Bay
There are a few options for Anguilla villa rentals in the Crocus Bay area. Most of them are found in the hills surrounding the bay.
Grand Outlook Castle

Photo Credit: Grand Castle Outlook
Size: 2-4 bedrooms
Location: Overlooks Crocus Bay.
Description: One of the most popular villas in Anguilla, Grand Castle Outlook lives up to its name. It is certainly grand and has quite an outlook!
This villa sits high on the Eastern cliff overlooking Crocus Bay, taking in the beautiful Atlantic Ocean, seeing all the way to Sandy Island and beyond to Meads Bay. Views here last forever. It has also been said time and time again that this villa is home to the most spectacular sunsets.
Over 7200 square feet, a pool of 400 square feet, and four bedrooms... this villa is certainly big. Guests are afforded much privacy. Each bedroom has its own bathroom and balcony.
Price: $$$$ — Return to Villas By Price
Villa Oceana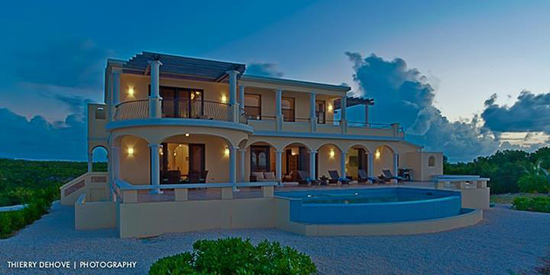 (Photo Credit: Oceana Villa)
Size: 1-2 bedrooms
Location: Tucked into the hillside overlooking Crocus Bay, with views extending to the cliffs at Little Bay.
Description: Villa Oceana is a spacious and comfortable villa with a Spanish flair.
Inside, rooms are large. The main room is particularly nice and open, with high ceilings. Each bedroom is a "master" bedroom with ensuite bathrooms, and plenty of closet space (safes, etc.).
When it comes to entertaining and eating, you have the choice of a spacious interior for entertainment, or the outside dining space with views out to sea. Dining is beston the outdoor terrace.
The infinity edge pool looks off into the open Atlantic ocean. You can see charming Crocus Bay below, and the cliffs surrounding Little Bay in the distance. This is one of the most picturesque views on the entire island.
Price: $$$ — Return to Villas By Price