Anguilla Villa Rentals...
Forest Bay
The red pin (below) is Forest Bay. Zoom in on the Anguilla map for more detail.
My nickname for Forest Bay is "Hurricane Alley."
Back in 1995 when Hurricane Luis swept through Anguilla, tearing it apart, Forest Bay was hit particularly hard.
This part of the island never fully recovered. Many blown out Anguilla villas and homes still line the larger part of Forest Bay's shores.
L'Embellie Villa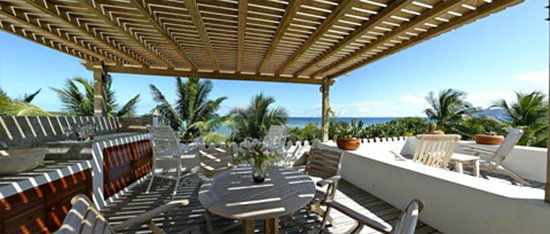 Size: 1-3 bedrooms
Location: Outside of Forest Bay on the sea rocks, just a short walk to a virtually private small sandy beach.
Description: Looking for a secluded, luxury villa?
L'Emebellie Villa is composed of two homes. The main home is the two bedroom "Beach Villa" (two bedrooms) and the second is a one bedroom "Garden Cottage" (one bedroom).
Both are directly on a private, small, shallow watered, sandy beach. Although the beach is not ideal for swimming, it has terrific snorkeling.
The villa also comes equipped with a 10-foot Walker Bay sailboat and kayaks! If you don't feel like going out to sea though, you can always relax at the villa in the spectacular swimming pool.
With your own beach, water-sports equipment, swimming pool and tastefully furnished, spacious villa, what more could you ask for?
Price: $$$$ — Return to Villas By Price