Anguilla Villa Rentals...
Blowing Point
The red pin (below) is Blowing Point. Zoom in on the Anguilla map for more detail.
Blowing Point is a diverse area. From the bustling ferry terminal (located in "Blowing Point East"), to a serene sandy point beach ("Sandy Point"), to the very last spit of land before the shoreline turns into very rocky ("Blowing Point West" or "Cul de Sac"), each of the three areas that make up Blowing Point are distinct.
Sandy Point is one of our favorite beaches.
Maybe the sand is softer, or the water is warmer or the views of St. Martin are more spectacular.
It's hard to tell what exactly makes Sandy Point such a sensational spot. People have caught on though. You will usually see a couple of fellow beach lovers wading in the relaxing waves here.
Many Anguilla villa rentals are located along Sandy Point, and along the sea rocks of Cul de Sac.
Beach Escape Villa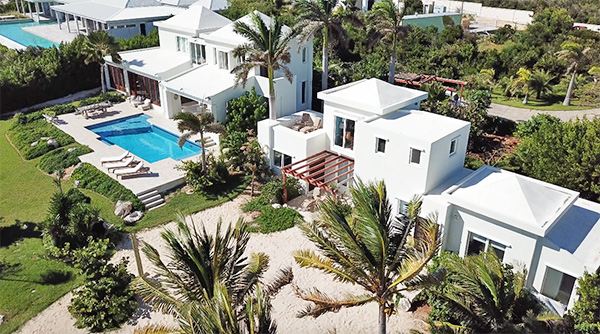 Size: 5 bedrooms
Location: On Sandy Point beach.
Description: Beach Escape Villa is one of the best deals in Anguilla.
Extra high value, this Anguilla villa is composed of two houses. The main house has two spectacular bedrooms that face St. Martin, one even opens up onto a balcony. In the second building, there are three bedrooms.
The villa is tastefully furnished with a slight Caribbean flair.
Beach Escape Villa also has a swimming pool to cool you off, but you will have a tough decision to make... The villa has a beautifully manicured sand path that leads directly to the sensational Sandy Point beach!
A swim in the Caribbean sea? Or in the fresh water pool?
Ahhh... decisions, decisions...
More on Beach Escape Villa here.
Price: $$$$ — Return to Villas By Price
Vista Villa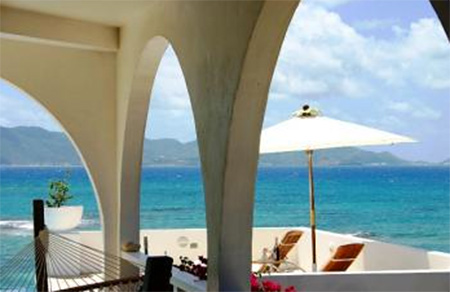 Photo Credit: Vista Villa
Size: 3 bedrooms
Location: On the sea rocks outside of Blowing Point.
Description: This villa stands out for the quality of its furnishings... they are all five-star.
The outdoor space maximizes the views, complete with nice outdoor dining area and an infinity pool. There is also a path to a small, sandy beach. Inside, the living area is comfortable and there is a full kitchen in addition to the three bedrooms.
Price: $$$ — Return to Villas By Price
Shutters on the Beach


Photo Credit: Shutters on the Beach
Size: 4-6 bedrooms
Location: Just steps away from Sandy Point beach in Blowing Point.
Description: Shutters on the Beach has plenty of outdoor space, with a pool of 1400 square feet and a large covered outdoor dining areas.
This villa is quite French in design, designed by professionals from St. Barths. It looks like a villa you might find in St. Barths, with low ceilings and large, dark wooden decks. Shutters on the Beach has a certain simplicity and understated elegance to it.
There are four main bedrooms (3 which have king beds), and two other bedrooms that lock off, separate from the rest of the villa.
A complete, open air kitchen is located just off of the deck. The villa features a media room as well.
Sandy Point beach is just a short walk away.
Price: $$$$$ — Return to Villas By Price
Villa Alegria

Photo Credit: Villa Alegria
Size: 4 bedrooms
Location: Along the sea rocks just to the West of Blowing Point.
Description: At 7,000 square feet, Villa Alegria impresses from the start.
The entrance's large double wooden doors and strong columns sets expectations high. Beyond the door's threshold, you continue to be impressed. The main living area is tastefully furnished, complete with large windows and high ceilings. Open and breezy, the temperature is always comfortable.
A state of the art kitchen is to the right of the living area, along with a formal dining space. To the left, is one of the villa's master bedrooms, with beautiful views of St. Martin.
Additional bedrooms are located upstairs. Each bedroom in Villa Alegria has a king bed, except for one, which has two small beds.
Outside, you have plenty of space to take in the sights and sun. The pool dazzles against the sparkling Caribbean sea!
Price: $$$$$ — Return to Villas By Price
Villa Paradise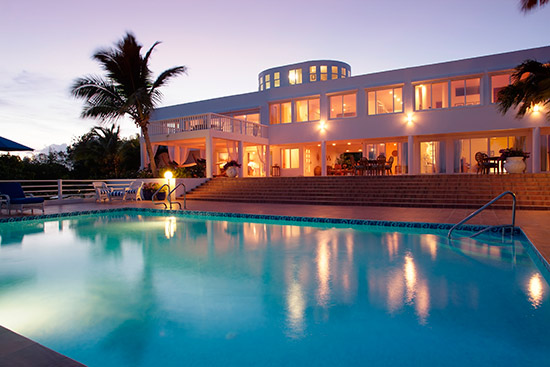 Photo Credit: Villa Paradise
Size: 3-7 bedrooms
Location: Along the sea rocks just to the West of Blowing Point.
Description: A three storey villa, set on over three acres, Villa Paradise is large and luxurious!
The villa features a spacious indoor living area, outfitted with elegant furniture, complete with flat screen television. Naturally, the living area captures the villa's sensational St. Martin views. The living room has wide balconies that capture those views, too.
The kitchen is state of the art. If you love to cook, you will love Villa Paradise. But if you don't love to cook, don't worry. There is a chef available, too. :-)
One of the two master bedrooms and two of the smaller bedrooms are located on the top floor. The second master, and two more smaller bedrooms, are located on the first level. Additionally, there is a separate guest house.
Perhaps the most exciting aspect to Villa Paradise is the outdoor living! The pool is big and sensational, the living area very comfortable. Although not directly on the beach (there are two small sandy beaches within walking distance - they are there depending on the tides), there are even steps down to the sea. Here, you can access your small zodiac boat (complete with driver). It is included in the rate!
Price: $$$$$ — Return to Villas By Price
Argianno Villa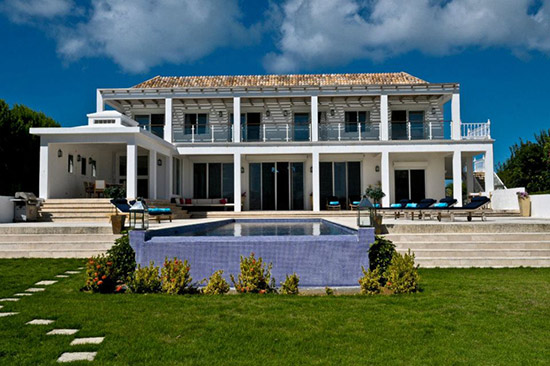 Size: 1-4 bedrooms
Location: Southern shore of Anguilla.
Description: A grand Caribbean home, the yard, pool, and terrace area allow for privacy and amazing views of St. Martin. Argianno Villa has a central sunken living room with two separate seating areas which opens up to the expansive outdoor area with an elevated dining area.
Modern amenities abound and a personal gym allows you to remain in this serene setting for a vacation workout.
Price: $$$$$ — Return to Villas By Price
Villa Luna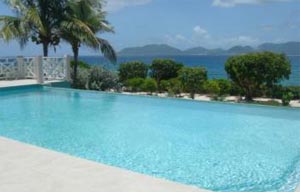 Size: 3 bedrooms
Location: On the sea facing St. Martin.
Description: Villa Luna sits right on the Caribbean sea, gazing out to the mountainous island across the channel.
The charming three bedroom Anguilla villa is adorned and decorated with many floral prints and soft colors.
Although Villa Luna is on the sea, it is all rocky coastline, which makes swimming in the ocean pretty hazardous! Good thing this villa in Anguilla has a swimming pool. In fact the master bedroom opens up right onto the large veranda and pool area.
The villa also has a guest house, which is complete with a queen sized bed, kitchen, living, and dining areas.
Price: $$$$ — Return to Villas By Price
Greengard Villa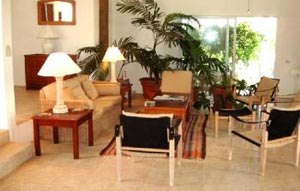 Size: 2-4 bedrooms
Location: Inland
Description: Anguilla villa rental Greengard Villa is a four bedroom villa with views of both St. Martin and Rendezvous Bay.
Many of the villa's rooms lead out to galleries that overlook the spectacular scenery. No pool here, but you are near Rendezvous Bay, one of Anguilla's best big beaches!
Price: $$ — Return to Villas By Price
Caribera Villa at Callaloo Club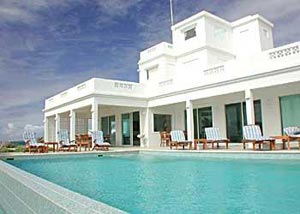 Size: 7-8 bedrooms
Location: On the tip of Cul de Sac.
Description: Caribera is one of many Anguilla villas that define the Cul De Sac area as a high-end, luxury spot.
With eight bedrooms on three floors, a large swimming pool, a private chef that can be hired, a dining room that seats 16-20 people, there is no question about it. This Anguilla villa is ultra high-end!
The most exciting part? One of the bedrooms is located in the villa's tower. Imagine the views of St. Martin!
Not to mention, rent Caribera and you will be directly on the sea. No one and nothing will obstruct your view out to the neighboring French island.
And, here's a fun fact - they even have their own dock!
Price: $$$$$ — Return to Villas By Price
Villa Fay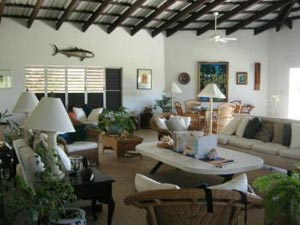 Size: 3 bedrooms
Location: Inland
Description: This three bedroom villa's trademark feature is its sensationally huge rooms!
The three bedrooms, living room, dining room and kitchen are all large and cavernous, finished in a West Indian style with beautiful furnishings and antiques.
Although Villa Fay is located in Cul De Sac, it is closer to Rendezvous Bay. But if you're not in the mood to take a short stroll to the beach, you're in luck, the villa has a pool.
Price: $$$ — Return to Villas By Price