Anguilla Villa Rentals
Sherricks Bay
The red pin (below) is Sherricks Bay. Zoom in on the Anguilla map for more detail.
Just around the corner from Shoal Bay West's popular shores, you will find a far more secluded, private beach... Sherricks Bay.
Sherricks Bay is a small, sandy beach that faces south out to St. Martin, just a deathly-hike away from Lower West End Point.
There once was a time when this beach wasn't anything but sand, sea and pelicans...
This little bay still remains quiet, gazing out to St. Martin, but one Anguilla villa sits on its shores now...
The Pavilion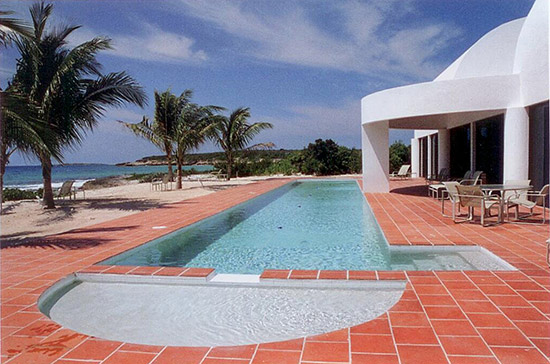 Photo Credit: Covecastles
Size: 4 bedrooms
Location: By itself right on Sherricks Bay, next to Shoal Bay West.
Description: Covecastles has a strong reputation for dealing with the high-end traveler, offering the most luxurious Anguilla accommodations.
Most of their villas are located on Shoal Bay West, but their exclusive, four-bedroom villa, The Pavilion, is tucked away on the secluded Sherricks Bay.
The one floor villa is fully air-conditioned, with an Olympic sized swimming pool, hot tub, wading pool, tennis courts, and, of course, the extremely private, small beach (although swimming is better next door at Shoal Bay West).
Few villas are more private than "The Pavilion." Not only is it on the beach, but it is the only building on the beach. Rarely will you see another soul here. True seclusion!
There is some wear on the property.
Price:
$$$$$$
—
Return to Villas By Price