Anguilla Villa Rentals...
Little Bay Villas
The red pin (below) is Little Bay. Zoom in on the Anguilla map for more detail.
Anguilla has three types of beaches... the beautiful, the very beautiful, and the extraordinarily beautiful!
Little Bay falls under the last category.
Little Bay is beyond impressive, rivaling even, what "experts" call, the best beach in the Caribbean, Shoal Bay East.
It used to be that Little Bay was untouched, a spot to visit and be completely undisturbed.
Now, you can wake up every morning to the beauty of Little Bay!
Ani Villas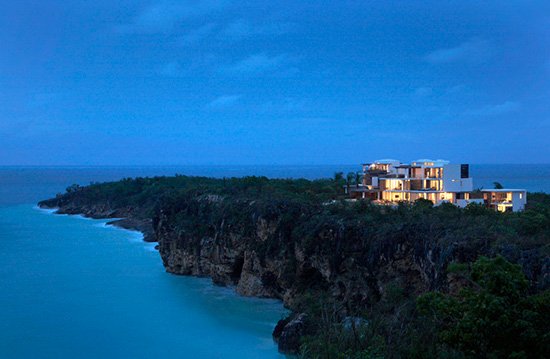 Size: 2-5 bedrooms
Location: On the Eastern cliff overlooking Little Bay.
Description: Ani Villas is in a league of its own.
Ani is made up of two luxury villas, Ani North and Ani South. Both sit atop the rocky cliff overlooking one of the island's most idyllic and remote beaches, Little Bay.
You can read more about what makes Little Bay so exclusive by clicking here.
For many years it was that Little Bay could be "yours" for an afternoon, or most of the day. There were no facilities to "stay over." But with Ani Villas, Little Bay can be "yours" for more than just half of a day.
This villa is not defined by location alone.
These luxury villas' minimalistic and "zen" design is truly extraordinary, the service five-star.
Price: $$$$$$ — Return to Villas By Price