Anguilla Villa Rentals...
West End Bay
The red pin (below) is West End Bay. Zoom in on the Anguilla map for more detail.
West End Bay is a quiet beach on Anguilla's western end.
Many local Anguillian families frequent West End Bay's serene shores... Whether they're swimming, fishing, or catching sunbeams, local families are almost always here.
There aren't any Anguilla villas on the beach, however. There are a few privately owned homes, but most of them seem to be owned by locals who live there year round.
Indigo Reef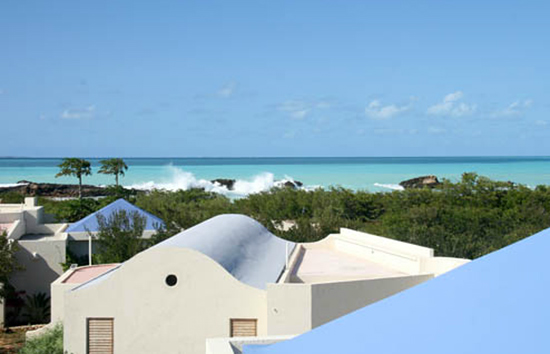 Photo Credit: Indigo Reef
Size: 1-4 bedrooms
Location: In the gardens and on the sea rocks of West End Bay (direct beach access)
Description: Indigo Reef is the brainchild of architect Iain Smith. Once you see Indigo Reef, you will not forget it. Its architecture and colors are unique and bright, influenced by exotic locales and Meditarrenean destinations.
To me, when I was a kid, it looked like a castle in the sky. A brightly colored sand castle.
Indigo Reef is made up of several separate villa units. Some are privately owned and some are available to rent.
Among the ones available to rent are Palmetto, Mangrove, Allamanda, Peritwinkle, Frangipani, Poinsetta, Gardenia and Oleander villas.
Each of these range in size, amenities and proximity to the beach.
Oleander and Gardenia are the smallest ("studio" size), and Mangrove is the biggest (being four bedrooms and with a comofrtably sized pool and roof terrace).
Inside, each villa is funirhsed in a unique way with a combination of Caribbean and European flair and feeling. The wooden floors lend a Caribbean feel.
Each villa is afforded great privacy by the lush gardens that surround them.
As they range in their size and amenities, so do each of these villas range in terms of beach access and view.
Peritwinkle and Gardenia are the only two that have the closest views to the sea. The others are set back. Oleander is not a bad optoin either, as it is alone on the Eastern end of the development.
The entire complex has a communal pool.
The units are very comfortable.
Price: $$-$$$$ — Return to Villas By Price