Anguilla Villa Rentals...
Mimi Bay
The red pin (below) is Mimi Bay. Zoom in on the Anguilla map for more detail.
Special spots like Mimi Bay are becoming increasingly rare in Anguilla, with new developments are springing up all over the island.
The land that surrounds Mimi Bay has been gaining in popularity. Today, a few small homes dot the shoreline. Despite the increase in popularity, there is only one Anguilla villa rental near Mimi Bay.
It is very much still a pristine, wild beach.
If you're looking for a secluded beach to spend the day watching the waves roar, this is the place to come to!
Moonraker Villa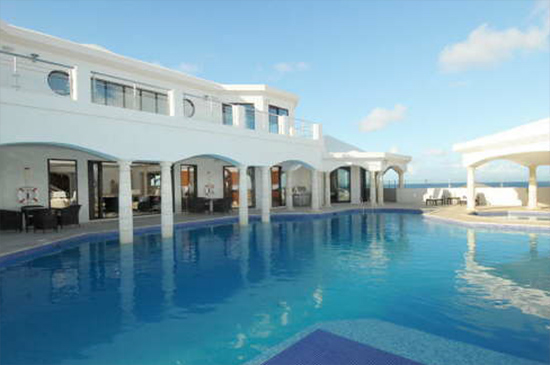 Photo Credit: Moonraker Villa
Size: 1-7 bedrooms
Location: On rocky shore near Mimi's Bay, looking out at the open Atlantic Ocean and with views towards the Caribbean sea and St. Martin.
Description: Moonraker Villa is one of the largest Anguilla villa rentals at over 15,000 square feet large, and with 7 bedrooms.
There are three floors, and a large outside space.
The first floor has three of the bedrooms (two of them "suite" style with ensuite bathrooms, and one with a king size bed, plus two single beds). There is also a wine cellar, a home theater, gym and living room. The home theater has a 5' plasma television. The living room features a plasma television as well! There is also a dining area in the living room.
The next floor features two additional "suite"-style bedrooms (Super King Beds), a kitchen, library, office and "the great room." This is an excellent entertaining room with its views out to St. Martin and its Baby Grand Piano.
The large main terrace that leads out to a 4,000 square foot swimming pool can be accessed from this floor.
The top floor features two additional en-suite bathrooms, with balconies. Each bedroom offers a different view (one of Savannah Bay, and one of St. Martin/St. Barts).
To make sure you are always comfortable, central air flows through the entire villa. Additionally, a car is provided for you when you land on island, and they can arrange direct transportation from St. Maarten to Anguilla.
This villa has all the amenities you would expect: Chef service (prepares light breakfasts and lunches, and a full dinner - wine included), and they can arrange any other service you may wish (ex. massages, trainers, etc.).
The sheer size and privacy make it an excellent choice for hosting large family trips.
All guests love their stay here. The staff goes above and beyond and the home's grandeur is undeniable.
Price: $$$$ — Return to Villas By Price