Anguilla Villa Rentals...
Sandy Ground (Road Bay)
The red pin (below) is Sandy Ground. Zoom in on the Anguilla map for more detail.
Sandy Ground (the official body of water is called Road Bay) is Anguilla's night life center.
Down on the beach and along the single road that passes through the community, it is bars and restaurants galore with dancing and dining.
There are a few lower-priced Anguilla hotels and inns you can stay at amongst these nightspots, but away from it all, tucked up in the hills that surround the crescent beach and local town, you will find many more Anguilla villa rentals...
Spyglass Villa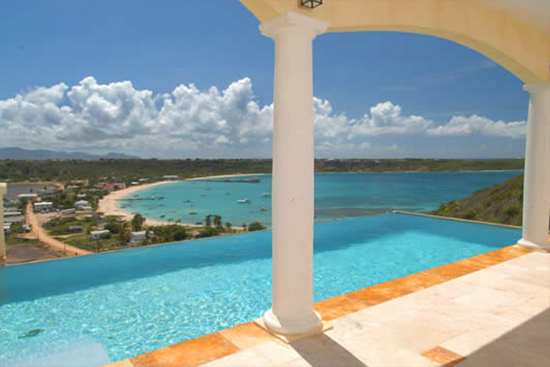 Size: 1-4 bedrooms
Location: On the Northern ridge overlooking Sandy Ground.
Description: Does this view look familiar? It should if you watch House Hunters International! Spyglass Hill Villa was featured on the popular HGTV show.
Spyglass Villa (officially called "Spyglass Hill Villa", but commonly referred to as simply "Spyglass") is a chic luxury Anguilla villa, nestled into Sandy Ground's northern cliff.
It is a four bedroom villa tastefully designed and furnished with a high end entertainment center and top of the line kitchen appliances.
The master bedroom has a private balcony with panoramic views out to Sandy Ground and the Atlantic Ocean. The second master bedroom opens up onto the large tiled-patio, complete with a spectacular swimming pool, facing the beach. The guest room has its own private entrance, with an entertainment center. On the way to the guest room you will find the private gym.
The negative edge pool is particularly breathtaking. It seems to just drop off. Below? Nothing but air and lasting views of Sandy Ground's crescent beach, dotted with picturesque sail boats and yachts.
Spyglass villa is a favorite for many travelers to Anguilla. Visitors rave over owner Janine's five-star service, and the Sandy Ground sunsets.
Click for more on Spyglass Hill Villa.
Price: $$$ — Return to Villas By Price
Topaz Villa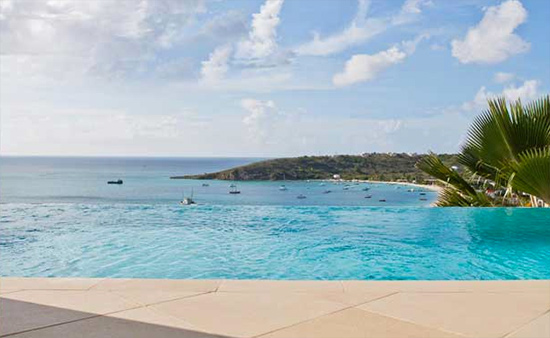 Photo Credit: Topaz Villa
Size: 1-3 bedrooms
Location: On Back Street Road (located on the Southern hill overlooking Sandy Ground).
Description: Topaz Villa is a three bedroom Anguilla villa that is currently renting as a long-term Anguilla apartment.
Topaz is made up of two rental units, the "Imperial" and the "Pinnacle."
Each unit has a fully equipped kitchen, living room, and patio, all furnished with Thai accents. Topaz's Pinnacle unit also has an infinity edge pool with views of Sandy Ground in the distance.
Price: $$$ — Return to Villas By Price
La Palma Guest Rooms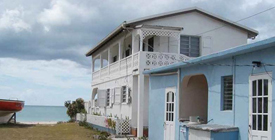 Size: Small
Location: Middle of the beach.
Description: La Palma Guest Rooms is a modest set of Anguilla apartments, located spot-on Sandy Ground beach! You can rent a three bedroom, a two bedroom, or a one bedroom apartment. All with private bathrooms, two with kitchenettes.
Price: $ — Return to Villas By Price
Villa Nirvana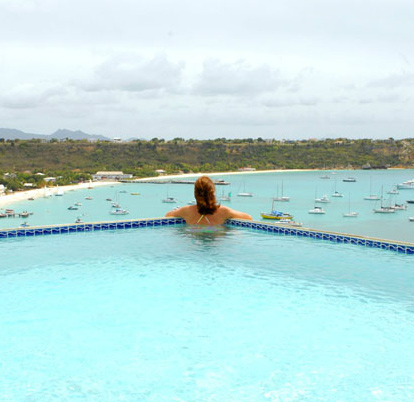 Photo Credit: Villa Nirvana
Size: 1-4 bedrooms
Location: Tucked into the Northern Hill overlooking Sandy Ground.
Description: Villa Nirvana is a spacious four bedroom villa.
This large Greek-style villa features multiple marble decks gazing out to both Sandy Ground and Road Salt Pond. With a full kitchen and different living areas, I would never object to a night in at home.
An Anguilla villa vacation here just may be, as the villa name suggests, like reaching Nirvana!
An incredible setting with large, expansive outdoor living space and tremendous views. As for service, the staff go above and beyond to welcome you and ensure you have a wonderful stay.
Price: $$$$ — Return to Villas By Price
Ocassa Villa

Photo Credit: Ocassa Villa
Size: 3-5 bedrooms
Location: In the Eastern hill in back of Sandy Ground.
Description: Ocassa Villa is a two-storey high-end villa that overlooks Sandy Ground and Road Bay Salt Pond in the distance.
The villa has three balconies/porches that take advantage of this view, one of them is on the second floor. The main porch has a refreshing pool and outdoor furniture. Inside there are five bedrooms, a full kitchen with new appliances and a high-end dining area. The home is accented with plenty of dark woods.
The rooms are large and spacious, clean and comfortable, without any clutter. There is a/c in the bedrooms and certain bedrooms have high-vaulted ceilings!
Price: $$$$ — Return to Villas By Price
Bayview Villa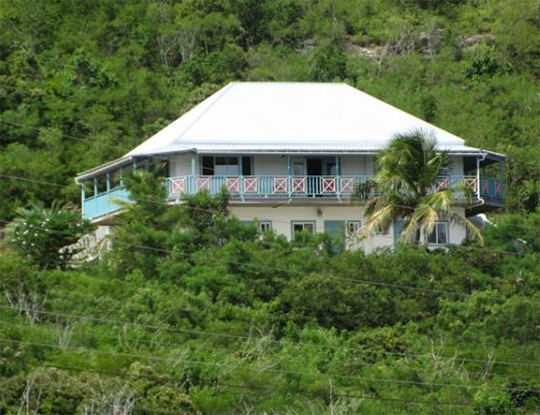 Photo Credit: Bayview Villa
Size: 1-6 bedrooms
Location: Low in the Northern hill surrounding Sandy Ground (walking distance to Sandy Ground).
Description: This villa always reminded me of the lab out of Jurassic Park. Maybe it's its architecture, the wrap around deck, its setting in the lush hillside behind Sandy Ground...
Either way, this villa is unique. It is a short walk to the local fishing village of Sandy Ground (be careful of noise - Sandy Ground gets noisy on nights like Thursday night when the music goes late). Sandy Ground's beach is pretty, the sunsets are almost always spectacular, and you will surely meet an interesting character on these shores.
The villa has a large living space with high ceilings. There is also a dining room and full kitchen, and a separate room with television.
Three bedrooms are located in the main level of the building, and three more on located below and lock off from each other. Each are set up to be self-sufficient, with bathrooms and small kitchens.
Price: $$$ — Return to Villas By Price
C-Breeze Inn
C-Breeze Inn is currently not renting.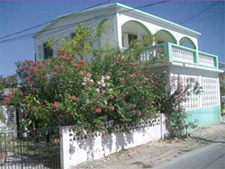 Size: Small
Location: Across the street from the beach.
Description: The C-Breeze Inn gets our family's vote for best, least-expensive inn on Anguilla. Spend a lazy day on the beach across the street, then hit the lively night spots when the sun goes down... Isn't that the recipe for the perfect vacation? Click here to read more about the C-Breeze Inn and Sandy Ground.
Price: $