A Story of Survival and Passion...
The Owner's Story Behind Anguilla Villa,
Spyglass Hill
Anguilla's Spyglass Hill villa is one that has been seen around the world!
Featured on House Hunters International, this villa is known for its Caribbean interior design, and its sweeping views of Sandy Ground.
Press play below for a tour of Spyglass Hill Villa.
Here is Ian "Sugar George" and Janine Edwards story of how Spyglass Hill came to be...
"From bad comes good" is what they say, and that couldn't be more true for Spyglass Hill, a luxury Anguilla villa. Back in 1995 when the volcanic island of Monserrat was starting to rumble, scientists were brought in.
They declared that this was the start of trouble for the island of Monserrat. The volcano was only going to become more active.
Much of the island was declared "unsafe." The population needed to squeeze into the "safe" zone (one-third of the island) or leave all together.
Many people living in Monserrat made some major life changes.
Which Way Do We Go? Let's Settle in Anguilla!
Ian "Sugar George" and Janine Edwards were living in Monserrat at that time and decided to sample St. Martin as a potential new home.
Meet Ian "Sugar George" and Janine Edwards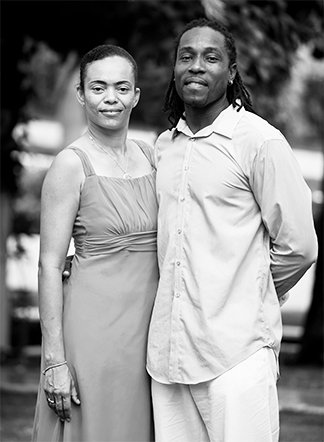 But, they didn't find "home" there.
The island of Monserrat is very quiet and, comparatively, St. Martin was overwhelmingly busy.
A friend suggested they visit Anguilla just next door, as it was quieter than St. Martin.
They did and the rest is history...
A history that includes the marriage of Janine and Sugar George and subsequently, 3 loving children... Kyiv, Nandi, and Kieron.
Sugar George had successfully built a home in St. Martin before coming to Anguilla and decided to begin a business of designing and building homes in Anguilla.
The Government of Anguilla had opened its doors to the people of Monserrat, allowing them ease in relocating and permission to work on the island.
Spyglass Hill villa was their second project in Anguilla. Their project of passion.
Spyglass Hill Anguilla Villa at sunset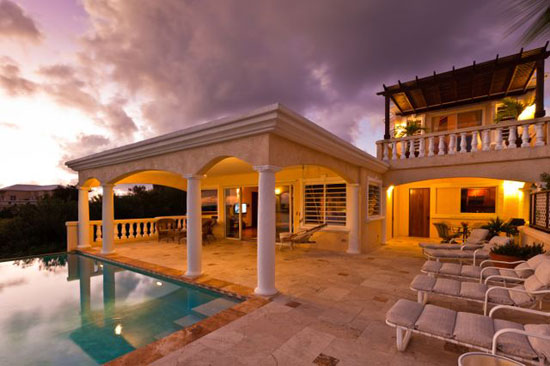 Spyglass Hill Anguilla Villa

The view is one to be reckoned with!
Sugar George chose this land because of it.
His plan for Spyglass was inspired by its location as well.
Spyglass Hill Anguilla Villa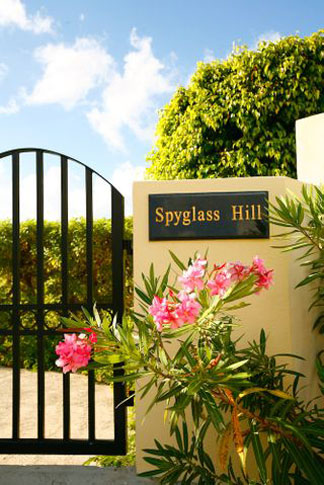 Spyglass Hill, often referred to as just "Spyglass", sits atop North Hill and overlooks Road Bay and Sandy Ground.
His mission, should he choose to accept it, was to squeeze every ounce out of this magnificent location.
He chose to accept it and...
"Mission Accomplished!"
He is talented and skilled at maximizing the tropical breezes and capturing every angle of a view properly.
If you rent Spyglass Hill villa, you are likely to meet Erlene.
She graciously gave me the tour of Spyglass.
Natural elegance and we're only at the front door...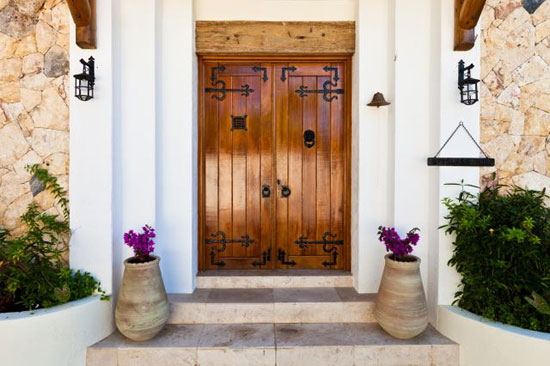 As my jeep pulled through gates to Spyglass, I saw Erlene smiling by the front door... ready for me.
Erlene welcomes you to Spyglass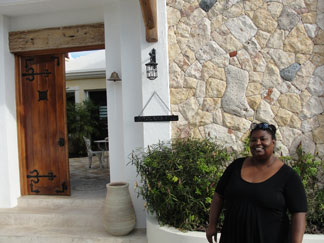 Impressed before even entering the villa, I stopped to look at the stonework along the front wall of the villa.
Each stone was hand-carved and intentional.
This detail makes for a beautiful wall that looks like art.
The Courtyard
The warmth and comfort of this villa hits you the second you start to step though the front door - which leads you directly in to the open-air of the courtyard where the hand-carved stonework continues.
The materials used in Spyglass Hill are found in the nature that surrounds you. I credit this approach, this emphasis on natural elements, for the comfortable feel. Some villas, however impressive, have a much more of an institutional and sterile feel to them.
The stone-tiled courtyard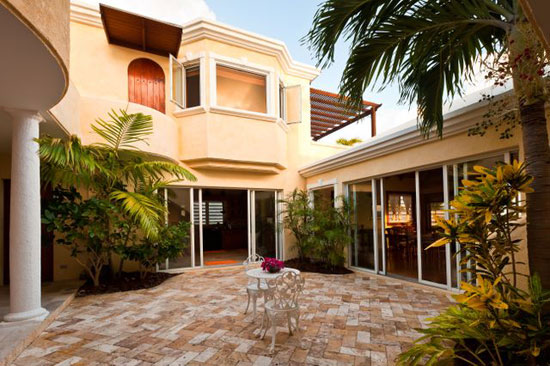 Spyglass overall is a warm, light golden yellow color. This mixed with the stonework, wood, and bamboo create a very clean yet warm palette.
One set of stairs from the courtyard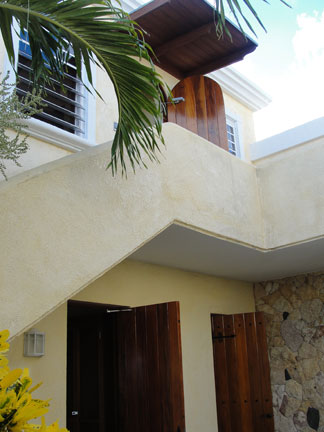 Spyglass feels casually elegant and is not pretentious - just relaxed and easy like you would hope a true Caribbean villa would be.
The only point of conflict here in the courtyard is where your eyes should go next!
There are staircases flanking you as they lead undoubtedly up to some fabulous room with a view.
To the left you can see the doors in to the kitchen. I felt pulled in that direction as kitchens can tend to be a gathering place.
I note the wood and tile in the kitchen, even from afar, looks like it keeps in line with the amazing feel you get from the courtyard.
I see a nice big wood door on the right too. It starts to feel like no direction will be a wrong choice but...
Straight ahead are several shades of immense blue grabbing at me.
The Pool-Side of the Villa:
Living Room, Dining Room, and Outdoor Oasis
I look past the inviting furniture and I see the clean, clear, pale blue water from the outdoor pool and pulsing up from below is the glow of the Caribbean blue sea.
I walk straight through the high-ceiling, conjoined dining and living room and right out on to the covered area outdoors, just steps from the pool.
Ahhh... the view... the sea, Anguilla, and St. Martin beyond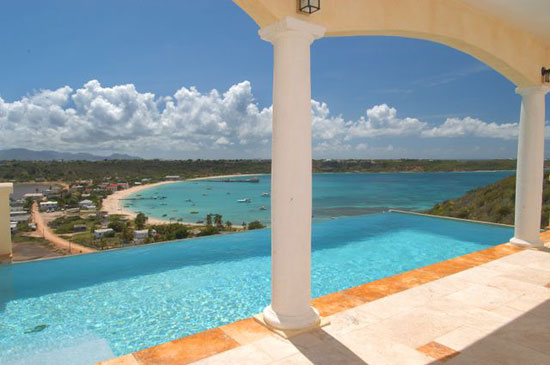 I've seen the view of Sandy Ground plenty of times and it's always an eye-pleaser, but from Spyglass, I say, "Wow". This was truly capable of stealing your breath away and for some reason, from Spyglass, this view feels like it is your view and your view only.
The rest of the world melts away and the quiet of the neighborhood and colors dancing around in your view make you want to stand there and stare for quite a while.
Surely Erlene is used to this reaction from people seeing the villa for the first time. She allowed me my moment and then we continued on around the patio and back in to the house and toward the kitchen.
The Kitchen and A Nice Surprise
The kitchen has a gorgeous log ceiling (as does most of the villa), wood cabinets, and black modern appliances.
One view of the kitchen

It is a sharp looking kitchen that isn't so modern that you can't find what you are looking for!
The kitchen sink is particularly special and it sits in an open window. Another great idea of Sugar George's... to maintain view, air-flow, and an open feel.
On this side of the house, in the back there is what would be a garage but this space is used for storage and it also held a fun surprise...
The artistic kitchen sink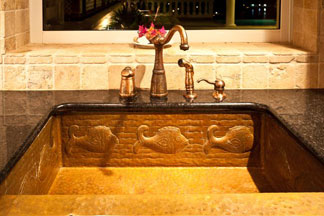 it houses a nice big ping pong table that renters are welcomed to use.
But that's just one little amenity... not the draw to the house.
Erene and I then cut across the courtyard to the big door and enter in to the first of four bedrooms.
The Bedrooms
As you walk in to the ground floor bedroom and look left, there is that stunning view again.
There's a nice king sized bed in the room and I can't help but imagine what it must be like to sleep in that bed and see that view as you wake.
In keeping with Sugar George's goal of maximizing the views, there is a pleasing and uniquely shaped window on the wall so that your view feels more panoramic. It opens the room to even more of the cerulean blue water and boats as they come and go from Road Bay.
The bedroom opens up to its own covered deck too.
Bathroom with a private outdoor shower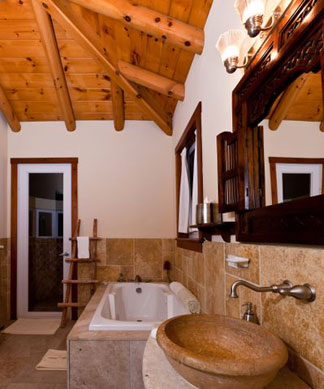 The bathroom has a Tuscan feel to it. The sink looks like something a potter took time in creating. The tiles in the bathroom are rich and rustic.
We leave the ground floor and head for the first floor bedrooms.
They offer more of the same as the ground floor bedroom... king size beds and king size views.
The additional amenity with the first floor bedrooms is found in the bathroom:
They are similar to the ground floor however, that tasteful tile-work in the bathroom continues on around the bathtub and on to a private outdoor shower where you have a nice view once more.
The first floor bedrooms have their own private decks as well.
More Outdoor Space
Also on the first floor is an outdoor, lattice-covered area with a glass-top table.
It doesn't offer the same view as the other side of the house - its view is of the northern side of Anguilla.
You can even see Sandy Island from this terrace.
The back terrace with an alternate sea view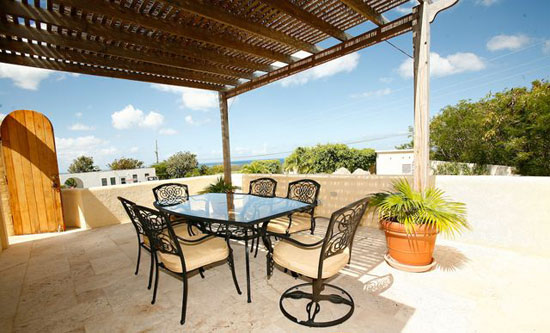 It's a nice private area for having dinner, playing cards, or getting some work done on your laptop.
The Entertainment Suite and 4th Bedroom
Erlene and I walk down to the "entertainment" level and fourth bedroom. The entertainment suite is under the ground level, a hillside "basement" type location yet still with that fabulous view of Sandy Ground.
The gym area off of the Entertainment Suite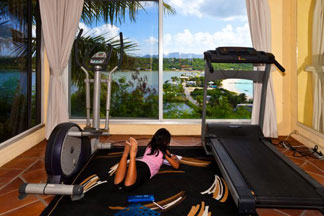 This part of the house has a bedroom sectioned off from a pool table, a kitchenette area, and a nice big bathroom.
The other perk to this bedroom option is the gym is located just off of it.
There's a treadmill and elliptical facing the view where I'm sure you might workout longer than usual with a distraction like that!
That level completed the tour of Spyglass Hill Anguilla villa.
Spyglass Hill Anguilla Villa, view from above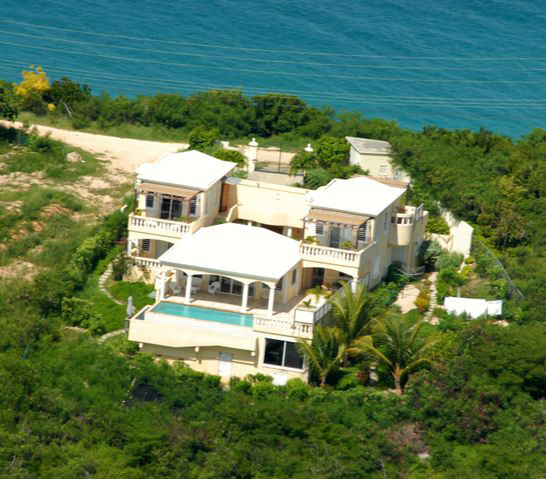 Final Reflections on Spyglass Hill Villa
Having seen this special villa followed by meeting with Janine and hearing the story of how she and Sugar George came to be in Anguilla, you find it all adds up and it shows in their work.
They chose to up-root to escape potentially life-threatening circumstances in Monserrat and found a place they loved enough to start their family and business... in Anguilla.
Here, their experience and passion and their desire for the comforts home in the Tropics, come through in the work they do through Sunset Homes. This unique combination is showcased beautifully in Spyglass Hill villa. Sugar George's goal of capturing comfortable, tropical living space was met and exceeded.
His versatility in his goal for designing and building can be seen in other villas on Anguilla today. You can view one of the newest and largest by Sugar George on our Meads Bay beach page, it's called "The Beach House", it is for sale only, and sits directly on Meads Bay: The Beach House on Meads Bay
To see more of Spyglass Hill, watch the video below...
More on Spyglass Hill Villa