Anguilla Villa Rentals...
Shoal Bay West
The red pin (below) is Shoal Bay West. Zoom in on the Anguilla map for more detail.
Shoal Bay West is a picture-perfect, white, sandy, crescent.
Unlike its cousin Shoal Bay East, Shoal Bay West faces due south towards St. Martin and truly caters to the high-end traveler.
Jay-Z and Denzel Washington have been spotted here!
In fact, the very villa Denzel Washington stayed in can be rented...
Altamer


Photo Credit: Altamer
Size: 4-5 bedrooms per villa within Altamer
Location: On the Eastern part of the sandy beach of Shoal Bay West.
Description: Altamer is made up of three large luxury Anguilla villa rentals, Russian Amethyst, Brazilian Emerald, African Saphhire.
These villas are super luxurious. They have even housed the likes of Brad Pitt and Jennifer Aniston (pre-break up), and their friends Courtney Cox and David Arquette!
Here, every luxury is afforded.
African Sapphire is the largest and most expensive of the three. The villa is 14,000 square feet, with two large bedrooms (ocean views), and four smaller ones.
Its modern design and large windows providing Caribbean sea panoramas, are offset by interior design pieces from Africa (hence its name). The art pieces are unique, and add an exotic to the villa. The space is large, open, and with high ceilings in the main living areas.
There is plenty of outdoor living space and large terraces as well.
Brazilian Emerald rental villa is a smaller version of the African Sapphire, and with a South American feel and South American decor. It slightly smaller than African Saphhire and less expensive.
Russian Amethyst is the smallest. Its name originates from many of the its art pieces that are from Russia. Unique to this villa is a viewing deck that actually hangs OVER the sea. There is a roof-top terrace too.
As you can see, these villas each have plenty of privacy and feel like totally separate Anguilla villas.
Altamer is one of the "elite" of the luxury Anguilla villa rentals, a favorite to celebrities. True luxury and true seclusion and true top-notch service.
Price: $$$$$$ — Return to Villas By Price
The Point Villa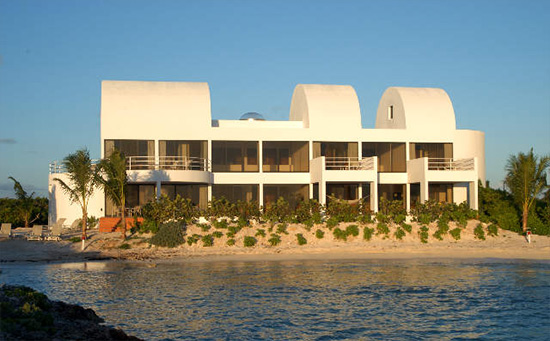 Photo Credit: Covecastles
Size: 2-3 bedrooms
Location: On the Western tip of Shoal Bay West.
Description: The Point villa is the largest villa that makes up the ever luxurious Covecastles villa resort on Shoal Bay West.
This five bedroom luxury Anguilla villa is truly geared to the rich and famous, with its fine finishings and private swimming pool, dining room, full kitchen and tennis courts.
It's no wonder that celebrities like Denzel Washington have stayed here!
This luxury Anguilla villa is one of Anguilla's original high-end spots to stay.
The property does have some wear on it now and needs updating.
Price: $$$$$$ — Return to Villas By Price