Jay-Z Jets to Anguilla With Beyonce

April/2007 Update: Jay-Z and Beyonce getting married on Anguilla? This celebrity gossip rumor turns out to be false.
Jay-Z is one of the biggest names in the rap music industry, today.
We know him for releasing many of his own award winning albums.
We know him for collaborating with many other rap artists.
We know him for his classy lifestyle... for drinking Crystal, smoking cigars and driving Mercedes.
To top it all off, Jay-Z dates the equally talented and successful recording artist, Beyonce Knowles.
Was it any surprise when Jay-Z and Beyonce showed up together on Anguilla in 2005?
Of course, the paparazzi were close on their heels, snapping some Jay-Z and Beyonce photos!...
Jay-Z And Beyonce On An Anguilla Vacation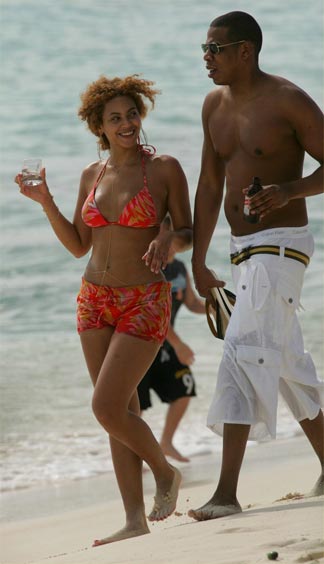 The two were spotted here and there on the island, but no one knows for sure where they stayed, ate, snorkelled and swam.
However he did meet up with a dear ol' pal, Denzel...
The Crew on Shoal Bay West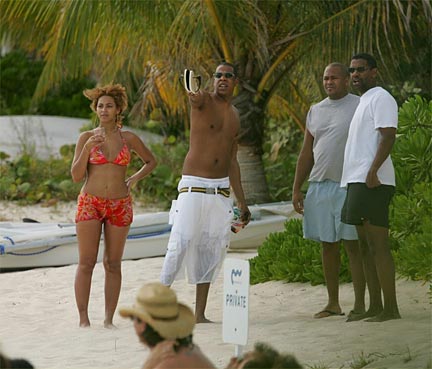 Photo From: Beyonceworld.net
Denzel Washington has been coming to Anguilla for years now, and even owns a place right on Shoal Bay West, where this photograph was taken.
Our good friends Shaun and Clive have taken both Denzel and Jay-Z and his girlfriend Beyonce, on boat tours in SeaGrape, and have only wonderful things to say about them.
It seems that there are celebrities on the island every waking moment, it's also more and more obvious that the paparazzi are catching on. My question... Why haven't I seen any?