Anguilla Villa Rentals...
Corito Bay
The red pin (below) is Corito Bay. Zoom in on the Anguilla map for more detail.
As you drive through the Corito Bay area, passing the charming, pastel-colored cottages, you can't help but notice them... Conch shells are everywhere!
They adorn every home... From fences, to foot paths paths, to front steps.
Corito Bay is a cute, quiet area with the most conch shells I have ever seen!
Palm Shores Villa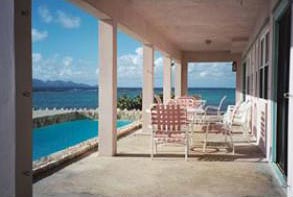 Size: 3 bedrooms
Location: On the beach
Description: Palm Shores Villa is a villa complex with two separate units. There is a two bedroom villa unit and a one bedroom villa unit.
Both are right on the sea shore, with sandy beach just outside of the villa. The beach isn't the best for swimming, but if you want to put your feet in the sand, that's always an option.
Clean and with quaint furnishings, the modest villas each have a dining area, kitchen and living room. And of course, you can't forget the swimming pool!
But, for me, Palm Shores Villa's highlight would be the views.
Not only do you wake up to the sensational sight of St. Martin everyday, but on a clear day you will see all the way to St. Barts too.
Price: $$ — Return to Villas By Price
Mainstay Villa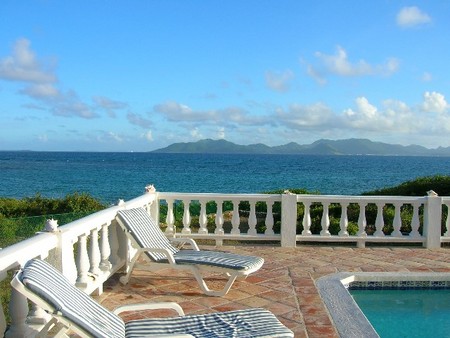 Photo Credit: Mainstay Villa
Size: 3 bedrooms
Location: On secluded Elsie Bay, just to the West of Corito Bay, on the southern shore of Anguilla, overlooking St. Martin.
Description: Mainstay offers three bedroom, two and a half bathrooms, and a large pool deck overlooking St. Martin. Sunrises and sunsets are spectacular! This villa is versatile and is comfortable for a couple or up to a family of six.
While on the sea, this villa is on a rocky coast and the pool is there for cooling off. There are plenty of gorgeous sandy beaches to visit on Anguilla if you're looking to take a dip in the sea.
Mainstay has ocean views from every room in the villa.
Price: $$ — Return to Villas By Price
ARCHIVES (No longer for rent): Boat House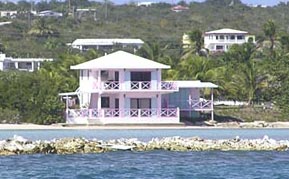 Size: 1 bedroom
Location: On the sea.
Description: This Anguilla villa is literally on the water.
Well... OK, over the water! If you were ever unsure about whether to stay in a boat house or a villa, this "Boat House" is an unbeatable in between!
The rest of the one bedroom villa is quaint, complete with a kitchen, a deck and a hammock. The water is right at your finger tips, so no need for a pool.
As for the bedroom, its exciting feature is that it consumes the entire second floor, offering panoramic views out to St. Martin.
You're never so close to the Caribbean sea as you are when you're staying in this Anguilla villa rental... You are right over it!
Click for more on the Boat House.
Price: $
ARCHIVES (No longer for rent): La Petite Maison d'Amour Villa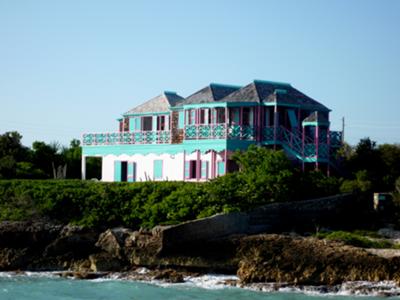 Size: 1-3 bedrooms
Location: On rocky sea-shore to the West of Corito Bay.
Description: Month after month, year after year, La Petite Maison d'Amour consistently gets rave reviews.
A good value option, this charming West Indian-style cottage looks out to St. Martin, with clear views of the Caribbean sea and majestic mountains ahead.
The villa has a complete kitchen, small but comfortable indoor living space, and covered outdoor dining area downstairs. Upstairs you will find the bedroom (queen size) that has a television, bathroom and a balcony.
Located on the South Shore, gentle breezes flow through this little, charming house. A sandy beach is nearby, though not a terrific swimming beach, you will find snorkeling here.
Click for a review on La Petite Maison d'Amour.