Anguilla Villa Rentals...
Maunday's Bay
The red pin (below) is Maunday's Bay. Zoom in on the Anguilla map for more detail.
Maunday's bay is simply a perfect sandy crescent beach, dotted with Cap Juluca's picturesque, Morroccan-inspired villas.
Apart from Cap Juluca, Maunday's Bay's shores are free from other Anguilla hotels, villas or restaurants.
But the resort itself is partly why this is true... Their own hotel units and mouth-watering restaurants line the soft, golden, sandy, beach.
If the on-the-beach units at Cap Juluca don't interest you, there is another option...
Panarea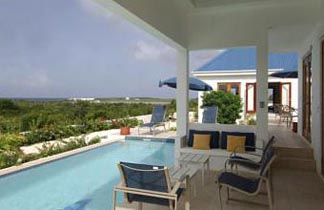 Size: 2-3 bedrooms
Location: Inland
Description: Panarea is a three bedroom villa that is in between Maunday's Bay and Shoal Bay West.
This high-end villa does not disappoint with its swimming pool, fresh furnishings and fully equipped gym.
When I say a full gym, I wasn't kidding! This luxury Anguilla villa has the latest in exercise machines from the "ExciteBike" to the "Precor Elliptical Machine" and "WaterRower," this Anguilla rental will get any exercise buff's blood flowing!
Price: $$$$ — Return to Villas By Price
Sheriva
Size: 10 Bedrooms+
Location: Inland
Description: With panoramic views out to the Caribbean Sea, and just a 2 minute drive down to Maunday's Bay, Sheriva's location combines views with easy beach access.
On top of having a picture-perfect setting, Sheriva is known for its ultra-luxurious and huge villas, ranging from 14,000-21,000 square feet.
And their warm, friendly staff takes care of your every need!
Price: $$$$$ — Return to Villas By Price