Anguilla Villa Rentals...
Isaac's Cliff
The red pin (below) is Isaac's Cliff. Zoom in on the Anguilla map for more detail.
Park your car atop Isaac's Cliff and you will see for miles in every direction. The area is made entirely of extremely high cliffs and panoramic views!
There are a few beaches that can be found in the openings between cliffs, but unless you are an expert rock climber, I don't recommend you try to visit them.
No real beaches in the Isaac's Cliff area though, and just one Anguilla villa, for now...
Sweet Return Villa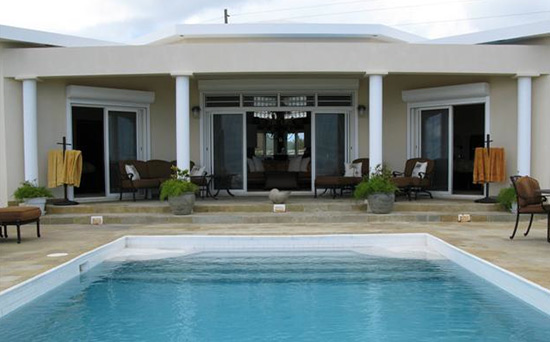 Photo Credit: Sweet Return Villa
Size: 2-3 bedrooms
Location: Across from CuisinArt Golf Resort & Spa's gates
Description: Isaac's Cliff has one of the highest points of elevation on the island, so it's no wonder that this villa is famous for its views of St. Martin (even though it is not located on the island's southern shore).
This villa is tastefully furnished with rich, dark wood furniture inside and with a wrought iron dining set and lounging chairs outside.
Although the Anguilla villa rental is situated inland and is a little ways from the beach, the villa has a swimming pool so you can cool off without traveling far.
There are three bedrooms and each are very private.
Price: $$ — Return to Villas By Price