Celebrities in Anguilla 2012
The Holiday Season is one of the most exciting times to be in Anguilla. From a few days before Christmas through the first few days after New Year's Eve, the island is hopping! Be sure to book your hotel and make vacation plans well in advance, arrive early for lunch and make reservations for dinner.
If you're into celeb-hunting, keep your eyes open! Sightings of celebrities in Anguilla during this two week period is guaranteed. Anguilla is cool though, so "look but don't touch."
While "celebrity density" is at its highest during this period, someone rich or famous (or both) is on-island every week of the year. Here are the top celebrities sightings that have buzzed around the island so far during 2012...
Onwards with 2012!
Shaquille O'Neal & Michael Jordan
Shaquille O'Neal made the biggest splash in Anguilla this year!
A Viceroy Anguilla guest, he hosted the five-star resort's New Year's Eve bash.
Shaquille O'Neal "Shootout"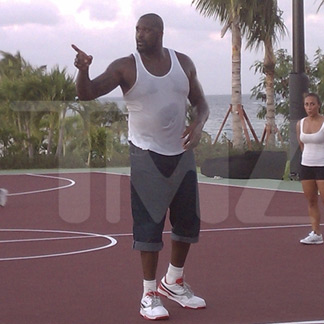 Photo Courtesy of TMZ
Kristin happened to catch Shaquille O'Neal when he arrived in Anguilla, coming through Blowing Point by boat from St. Maarten.
He was extremely gracious, stopping to take many photos with fans.
Post-NYE, Shaq hung around Viceroy Anguilla and even picked up a game with a local basketball camp!
TMZ also recently reported that he challenged all of the guests at a hotel to a "pick-up game."
He played with everyone who showed up!
He was also spotted hanging out on Sandy Island Anguilla with Michael Jordan.
Michael Jordan visited Anguilla with Derek Jeter in 2011. They both stayed at Viceroy that year.
This year, Michael Jordan opted for greater privacy and stayed in a yacht offshore. He moored his yacht off of Crocus Bay.
He was spotted dining at one of our favorite Anguilla restaurants, da'Vida restaurant. An "insider" told me that he loved the food, atmosphere and was so kind and gracious to everyone in the restaurant.
Apparently, he and his party (of 12!), stayed at da'Vida for hours!
Great Shot of Michael Jordan at da'Vida


Photo Courtsey of da'Vida
Michael J. Fox
Michael J. Fox's Jet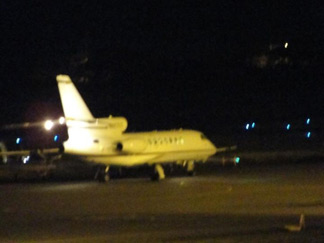 We had heard word that Michael J. Fox was on island, but didn't have any evidence until Kristin's account!
She happened to be at the Anguilla airport just after New Year's Eve, meeting a friend.
She bumped into another friend who works at the airport, and appeared distressed.
He pointed to Michael J. Fox's plane "finally" taking off. Apparently, the star had been waiting on St. Maarten for air clearance for hours!
The hard-working staff at the airport were doing all in their power to see Michael J. Fox safely on his way, but ultimately were at the mercy of St. Maarten's airport clearance (since he would be flying over their airspace).
He stayed at Cap Juluca and I received one report spotting him at Smokeys.
Liam Neeson & Lynn Redgrave
Liam Neeson returned again to Anguilla in 2012. Click here to read about our Liam Neeson Anguilla sighting in 2010-2011.
This time, he was spotted eating at Picante, and, one of his favorites, Trattoria Tramonto.
One evening Alan Piazzi, Trattoria Tramonto owner, and his sons serenaded Liam Neeson and his late wife's mother, Lynn Redgrave. You can hear their vocal stylings and see the show below...
Paul McCartney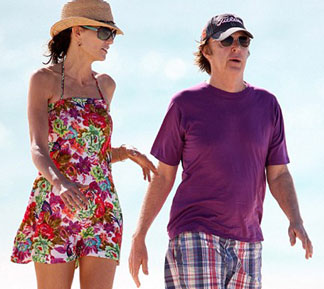 Photo From: dailymail.co.uk
Paul McCartney traveled to Anguilla this holiday season with new wife, Nancy Shevell.
This isn't his first trip to Anguilla!
Paul McCartney was spotted in Anguilla last year with then girlfriend Nancy Shevell.
Many people caught glimpses of him at Trattoria Tramonto, where he was dining with friend Liam Neeson.
Nancy was also spotted dining at Dolce Vita.
Other Celebrity Sightings
Bill Bellamy at Shoal Bay
Julianna Margulies at Smokey's
Ellen Degeneres and Portia de Rossi staying at Viceroy Anguilla
There are many more on the island, I'm sure. If you bumped into any during 2012 click here to add to the list.
In one sense, celebrities are just like anybody else. They have their share of worries, and put one pant leg on at a time. But on the other hand, everybody loves a great celebrity story!