Liam Neeson Lunches at
Trattoria Tramonto in Anguilla
Liam Neeson is an Anguilla veteran.
He has been traveling to Anguilla for years with his sons and wife Natasha Richardson. Sadly, Natasha Richardson died tragically from complications in a skiing incident in Montreal in 2009.
He returns year after year, close friends and family in tow.
They have long since established their island favorites.
Cap Juluca is the hotel of choice, Straw Hat for lunch and/or dinner, and one spot he visits at least twice, Trattoria Tramonto in West End Anguilla.
Liam Neeson may visit Anguilla yearly, but all of the stories we have heard of people shaking hands with the former boxer and current movie star have all been second hand.
Despite his countless visits, we have only seen Liam Neeson movies, never the man himself in the flesh.
And do we love Liam Neeson movies!
He has starred in over 80 titles. Two of our favorite Liam Neeson movies? Love Actually and Taken.
You can imagine our envy of all of our friends who only have the nicest things to say about meeting Liam Neeson.
I wondered, if I ever met him, would he reenact a fight sequence from Taken and teach it to my Dad? You never know when he might need to save me! ;-)
Though we never imagined it would happen, we were bound to run into Liam one day. Anguilla is a small island, and we have one thing in common... We love Trattoria Tramonto!
On a picture-perfect beach day on Shoal Bay West in West End Anguilla, we decided to pop in on Alan Piazzi (owner of Trattoria who has become a close family friend) and check out his lunch menu.
We had only been for dinner, but heard that his beach days were simply idyllic.
The not-a-cloud-in-the-sky conditions were calling us to the sleepy shores of Shoal Bay West.
Alan greeted us warmly, but our attention was "taken" (Ha! Ha!) by a tall man in the corner of the restaurant, sitting at our favorite Trattoria table, tucked away from the larger part of the restaurant with his family and actor friends Aidan Quinn and Ciaran Hinds.
My Dad stalked around the restaurant and snapped a few photos, ever-so discreetly of course.
Liam Neeson!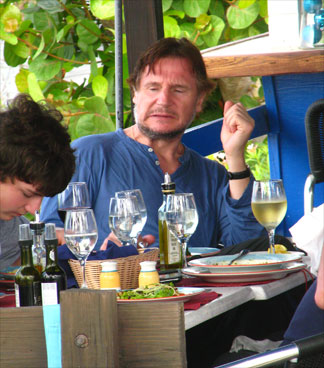 I guess that bite went down the wrong pipe! ;-)
Liam Neeson Take 2
Ciaran Hinds on the Right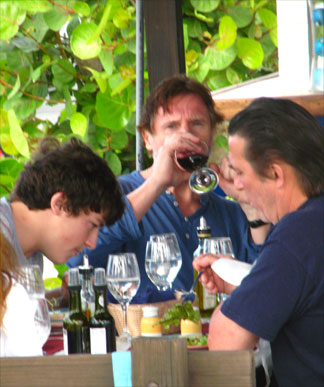 We didn't approach him, but he seemed, just as everyone promised, positively delightful.
He was calm and casual, comfortably dressed for the laid-back nature of Anguilla. He blended right in.
After his meal, he took several photos with Alan and all of the staff, smiling from ear to ear, chatting and giving them all big, bear hugs!
Like in our favorite Liam Neeson movies, he just seemed like the nicest, most sincere guy.
Word has it that he returned with Beatle friend Paul McCartney later on in the week for dinner.
He sure has good taste. Until next year, Liam!