A Cool Hang-Out With A View...
This Anguilla Restaurant Offers A Lot on a
Saturday Evening in Anguilla!
Update 2015: On Da Rocks has been sold. It is currently closed. If and when that changes, we will let you know :-)
On Da Rocks At A Glance
A cool hang-out, perched right "on the rocks" overlooing Island Harbour, On Da Rocks has a relaxed, laid-back vibe. The owner, Timmy, is always a good time. The food is good, the price is right, the crowd is fun and the view is hard to beat!
Don't miss their $5 crayfish weekend specials.
More on On Da Rocks, below...
The East End is one of our favorite parts of Anguilla. Shoal Bay, Island Harbour Anguilla village, fewer large developments and more of the Anguilla we knew when we started visiting the island in 2002...
... Of course, we are partial. After all, our Anguilla home is in the East! ;-)
So, you can imagine our delight when a new restaurant opened in Island Harbour, just 5 minutes away.
Tim, The Owner, and Me

On Da Rocks is a vibrantly colored establishment on the sea-rocks just outside of Island Harbour...
Wow!
With a wide, large roof-top terrace, we knew the views would be spectacular.
And, the food too! Island Harbour Anguilla is a fishing village, the freshest fish coming through daily.
As soon as they were open, priority #1 was dropping in for a grilled snapper, crayfish or lobster!
Mom, Ethan, Samantha and Yuki
Choosing Burgers Over Crayfish!

We made plans with family friends Vince Cate and his hilarious wife Samantha (she literally is a comedian!) and had a wonderful evening dining under the stars, gazing out at Island Harbour...
Though we had a terrific time, we had caught On Da Rocks shortly after they first opened and we were a big group (perhaps hindering their service, and the full menu wasn't available). We agreed to return when they had been open for a few more weeks.
That time has come!
Here is what my good friend Kristin Bourne (who lives in Anguilla) has to say about On Da Rocks and their Saturday Special...
It's true, in recent years Anguilla has seen so many tasty and well-run restaurants open.
Forget about anyone who has been to Anguilla, but even if you've only read about Anguilla, you know this gorgeous island is known for its restaurants.
Even though we all eat well in Anguilla, it is ESPECIALLY exciting when a new place opens!... This one is in Island Harbour.
Looking NE in the early evening from the
roof seating area at On Da Rocks

I must say, Island Harbour isn't an area I happen to be passing by often.
It's more of a destination (usually for travelers seeking out Scilly Cay) and it's not often that it is a destination for me since I live here now.
It's not a place of business for me and as quaint as it is, it's not as close as some other options for leisure.
This may hold true for some visitors as well, given the concentration of hotels are on the western half of the island (with exception to Shoal Bay).
That being said, I do love Island Harbour.
Island Harbour hosts one of my very favorite festivals, Festival del Mar, which takes place close to Easter each year.
It's a fishing village which makes me think lovingly of my grandfather and salt of earth types of people.
I have a special place for Island Harbour in my heart.
Island Harbour sunset from the roof deck at On Da Rocks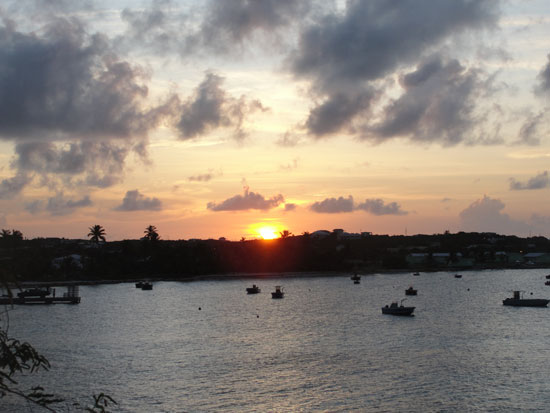 Everyone on an Anguilla vacation should take a day or more to rent a car and cover the island, and make quiet, sweet, Island Harbour a destination.
I know that I will be heading to Island Harbour more often after my experience this past Saturday at On Da Rocks!
Main level outdoor seating...
right on da rocks ;-)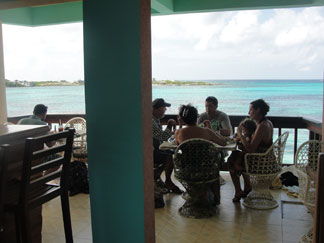 Through the grapevine (and a series of emails) I discovered that On Da Rocks hosts $5 Crayfish Saturdays!
I couldn't believe the words my friend had typed to me her email. "Five dollar crayfish in Anguilla? No! Is that a typo???"
She responded that indeed they serve a $5 plated crayfish, and only on Saturdays.
That was all I needed to hear.
I mentioned this to several more friends and before you know it, we all had a date for Saturday with a bunch of fresh Anguilla crayfish at this new Anguilla restaurant!
This Anguilla Restaurant is literally On Da Rocks
On Da Rocks is easy to find.
It sits in a new building on the left, just after you pass the wharf in Island Harbour if you are driving East.
It sits up on the hill and has space for parking right in front.
Note: I arrived at 2pm in the off-season in Anguilla and still needed to park a couple buildings down the road, which was no big deal. If you are visiting during the high-season, let's just say parking could potentially require some creativity.
Brand new building in Island Harbour!

The building is a light sage green and the door is right there on the road, just beyond the single line of parking space.
When you walk in, you are in for a treat if you love Anguilla's National Sport of boatracing. Most of the wall hangings are tasteful images of Anguilla's racing sailboats.
There is a nice painting of UFO, a boat that is considered an Island Harbour village boat.
The next thing I noticed was that I heard Mary J. Blige singing. There was no band there that day but some low music playing, not so loud so you couldn't have a conversation with someone.
The music that day was either an iPod or a CD...not radio and not live music. But still fun and lively.
I saw my two friends who had arrived before me sitting at table at the end of the bar area, and just beyond them, the immense blue-green water of the Caribbean sea.
My friends Betty and
Lynne (from Irie Life!) at an indoor table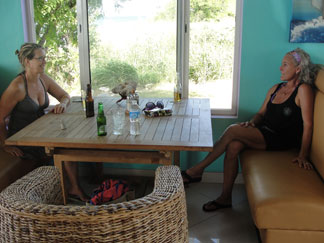 You see, On Da Rocks is literally "on the rocks" along the coastline of Anguilla.
Gorgeous Scilly Cay is easily seen from On Da Rocks.
The view can take your breath, especially if you aren't expecting it when you walk in!
The sea shimmers and shines, just beyond the restaurant's edge.
On Da Rocks has an outdoor area with a couple of tables to eat at. We were just inside that door and still had a nice view of the sea.
The furniture is comfortable and pretty. We had a nice piece of white coral sitting on our table as a decoration.
Everything was just so clean and attractive to me. Even the staircase up to the roof deck.
Time To Eat At This New Anguilla Restaurant!
Since we were at On Da Rocks on a Saturday, the menu is all about $5 Crayfish (Anguilla's version of sweet lobster, in my opinion).
I placed an order for 3 crayfish and french fries. You can get a salad to go with your crayfish as well.
A lovely order of 3 crayfish and fries (for only $5 a crayfish!)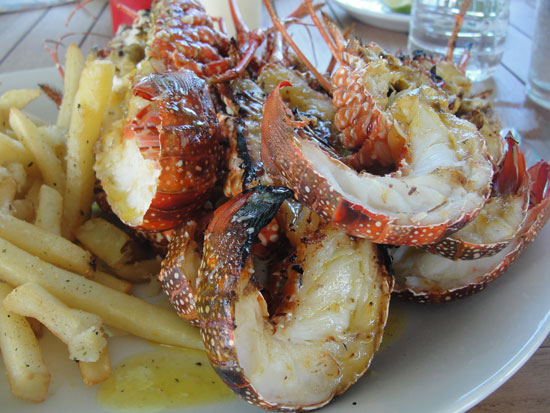 I took a look at the regular menu which is used every other day of the week. It all sounded good!
The regular menu includes lobster, crayfish, fish "catch of the day" (wahoo, snapper, tuna, etc) and they are served with rice or fries.
Other options are wraps of all types of seafood, shrimp, fish, crayfish, and lobster for under $20.
They use the same ingredients for pasta and serve it with garlic bread.
Their burgers are $16 and under with the lobster burger being the highest in price. Veggie, chicken, fish, and beef burgers all are options too.
On Da Rocks has their own Johnny Cakes that they serve with their 4 different soups which even includes whelk! Of course, lobster soup is on the menu, this place is in Island Harbour after all.
The snazzy staircase leading up to the roof deck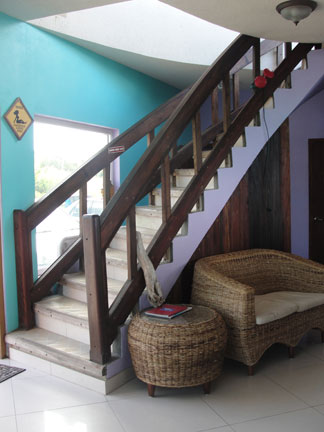 They round out their menu with several dessert options for $5 and under.
While I can't vouch for the other menu items, I can report that the crayfish was really good.
My order was placed in front of me much more quickly than I expected as well :-)
We were remarking at our table that the fries could be a little browner/crispier, as Lynne (from Anguilla's shop called Irie Life) called it, a "Caribbean tan" fry is what we like.
Not a "Miami tan" fry. Still, they tasted good and they coat them with some herbs too!
I also loved that they set a nice big bottle of ketchup and a squirty mayonnaise bottle on our table.
In many places in Anguilla (mostly very local places) you get your fries with both ketchup and mayo.
I like that combination a lot. So much so that I keep a bottle of squirty mayo in my fridge for when I have take-out fries. This was a bonus for me at On Da Rocks.
While they don't serve the regular menu on Saturdays, one of my friends who arrived later doesn't eat shellfish. He asked if they would make an exception and cook him a burger.
It seemed they didn't have a problem doing something like this as long as they have the ingredients on hand to do it properly.
So...On Da Rocks made him a burger and fries and he liked it. Everyone who tasted it agreed that is was no Ferryboat Inn burger, but it was still very tasty.
All in All... A Fun, Tasty, and Valuable Anguilla Restaurant Experience
My day at On Da Rocks was happy and delicious.
The owner Tim is on hand for warm hospitality

I'm not sure where else you can take in the Island Harbour view from high up on the rocks AND dine on mouth-watering crayfish for only $5 "a pop". Wow!
My friends and I migrated up to the roof deck and hung out for a couple of hours after our meals were through and their children had room to play and move around up on the roof deck.
The service was really great. Our server was up and down the stairs so many times, he must have had sore thighs the next day!
The owner Tim is very hospitable and obviously has great taste since On Da Rocks is such a cool spot to hang out and eat crayfish!
Directions, Hours & Contact
Directions: Located just past the main wharf in Island Harbour.
On Da Rocks
Good for $5 crayfish and fun afternoons with a nice, local crowd.
Hours: Temporarily closed for renovations.
Tel: 264-772-3017