Pelican Mobile PetCare...
First-Rate Medical Care For Anguilla's Pets
When doctors Michael and Georgia Paul first moved to Anguilla in 2001, they had one focus... build their dream home and establish their new life in the Caribbean.
Drs. Michael & Georgia Paul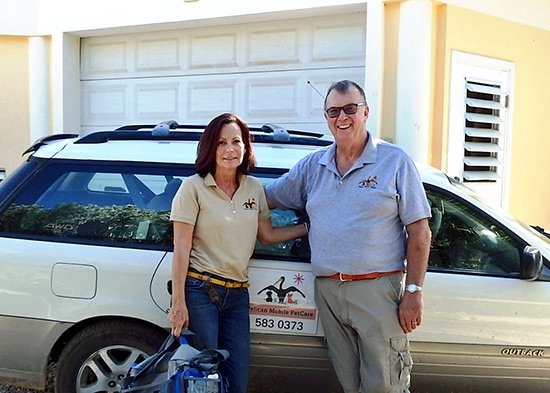 A process that takes time, it was once the concrete dust settled that they started envisioning putting their skills to work in Anguilla.
Pelican Mobile PetCare Is Born
Small animal veterinarians from the San Francisco Bay Area, their new vision was bringing a high level of medical care to animals on the island. Friends and acquaintances would ask for their opinions about pets and their problems, but Dr. Michael and Dr. Georgia had limited resources to be able to tend to their needs.
In 2014, when they became naturalized citizens of Anguilla, that all changed.
The morning they picked up their crisp, new Anguillian passports, they walked directly to the Ministry of Finance to find out what it would take to get a business license for a veterinary practice.
Their Services
"We didn't want to compete with the existing veterinary hospital on island so we decided on an entirely different business model," says Dr. Michael Paul. "Pelican Mobile PetCare delivers veterinary services to pet owners anywhere on the island. From puppy and kitten vaccinations to minor procedures, we can handle just about anything except major surgery and hospitalization."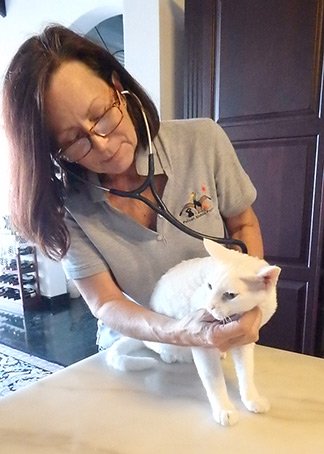 They can also perform almost any diagnostic test needed. Some laboratory tests are performed on site, others are run at a local lab, and more extensive tests are routinely couriered to the United States for analysis at a veterinary diagnostic laboratory. Whether coordinating a CTScan or managing complicated medical cases they always offer the best approach possible.
The Philosophy Behind The Pelican Mobile PetCare Approach
"Diagnostics and technology aside, though," Dr. Georgia Paul stressed, "our primary focus is on client education, communication and follow-up. That's how we practiced in California, and that's how we practice here in Anguilla."
Dr. Georgia Paul has always said that she doesn't expect her clients to accept what she says "just because she wears a white coat" (lucky because she never has worn a white coat ;-)) but rather she wants them to understand the logic behind her recommendations.
Understanding what Dr. Georgia Paul and Dr. Michael Paul do and why (including follow ups with suggestions of medications, surgeries and even daily phone calls and email updates), is critical.
The Benefits of Mobile Pet Care
The response to their hands on approach has been positive. And, more and more pet owners are realizing the benefits of using mobile veterinary services at their convenience and with less stress to their pets.
Naturally, every day brings new opportunities and challenges.
The Drs. Paul have tested and vaccinated stray puppies on a vacant lot for the animal lover who befriended them. They have stitched up lacerations on a dog on the owner's patio by the pool overlooking the sea. And they have performed annual wellness exams on a houseful of dogs while the owner was free to go about feeding breakfast to her young children.
One story that truly struck an emotional chord occurred early one morning after receiving a phone call from a young woman who had woken up to find her dog was very ill. She didn't know what to do and was pressed for time, having to get to work.
Luckily her employer was understanding and let her take the dog with her to work where Michael and Georgia met her at 8AM. The dog was examined on a picnic table in the back of the property, a tentative diagnosis was made, and blood samples were drawn. The tests were run and the dog was on appropriate medication by 10AM without the owner having to miss a minute of work.
There is no doubt that Anguilla is a very special place and presents both unique challenges and opportunities.
After chatting with Drs. Michael and Georgia Paul, one thing is apparent... Pelican Mobile PetCare wants to make a difference in the lives of Anguilla's pets by making it easier for pet owners to provide that care. With a world of experience behind them, Drs. Michael and Georgia are the ones that can and will do it!
More on Pelican Mobile PetCare