COVID-19 (Coronavirus)...
Anguilla Updates
Anguilla has 27 active cases of COVID-19 as of Sept. 11. As of Jul. 5, 9,321 people in Anguilla received their 1st vaccine and 7,630 have received their 2nd vaccine.
Anguilla is currently accepting applications for travel.
We will be keeping this page up to date with relevant COVID-19 (Coronavirus) updates as they pertain to Anguilla. In these unprecedented times, Louise and I both send you all of our love. We hope to sea you soon, and in the meantime, please see below for updates.
As it stands today, Sept. 11th @12PM EST, changes are as follows...
Travel Requirements
Anguilla is accepting applications of visitors from all countries who meet travel requirements.

As of July 1st only fully vaccinated (last dose in a two dose vaccine and the only dose in a one dose vaccine administered 3 weeks/21 days before arrival on island) visitors will be granted entry permission to Anguilla.

Vaccines accepted...

Pfizer/BioNTech: Cormintary; BNT162b2 (2 doses)
Oxford/AstraZeneca: Astrazeneca, Vaxzevria, Covishield, AZ; AZD1222 (ChAdOx1) (2 doses)
Moderna: Moderna; Spikevax (2 doses)
Janssen: Janssen/John and Johnson; JnJ (1 dose)



Requirements Effective September 2nd, 2021

All visitors to Anguilla who are eligible to be vaccinated against COVID-19, are required to be fully vaccinated at least three weeks before arrival (i.e. persons 18 and older). Exemptions include: Pregnant woman and children under the age of 17 years old. No medical exemptions will be granted.

Anguilla's Executive Council has lifted all quarantine requirements for international leisure visitors staying at hotels or villas, regardless of their length of stay. Full requirements for travel are listed below.

Requirements For Visitors Staying at Hotel, Resort or Licensed Villa

Submit negative RT-PCR test taken 3-5 days before travel
You will be tested upon arrival. You must remain on property until the receipt of your negative arrival test result (~12 hours).
You will be tested on day 4 of your stay
$200 USD testing fee effective Oct. 1

Requirements For Visitors Staying in a Private Home (or Properties Not Licensed)

Requirements For Returning Residents

Submit negative RT-PCR test taken 3-5 days before travel
You will be tested upon arrival
Unvaccinated Residents: Quarantine for 10 days
Vaccinated Residents: Quarantine for 4 days
You will be tested to exit quarantine
$200 USD testing fee effective Oct. 1
Onward Travel Testing Details...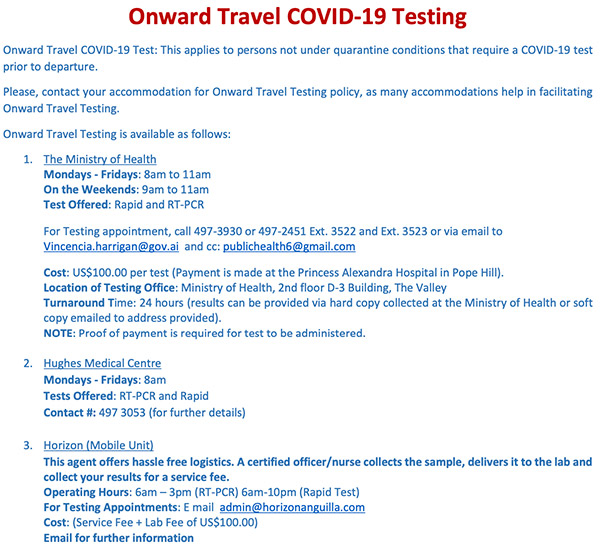 ---
Who's Open: September
Hotels
Anguilla Great House
Arawak Beach Club
Bella Blu
Carimar Beach Club
La Vue
Meads Bay Beach Villas
Tranquility Beach Anguilla
Turtle's Nest
Villas & Rentals
Beach Escape Villa
Long Bay Villas
Nevaeh Villa
Santosha Villa Estate
Spyglass Hill Villa
For long-term and affordable villa rentals, click here to contact Jackie Pascher of Island Dream Properties.

Jackie is a wealth of information and has a host of affordable rentals for long-term and short term!
Restaurants & Bars
da'Vida Bayside Grill: Open for lunch 11am-4pm Thursday-Sunday. Curbside pickup and delivery also available. Call 264-498-5433, 584-5433 or 584-1630.
Elvis' Beach Bar: Open Thursdays-Sundays 4pm-until. (264-498-0101)
Ocean Echo: Open daily 11am-10pm. (264-498-5454).
Roy's: Lunch and dinner daily; Breakfast, lunch and dinner Saturday & Sunday; closed Monday (264-497-2470)
SandBar: Tuesday-Saturday 12-7pm. Live music by VereMusiq on Thursday 7-9pm. (264-498-0171).
Scilly Cay: Open for lunch Sunday and Wednesday (11am-5pm, kitchen closes 3:30pm). Reservations required. Available for private lunches & events. (264-235-5000 / 264-235-2539 / 264-584-9998)
Sunshine Shack: Open Saturday-Sunday for lunch (264-476-0649).
Tasty's: Open daily for breakfast, lunch, dinner; closed Thursday (264-584-2737)
Tropical Sunset: Open 10.00 to 3.30pm Friday-Sunday. (264-497-2076)
Veya: Open Wed, Thurs & Fri from 6-9pm (264-498-8392)



Andy's: Open daily for lunch, closed Sunday. (264-498-2639)
Anguilla Fried Chicken: Open 11am-7pm, closed Sunday. (264-497-2016)
Ben's Pit Stop: Wednesday through Saturday, 6pm-9pm. Dine in for fully vaccinated customers. Take out option is also available. For reservations, call 264-582-7667.

Corner Bar
The Dune
Ferryboat Inn
Fruity Web
Good Korma (on The Strip): Open daily 11am-9pm, closed Sunday. (264-583-7066)
Gwen's: Re-opens Sept. 26 (264-497-2120)
Hall's Bakery
Johnno's: Open Fri- Sun 10am-until. (264-497-2728)
Ken's BBQ
Le Bon Pain
Lime Keel House
Lit Lounge: Open nightly 6pm-3am. (264-476-9966)

Live Music
Tuesday - DJ Soundz 9pm-1am
Wednesday - DJ Yooshe 9pm-1am
Thursday - DJ Sugar 9pm-12am
Friday - DJ Deany 11pm-2am
Sunday - DJ Tights 9pm-1am

Food & Other Specials
Friday Fish Fry 6pm-10pm
Saturday Sand Slam Beach Volley Ball 6pm-10pm
Sunday Grilled Lobster 6pm-10pm

Mary's Bakery
Nat's Palm Grove: Open by reservation only (264-583-7874)
Oishi: Tuesday-Friday from 12-7pm. (264-498-3406)
Village Bakehouse: Open Wed-Sun 7am to 12noon. (264-498-5050)





Live Music Summary (Subject to Change)

Monday:
Tuesday:

Tasty's - 5:30-8pm
Lit Lounge - DJ Soundz at 9pm-1am

Wednesday:

Lit Lounge - DJ Yooshe at 9pm-1am

Thursday:

Lit Lounge - DJ Sugar at 9pm-1am
SandBar - VereMusiq at 7-9pm

Friday:

Lit Lounge - DJ Deany at 11pm-2am

Saturday:
Sunday:

The Dune - live music starts at 2:30pm
Lit Lounge - DJ Tights at 9pm-1am





Activities & Services

Anguilla Watersports
Boat Tours: GB Express
Fitness: Lyon CrossFit, Anguilla Yoga, AXA Fitness, Ruff Training
Nails R Hair: Open from 9am -6pm (264-498-7379), closed Tuesday and Saturday.
Nature Explorers Anguilla: For tours, email: jackie.cestero@gmail.com
Scilly Cay: Open for lunch Sunday and Wednesday (11am-5pm, kitchen closes 3:30pm). Reservations required. Available for private lunches & events. (264-235-5000 / 264-235-2539 / 264-584-9998)

More Scilly Cay Details
In consideration of the on-going COVID-19 restrictions on travel, movement of people and the limited places that guests are allowed to visit etc. we are willing to waive the private island fee and accomodate groups/reservations of 15 or more people for lunch, any other day of the week, including Sundays if there are NO non-bubble reservations. Please do not hesitate to inquire.
Reservations and pre-orders are required 24hrs in advance.
Our ferry ride is US$5 per person (adults), Children ferry ride is free!
Our RUM PUNCH is US$5.00

Scuba: Scuba Shack, Vigilant Divers
Transportation, Car Rentals, Shops/Boutiques
Boat Transfers: GB Express
Certified Taxi: Bernard Wattley of BB's Tours. Contact him via WhatsApp at: 1-264-729-3568
Tradewind Aviation: Open for private charters. More information here.



D&D Scooter Rental
Junie's Car Rental
Island Car Rental



The Butchery
Cheddie's Carving Studio: Open 8:30am-4:30pm Monday-Friday.
Devonish Art Gallery: Open daily Monday-Friday.
Grand Vins de France: Monday, Tuesday, Thursday, Friday 10am-1pm and 3-5pm, Wednesday 10am-1pm and 3-4pm (264-497-6498)
Lynne Bernbaum Art Gallery: Open by appointment only 264-476-5211
SeaSpray Boutique: Open daily 10AM until 5PM, closed Sunday.