A Non-Profit School for Special Children...
The Blossom Centre in Anguilla
By: Kristin Bourne
If you have interest in Anguilla and would truly like to witness the wonderful, giving and loving nature of the people, you must acquaint yourself with the Blossom Centre...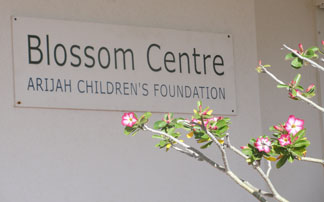 The Blossom Centre was founded in 2010. It is funded by the Arijah Children's Foundation (ACF).
The Arijah Children's Foundation was formed in 2006 by Renuka Harrigan in honor of her daughter, Arijah.
Arijah was born special. At that time in Anguilla, there were no proper assistance or schools for children with special needs, like Arijah, with daily educational and therapeutic programs.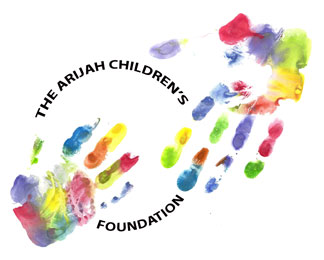 ACF is a non-profit foundation that brings hope and the promise of a brighter future to special children.
The Blossom Centre is a community-based childcare and development center where abilities and skills are awakened, nurtured and strengthened.
When I first met Arijah, she was not walking on her own...
She is now!
Teacher Lorraine escorts Arijah as she walks through the grocery store on her own!
Photo from the Blossom Centre Facebook page.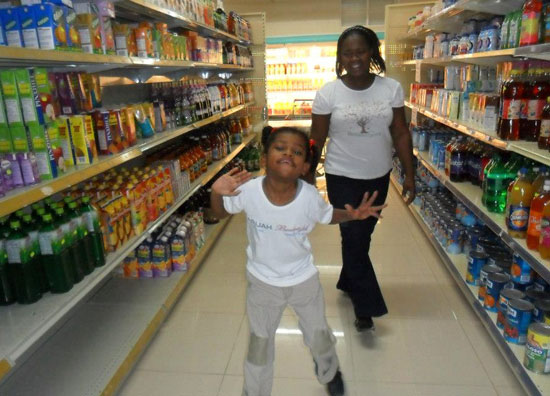 Seeing the growth and development of the Blossom Centre and knowing it originates from a mother's love and has been sustained with the assistance of donations is the manifestation of the very best of the human spirit.
My Experiences At The Blossom Centre
When I got to the point in my lifestyle where I would be able to give my time as a volunteer after moving to Anguilla, I reached out to Renuka to let her know of my interest in helping by giving time.
She invited me to the Blossom Centre to see the school and meet the children.
I drove to the Blossom Centre, located in The Quarter in Anguilla in a professional building near Unique Trading.
As I entered the main door, I made eye contact with a young boy who was seated on the mat. At that moment, I knew I was going to be in love with him and the Blossom Centre. I later learned that boy was T.T. and he has the most amazing curiosity and adorable sense of humor.
Renuka was a gracious hostess and gave me a tour and introduced me to her beautiful and brave daughter, Arijah and one other gorgeous and smart girl named, Nekia.
Princess Sophie, Countess of Wessex
visits and speaks with T.T.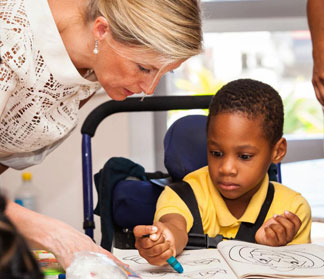 These children seemed to emit light.
With the efforts of ACF, The Blossom Centre and their teachers and friends, these children are making positive progress.
I learned that the amount of students fluctuates and depends highly on the staff to student ratio. This is why funding and volunteers are so important… the more funding, the more the Blossom Centre can afford to support the needs of the special children of Anguilla.
I have found the teachers of the Blossom Centre to be very loving in their work, truly caring about the progress and happiness of the students. This stems from the loving nature that founded ACF and subsequently, the Blossom Centre.
At Blossom Centre, each day is different and includes physical therapies, games, art, music, academic subjects and sometimes even cooking.
Music time!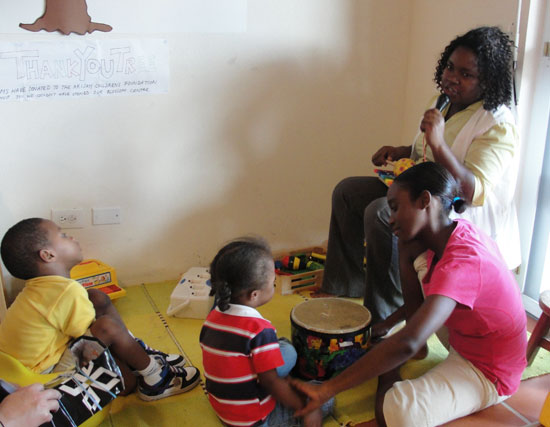 Blossom Centre visits the Chicken Farm.
Renuka and Arijah listen in...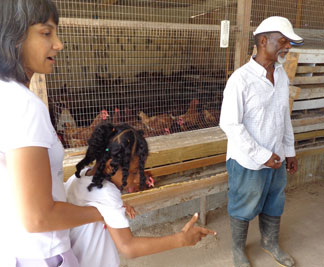 Students get their morning started with a little exercise, a snack, an activity and then if needed, they have nap in the napping area of the school.
Each student has different needs and therefore each activity and lesson plan must be customized to be important to the progress of that child.
For example, a focus for Arijah is helping her to be confident to walk without assistance. A focus for T.T. has been motor skills for his hands and helping him progress at feeding himself.
The smiles of confidence are proof of progress and the rewards for the teachers and the students and their parents can't be measured. The Blossom Centre is a happy place!
Blossom Centre artwork

In addition to regular school days, the Blossom Centre occasionally takes field trips and hosts visiting groups. Each year there are awards ceremonies and a lovely Christmas program that celebrates life and the differing talents of children.
Helping The Blossom Centre
Throughout the year, Blossom Centre is thrilled to receive donations in any capacity. Everything from magic markers, paper towels, and diapers to furniture and equipment and money are accepted.
Another form of donation is time. Volunteers to Blossom Centre come in all forms...
Nekia's smile will brighten your day!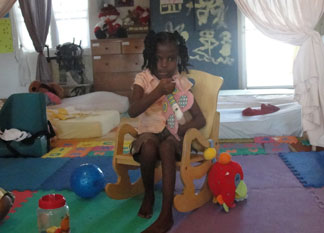 One example of that are two nice ladies who vacation in Anguilla each year who give much of their vacation time to the Blossom Centre with their trained skills of physical and occupational therapy. Others may arrive to help with snack and lunch time or help out with a field trip.
If you have any further interest in ACF or The Blossom Centre, either to learn or to donate, time, money or products or equipment. Please don't be shy to reach out.
The Arijah Children's Foundation website has easy to use donate buttons on the right side of the home page. There is both a button for single-time donation, and one for ongoing "partnership" donations. No amount is too small, every amount of support is greatly appreciated.