20 Reasons to Take
Summer Anguilla Vacations
Summer Specials
Specials listed below are for last year. This page will be udpated with 2019 summer specials closer to the time.
$920+/Night - CéBlue
Tucked in the hillside overlooking idyllic Crocus Bay, CéBlue blends hotel amenities with villa exclusivity...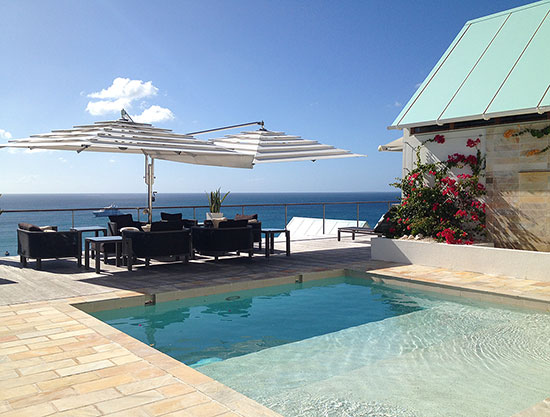 With a modern-zen design and aesthetic, stepping into CéBlue is utterly refreshing, relaxing and indulgent.
Their warm staff takes care of your every wish, whether it may be...
Setting you up at Crocus Bay's beach below (a 1 minute drive down the hill) for an afternoon at da'Vida
Arranging boat trips on their private speed boat
Organizing spa treatments or gym classes at their on-site facilities
... they are there to handle it all.
And, when hunger strikes? Their restaurant, Blue Bar serves up the finest pizza on the island and is known for their excellent nightly dinner specials, too.
This summer, now-June 30th (with arrivals now-November 15th, 2015), stay for 5 nights and only pay for 4! Daily breakfast is also included.
$800+/Night - Tequila Sunrise Villa
When it comes to luxury rentals at high-value rates, Robin and Joel Globus, the owners, offer it all.
The Blue View From Tequila Sunrise Villa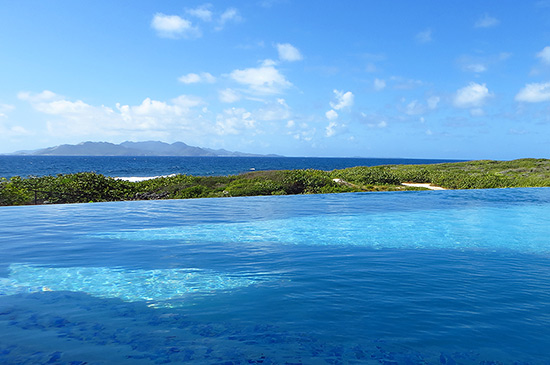 First, the villa itself features 3 bedrooms complete with private, large bathrooms. The design is modern, the rooms spacious, each with views looking out to St. Martin and the clear Caribbean Sea, flat screen TVs and air conditioning.
Second, all of the amenities. An infinity edge pool, an undiscovered cove with ideal beginner snorkeling a short walk away and all of the beach toys and equipment you need. And, who can forget about the unlimited Patron Silver on tap? ;-)
Finally, the service. Warm and kind, Heather takes care of you during your stay. She prepares you breakfast, turns down your bed, does your laundry. Every last detail is taken care of!
And now, until Oct. 31, they are offering even more...
10% off of your Tequila Sunrise Villa stay
10% off of your rental car
A FREE round trip speed boat between SXM and AXA
A FREE gym membership at Styler's Gym
They have covered it all at Tequila Sunrise Villa!
A blissful time to visit the island when seas are always perfectly-calm and still, for more information, visit Tequila Sunrise Villa here...
$242/Night - Little Butterfly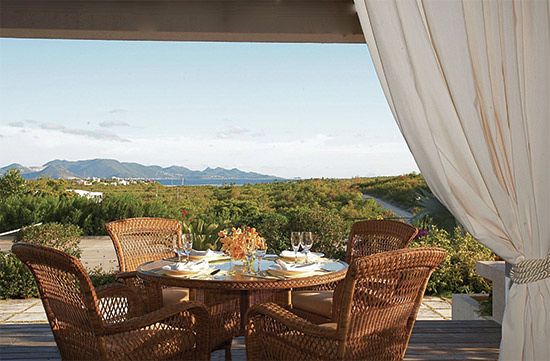 Luxurious and affordable, with professional and warm service, Little Butterfly makes you feel right at home.
What's included?
Master bathroom with Jacuzzi tub
Flat screen televisions
Local cell phone
State of the art fitness room
Beach chairs, towels and umbrellas
House keeping and laundry twice per week
Meet and greet service and concierge services
Rates start at $242/night (including tax and services).
Visit...
http://littlebutterflyanguilla.com/
... for more information and for their availability this coming late spring and summer!
$205+/Night - Carimar Beach Club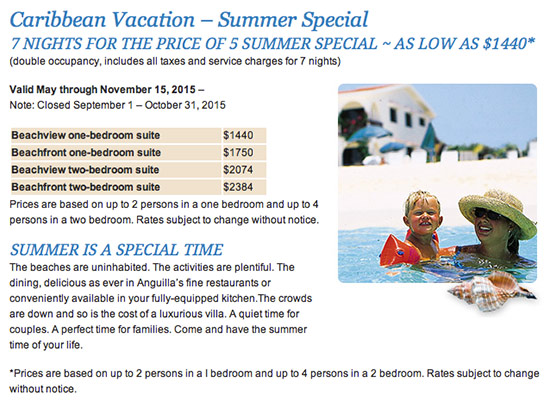 For more information, visit...
$99+/Night - Lloyd's Bed & Breakfast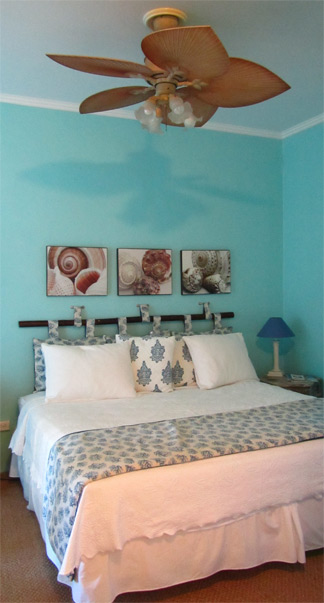 Anguilla's first hotel, when you are at Lloyd's Bed & Breakfast, you are home.
With a rich tradition and history behind it, Lloyd's knows how to take care of guests.
From your first step inside the historic, charming and comfortably refurbished inn, Merline (the inn's manager) handles everything you need.
Whether it's preparing breakfast or organizing your rental car, Merline goes above and beyond for each and every guest.
The rooms themselves are sweet and colorful, clean and well maintained.
Just up the hill from Crocus Bay and the popular restaurant, da'Vida, a 15 minute drive to Shoal Bay and a 20 minute drive to Meads Bay, Lloyd's central location is most convenient.
For more on Lloyd's, and for their unbeatable rates, visit...
$602/Night - Spyglass Hill Villa

For more, visit...

http://spyglasshillanguilla.com/

---

$399-599/Night // $359-$539/Night - Topaz Reduces Rates Through Nov. 15th '15

Topaz Oceanview Residences is a private, gated estate comprised of two independent luxury resort homes, Pinnacle and Imperial, occupying one of the most coveted locations on the island. The site features the most photographed scenic view in Anguilla and sits above Sandy Ground Village a center of cultural and economic life.

We have reduced our standard rates for Pinnacle, our 3 BR/3.5 BA villa to $599 per night and for the 2BR Imperial penthouse to $399 night for stays through November 15th. Anguilla Card Holders enjoy an additional 10% off. These rates are inclusive of our signature welcome package with a week's worth of light lunch/breakfast food, as well as juices, sodas, beer, wine and champagne, and all government taxes and service charges.

For more information or to inquire about a booking please visit www.topazoceanview.com.

---

$250+/Night - Save $500-700 at Paradise Cove

Set a 5 minute walk from Cove Bay, Paradise Cove offers comfortable and clean accommodations, complete with a large, relaxing pool and on-site restaurant.

Known and loved for their personable, warm, friendly and helpful service, Paradise Cove is a top choice for a budget-friendly hotel.

This summer (arrivals from now-Oct. 31), the savings get even sweeter!...

Studio Suites: Regularly $2,015/week (max. 2 persons) NOW $1,500
1 Bedroom Suites: Regularly $2,295week (max. 2 persons) NOW $1,700
2 Bedroom Suites: Regularly $3,045/week (max. 4 persons) NOW $2,300

... and includes...

Welcome cocktails
Rental car
First morning breakfast basket

A tremendous deal!

For more information, visit...

http://paradisecoveanguilla.com/

$208/Night - Ocean Terrace Condos' Friends & Family Special

We are inviting former guests and/or their family and friends to visit Anguilla and Ocean Terrace this summer, to enjoy our white sand beaches, sparkling blue waters, great food and dining and Anguilla's friendly people. So, we've come up with a truly special offer.

UNBEATABLE WEEKLY PRICE!
Our 2 BR ocean view, fully air-conditioned condos will be available for only $1,500 a week (that's only $750 a week for two couples travelling together). We've never offered a lower weekly price! And our 1 BR ocean view condos will be available for only $1,250 a week. (ALL taxes and service charges are INCLUDED.) And, you can add a second week at one third off!

EFFECTIVE DATES OF SPECIAL OFFER
The rates above will be in effect from now until December 1, 2015. Space is limited, so please book early. If you can't come, please share this offer with family members and friends and let them experience paradise.

SUMMER IS GREAT IN ANGUILLA!
May, June and July are truly wonderful months to visit Anguilla! The weather is great - average daily temperatures are in the low 80's and historically, high temperatures exceed 90 only 1 day a month. The beaches are not crowded, restaurants and shops are all open, and air fares are usually lower. If you've only visited Anguilla in the winter, you've been missing out!

HOW TO MAKE A RESERVATION
For more, visit...