One of The Most Luxurious Anguilla Villas,
Vacation Home to Many Anguilla Celebs!
I've always been curious about celebrity homes, mansions and vacation spots.
Sure, the likes of Justin Timberlake and Jay-Z live in luxury, but just how lavish are their lifestyles?
One warm afternoon on Anguilla, my calling was answered. We were invited into the most luxurious Anguilla villa... The very villa that Brad Pitt and Jennifer Aniston stayed at way back when!
Exclusivity Villa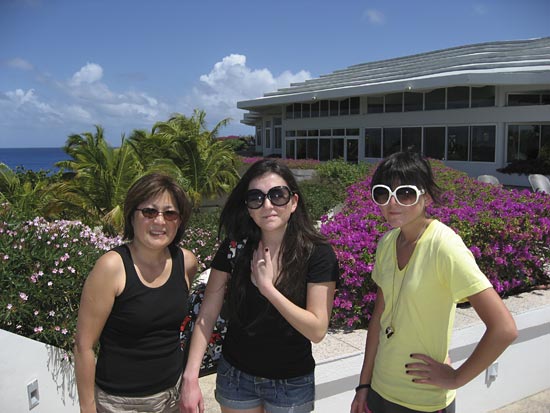 Well, it was more like we asked to be invited in.
We were on our way to Windward Point for a seaside hike, when my Dad took a left turn down a dirt road and screeched to a dusty halt in front of Exclusivity.
The Anguilla villa was quiet and calm. It appeared as though no guests had arrived yet. Only a few men were out in the lawn, caring for the grounds. The villa's door was wide open. We peeked in, only to find two people tidying up.
Although there were only a handful of people around, our intrusion did not go unnoticed.
One of the women who cares for the building, Karen Webster, came over, looking at us as if we were lost. We promptly introduced ourselves and asked if we could take a quick peak around.
She kindly agreed and we started exploring!
First, the super luxurious living area...
The living room is fully furnished in high-end, Italian furniture, complete with a full sound system and entertainment center. The best part though? The fabulous, blow-out windows gazing out to the beautiful Captain's Bay.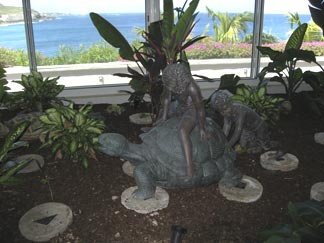 As we continued past the lavish living room, on our way to the dining room, we had to stop, pause and admire.
Between the living space and the dining room there is a lush garden with spectacular statuettes!
We kept going, strolling through the beautiful dining room that was adorned with the most divine furniture and art...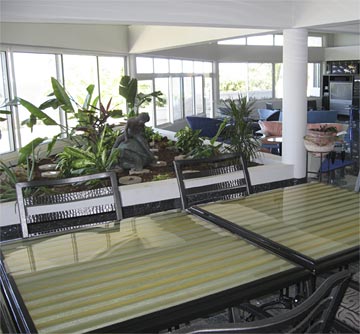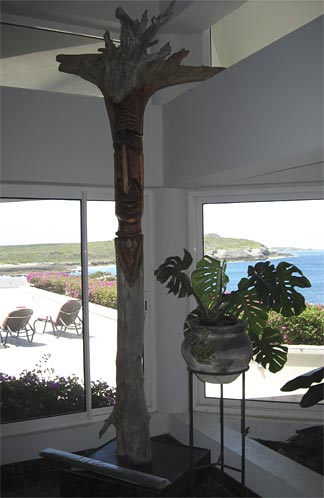 The dining room opened onto a spectacular patio, overlooking the picturesque Captain's Bay...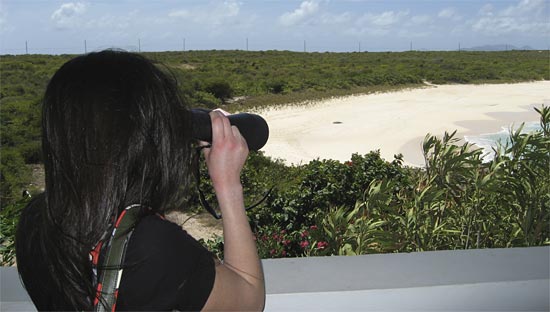 We then took our tour of the Anguilla villa outdoors.
Not only did they have a tennis court...

But a helicopter pad too!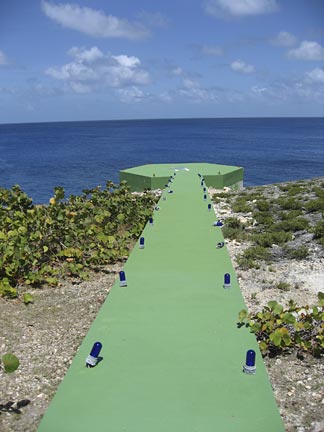 I've never seen that in other villas in Anguilla!
I guess you'll never know when you need to take the helicopter to your private Caribbean villa, right? ;-)
Well, we had almost seen all that there was to see.
Just one last thing... where did Brad Pitt sleep?!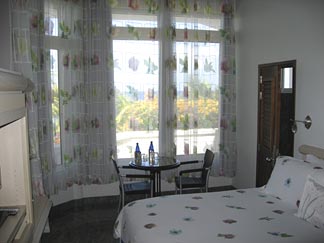 The Anguilla villa had four bedrooms.
Three of the four bedrooms were fair sized, each with their own private bathrooms.
Every room had their own LCD TVs.
And every room had the most beautiful linens, curtains and Italian-imported furniture.
But the fourth bedroom, the master bedroom, was truly luxurious.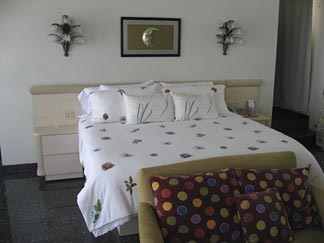 The master bedroom was significantly larger, brighter and roomier.
It had its own large LCD TV.
It had exquisite Italian furnishings.
It even had a massage table!
Perhaps the most impressive part of the master bedroom though, was the bathroom!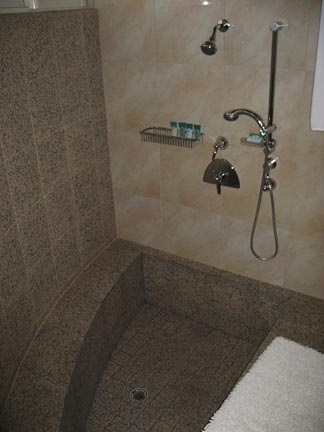 ... Or should I say bathrooms!
That's right, there wasn't one master bathroom, but there were two.
A his and hers.
The decorator certainly paid attention to detail! The "hers" bathroom was furnished in softer colors like pinks and beige. The "his" was completed in darker tones of greys and blacks.
The shower was a true walk-in, complete with steps, all encased in granite!
Brad Pitt certainly chose the most luxurious Anguilla villa.
Anyway, the Anguilla villa tour was just about over.
Now before we left, we went to thank Karen Webster, who had been so kind to us.
Not only did she let us tour this most exclusive of all villas in Anguilla, but on our way out she even offered us snacks and drinks!
Me and Karen Webster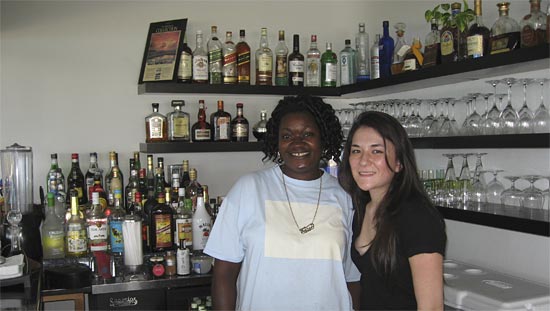 We were so grateful!
My question was answered... of all villas in Anguilla, Exclusivity certainly defines luxury living.
But after walking through Exclusivity, I began to wonder...
Brad Pitt was traveling with Jennifer Aniston and David Arquette and Courtney Cox.
The question is, who got the master bedroom?