Sharky's...
Where Home & Heart is Bursting With Flavor
Mr. Lowell Hodge is a familiar face in Anguilla. If you know Blanchards and if you read A Trip To The Beach, you have already fallen in love with Lowell.
Chef Lowell Hodge

Always armed with a warm smile and surrounded by an aura of calm, it is hard to find a man more gracious and kind than Lowell.
With his rich background in hospitality and as a Chef at Blanchards, it was only a matter of time for Lowell to strike out on his own, showing off his skills in a venue all his own. That venue? A vibrant spot, teaming with home and heart.
Welcome to Sharky's
Sharky's opened in 2018 to rave reviews. The food, the price, the vibe. Each and every TripAdvisor review has been 5/5. "Where is this hot spot?" I wondered on a drive from The Valley to West End. And then suddenly, it appeared...
Welcome to Sharky's

Set on the left hand side of the road (if you are driving West), just past the turn to the Cove, you can't miss it. Painted vibrant turquoises, reds and yellows, and offset by crisp whites, the color scheme catches your eye.
A private home-turned-restaurant, Sharky's exudes a certain authentic warmth that only someone with equal warmth could pull off. That someone, of course, is Lowell.
Seating is out on the home's breezy terrace. Colorful placemats top wide wooden tables, rounding out the restaurant's charming feel. I wouldn't normally call attention to the seating, but Sharky's dining chaises deserve a mention. They are seriously comfortable.
Louise Settling in at Sharky's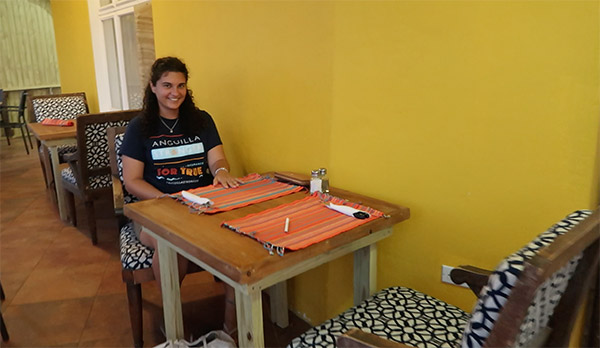 The kitchen is right next to the dining area. The anticipation the aromas build are almost too much to bear. ;-)
Our sweet waitress took our drink order as we perused the menu and settled into a relaxed and leisurely evening at Sharky's.
Craving Caribbean Cuisine
A tight menu, Lowell sticks to the concept of doing a few dishes, all extremely well.
First up? Starters which include a caesar salad (eggless dressing), house salad and...
Cinnamon Spice Soup

Sweet and smooth, Chef's creamy cinnamon spiced soup is oh-so-comforting.
Another appetizer favorite, which also happens to be one of the best dishes in Anguilla is...
Anguilla Lobster Cakes

These lobster cakes evoke that burning, "I can't bear to share" kind of love at first bite. Mixed in a fluffy-savory batter, Chef Lowell's lobster cakes are loaded with chunks of spiny lobster and laced with red peppers. The dish's perfect complement is its tomato tartar sauce. (See the video below for a "how to" with Chef Lowell on how to make these scrumptious lobster cakes.)
As the last crumb of cake disappears, I always instantly regret not ordering a second order as my main!
That is, of course, until the mains arrive...
Lobster Stir Fry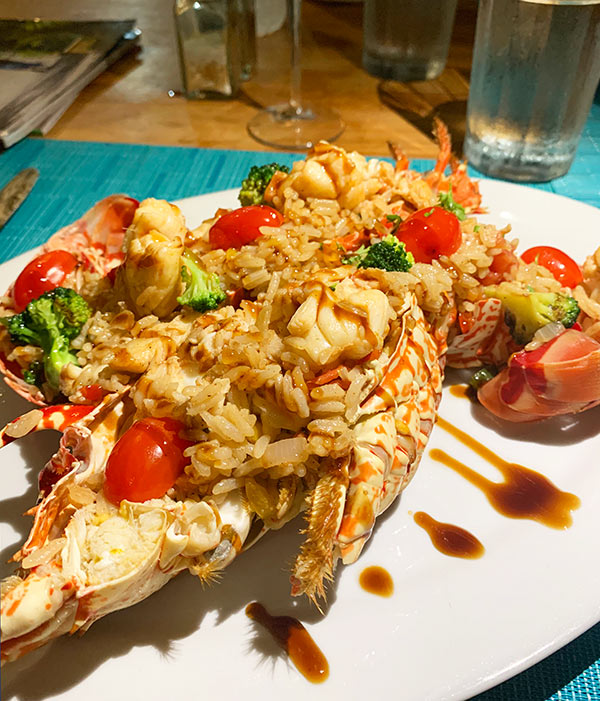 Like the lobster cakes, Chef's lobster stir fry is an absolute stand out. A whole lobster is plucked from its shell, chopped and mixed with veggies, onion, cherry tomatoes and rice. The mix is bathed in a light Teriyaki sauce and stir-fried. The extra-special touch? This dish gets serious points for presentation. The lobster stir fry is served in its very shell!
Five Spice Pork Tenderloin

In addition to this fabulous dish, Chef Lowell cooks up many more excellent mains. The chicken breast with a citrus butter sauce, fillet local snapper and five spice pork loin have all made our tastebuds hum.
Are you a big fan of spice? Chef Lowell's jerk shrimp is a must-try.
Jerk Shrimp & Mashed potatoes

The shrimp is five-alarm hot and served with fluffy mashed potatoes. A genius touch, the creaminess of the potatoes offsets each bite of spicy goodness!
Keeping his pasta lovers in mind, Chef Lowell's menu also features chicken pasta and...
Shrimp Pasta

Angel hair pasta is tossed in a cream sauce, peppered with shrimps and red peppers. The red peppers is a transformative touch. They add a sweet twist to this hearty dish.
Chef Lowell does not skimp on portion sizes! By the meal's end at Sharky's, we are bursting at the seems. When dining out, we normally pass on dessert but Sharky's is the exception. We can never pass up...
The Generational Black Cake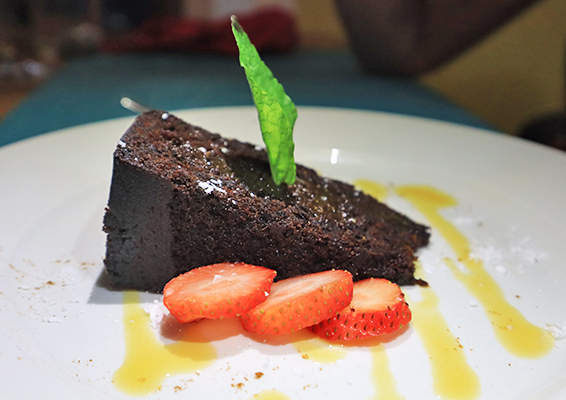 A recipe that has been handed down from generation to generation in Chef Lowell's family, it is equal part rich and delicious!
All at a reasonable price, we always leave SHARKY'S completely blown away. This is Blanchards level food at a fraction of the price. It is hard not to see why this little, homestyle spot has quickly become an Anguilla dining favorite.
Directions, Hours & Contact
NOTE: Sharky's is cash only. Reservations highly recommended.
Directions: On the main road - just after the turn going to Cove Bay (left hand side of the road if you are heading west).
Hours: Open daily for dinner nightly, 6pm-9pm. Closed Saturday.
Tel.: 264-729-0059