Anguilla FAQ...
Frequently Asked Questions
By: Kirmani Honoré
We get a lot of questions about all things Anguilla! From "basics" like where is Anguilla and what is the currency, to travel-focused queries like what is the best way to get to Anguilla, what are the top restaurants and boat excursions...
This Anguilla FAQ shares fast facts and in-depth answers to commonly asked questions about our island paradise.
Welcome to Paradise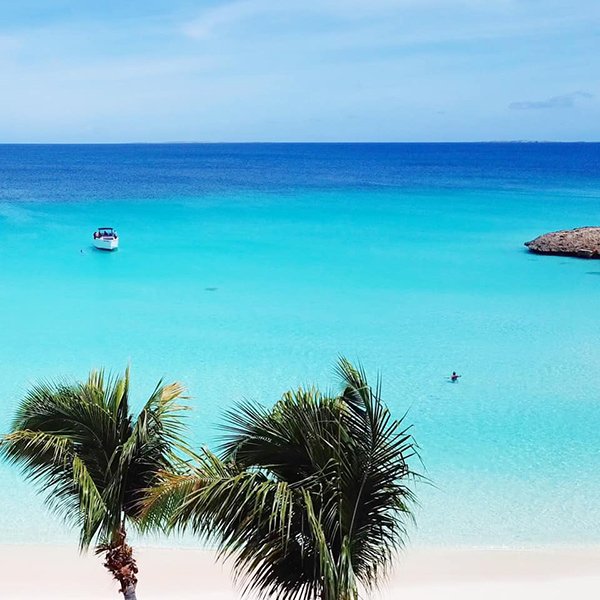 "The Basics"
What is Anguilla? Is it part of the Virgin Islands?
Anguilla is an Overseas British Territory, whose national language is English.
After gaining its independence from St. Kitts and Nevis in 1967, Anguilla came under autonomous administration of the United Kingdom.
It is not part of the Virgin Islands, and lies roughly 100 miles east of the USVI and BVI.
How big is Anguilla?
Anguilla is approximately 35 square miles (15 miles long by 3.5 miles wide) peppered with 33 powdery white sand beaches. There is a beach for every day of the month!
And with natural resources like that, it's no wonder why our main industry is, you guessed it, tourism.
Where is Anguilla located?
Anguilla is at the tip of the Leeward Islands in the Caribbean. It is one of the most northern islands in the Caribbean archipelago.
Anguilla shares coastal waters with other small island gems: St. Barth, St. Maarten, Saba and of course St. Kitts and Nevis.
What is Anguilla's capital?
Anguilla's capital is The Valley. It's the bustling central point of business, festivities and culture.
Home to The Strip, The Valley shines bright on most nights and especially on the weekend. The Strip is a prime go-to for fun, food and funky tunes!
What is Anguilla Known For?
Anguilla is known for its amazing beaches, excellent cuisine and the warmth of its people.
Anguilla is also known for being one of the most luxurious islands in the Caribbean, frequently visited by celebrities and the jetset. As a result, one of the most common misconceptions about Anguilla is that it is unaffordable.
This is one of the biggest myths about the island! Anguilla vacations can be done very affordably. Click here for our recommendations on how to cut your vacation bill. To save 10% at every point of your trip, click here to get your Anguilla Card.
Why are there not many people on the beach in your photos and videos?
Anguilla is still an undiscovered gem, free of mass tourism. It is not uncommon to have beaches all to yourself especially in the off-season summer and fall months.
What is the average temperature?
Anguilla's regular temperature is around 85°F. This may fluctuate up a few degrees in the summer and down a few degrees in the winter.
What is the currency?
Anguilla uses the regional Eastern Caribbean Dollar ($XCD) and the U.S Dollar ($US). The fixed rate is $1XCD = $2.70USD. The U.S. Dollar is accepted everywhere throughout the island.
What is the voltage?
Anguilla operates on a US 110V supply voltage and 60Hz.
What is the time zone?
Anguilla is on Eastern Caribbean Time and does not do Daylight Saving Time. So, we are on East coast time during the summer and we are one hour ahead of the East coast during the East coast's Daylight Saving Time.
How can I reach emergency & medical services?
See below for resources.
Police - 911 or (264) 497 2333
Fire & Rescue - 911 or (264) 497 2333
Ambulance - 911
Coastal Emergencies - (264) 497 2871 
Natural Disasters - (264) 497 2926
Hughes Medical Center - (264) 497 3053
Atlantic Star Medical Center - (264) 729 9389
Anguilla's Ferry Terminal...
Blowing Point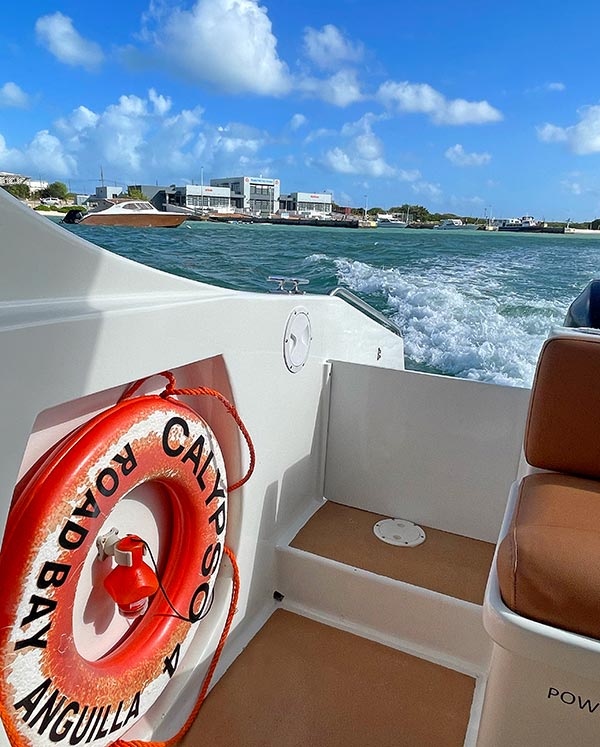 Traveling to Anguilla
What is the best month to visit?
Anguilla is one of the sunniest countries in the Caribbean, with all around excellent weather. For the calmest and sunniest conditions visit in the months of May, June, July and August.
How do you get to Anguilla?
The easiest way to get to Anguilla is by flying into St. Maarten (SXM) and then taking the ferry over. Flying direct from St. Maarten to Anguilla is also highly recommended.
How do you get around Anguilla?
Renting a car is the most practical way of getting around Anguilla. The island is very safe and easy to navigate, so driving and exploring is the most economical and efficient way to see the island. Note: Driving is on the left-hand side of the road.
What is the best way to save money on my trip?
We all know Anguilla can get expensive! That is why we created the Anguilla Card. To learn how to save 10% on all areas of your next Anguilla vacation, click here for more on the Anguilla Card.
We Love Island Car Rental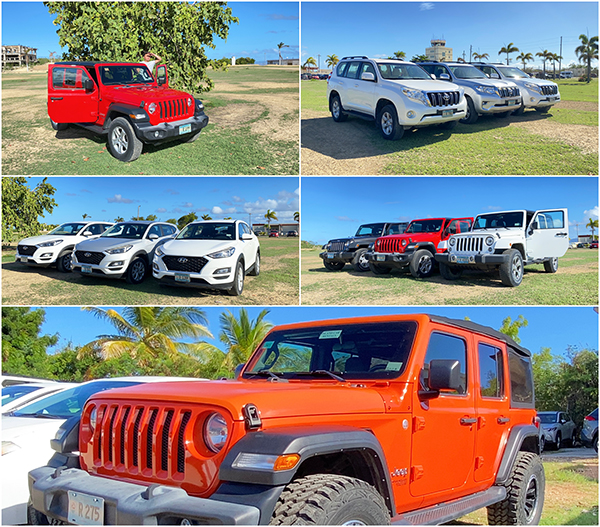 Beach Questions
We are coming to Anguilla on day trip. What are the "must see" beaches?
We highly recommend renting a car at Blowing Point terminal and exploring Anguilla's top beaches: Shoal Bay East, Rendezvous Bay and Meads Bay.
Stop for lunch at Olas or Tropical Sunset on Shoal Bay, or Sunshine Shack on Rendezvous Bay or Ocean Echo on Meads Bay to make the most out of the day!
Click here for our guide to a day trip to Anguilla.
We are chartering a boat for the day. What offshore cays should we visit?
For a leisurely day at sea, we recommend visiting all three of Anguilla's top gems: Sandy Island, Prickly Pear and Little Bay with Calypso Charters.
If you are up for an adventure, we recommend booking a trip with Rum & Reel to Scrub Island. Scrub Island is ripe with beautiful beaches and mystical ponds and caves. Note: A trip to Scrub is not for the faint of heart! Bring your hiking shoes, snorkel and sense of adventure.
See below for more on getting to Little Bay and Anguilla's offshore cays if you are not chartering a boat...
How do you get to Little Bay?
Getting to this remote beach is easier than you think! Click here for more on how to get to Little Bay.
How do you get to Sandy Island?
Sandy Island is Anguilla's most popular off-shore cay. Its pearly white sands shine on and on! Getting here is as simple as pie. Simply let them know you're coming by calling: 264 476 6534. They will let you know what time to catch their boat from the Sandy Ground wharf.
How do you get to Prickly Pear?
Another popular offshore cay is Prickly Pear. With a rich history and breathtaking scenery, it is widely known, yet it is rarely visited by most who come to Anguilla.
Our tip for getting there? Book a trip on Tradition! One of the best Anguilla activities, this day of sailing with Tradition's wonderful crew is a must.
Sea You at Sandy Island!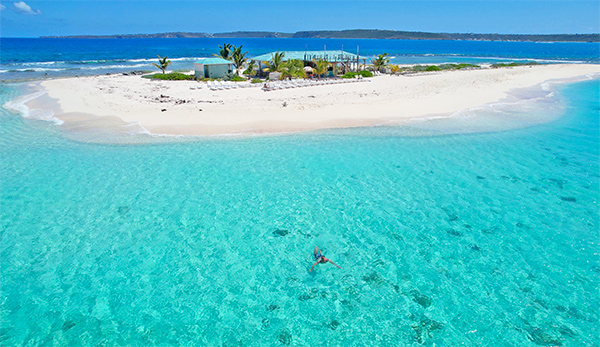 Dining in Anguilla
What is the policy on tipping?
13% GST and 10% service charge is typically added to every restaurant bill. We will normally add an additional tip of 10-15% for extra-great service.
What are the must-visit lunch spots?
There are so many excellent restaurants in Anguilla, you can't just choose one. See below for some of our favorites for a leisurely lunch:
What are the must-visit beach bars?
You can't beat Anguilla's beach bar scene! Here are some of our favorites:
What are the best restaurants for dinner?
Anguilla is known for its exquisite cuisine and romantic ambience. Here are some of our favorite spots for a memorable evening meal:
What are some of the local delicacies?
BBQ, Johnny cakes, conch fritters and crayfish are all must-tries!
Tasty's by Dale Carty is by far the most renowned and respected dining institution focused primarily on preserving Anguilla's fine local cuisine. And with their new cocktail-terrace and dining area, Tasty's POV it's easy to see how their ingenuity goes hand in hand with their authenticity.
For a laidback, toes-in-the-sand dining experience, visit Nat's Palm Grove. A family-run restaurant, this is one of the most quintessential dining experiences on-island. Nat and his family serve up the best crayfish and some of the tastiest Johnny cakes, too.
Who serves the best rum punch?
Possibly the most hotly debated subject in the world of Anguilla dining!
You can scour Anguilla tip-to-tip searching for that indistinguishable taste of an ice-cold Anguilla rum punch. But the best will always be at these favorite spots...
What are recommended restaurants if traveling with young children?
Anguilla has lots of laidback, toes-in-the-sand restaurants perfect for dining with young children. Top spots include:
On that note, Aurora Anguilla is the most family-friendly hotel on the island. More on Aurora here.
Where should we catch the sunset?
Malliouhana's Bar Soleil and Celeste have forever been our favorite spots for watching the sun make its way to the horizon. The view is simply magical!
Who has great happy hour specials?
What goes hand in hand with sunsets? Happy Hour! Don't miss Roy's on Sandy Ground. They have excellent Happy Hour specials, including nightly specials on some of their top dinner dishes.
Where should we go for nightlife?
After the sun goes down, Bankie Banx's Dune Preserve is known world-wide for bringing the good vibes come night time. Sandy Ground is another must for nighttime fun. It checks all the boxes as it is Anguilla's nightlife hub.
Lit Lounge is a must on Sandy Ground's strip, with lively tunes that go well into the early morning. The party at Lit Lounge is seemingly never-ending.
For more on our nightlife recommendations in Sandy Ground, click here.
Love Those Meads Bay Sunset Views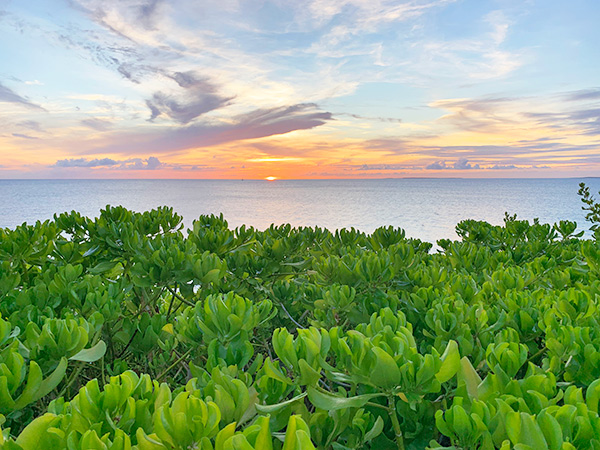 Other On-Island Questions
Where can I get a prepaid SIM chip?
Getting a prepaid sim for longer stays in Anguilla is easy and saves on roaming coasts especially if you will be surfing the web on the go. Our recommendation? Head over to Digicel in The Valley. Their team will set you up with a prepaid plan at a reasonable price. More on Digicel here.
Where should I shop for groceries?
We highly recommend Proctor's for fresh veggies and Best Buy East End for all meats. We visit Best Buy West End and Best Buy East End for all other needs and products.
Anguilla is Calling Your Name!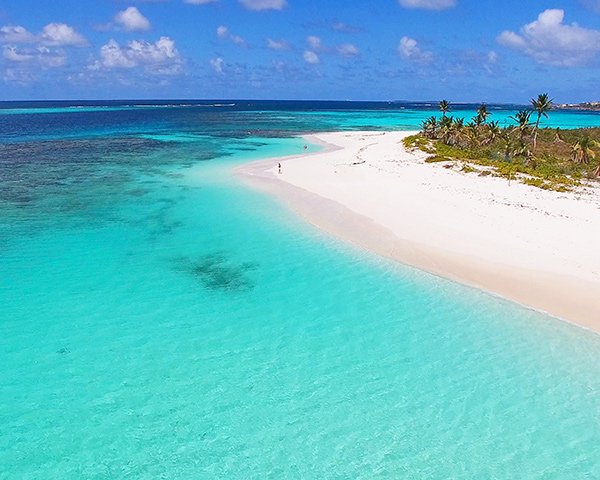 That is our list of Anguilla's most frequently asked questions. We hope these answers come in handy with your Anguilla vacation. If there is a question we missed, please comment below below and we will be sure to add it to this page. Happy travels!